One pan Chicken and Broccoli in Garlic Sauce – Restaurant meal made at home in 30 mins from start to finish!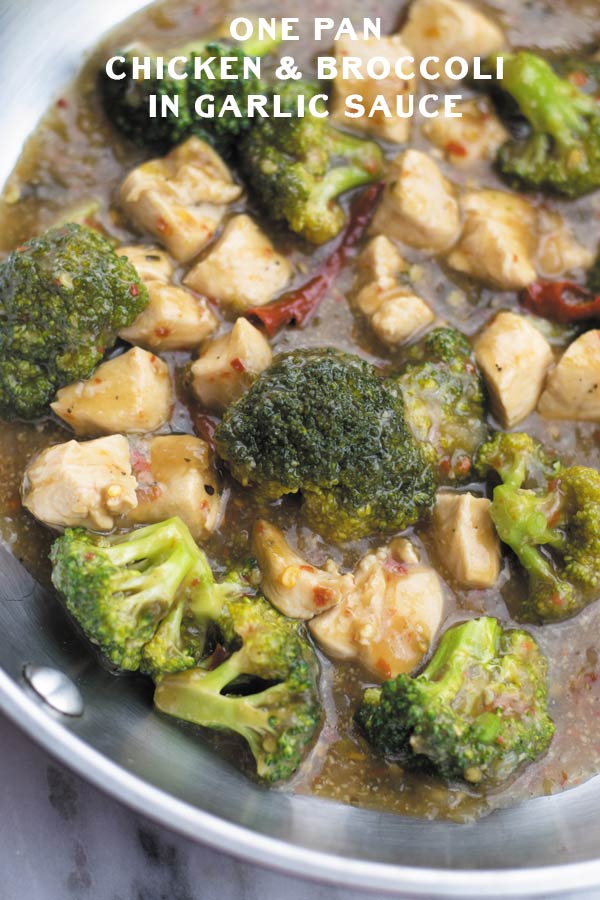 This meal!!
I love a good Chinese meal and even though I love a good authentic style Chinese meal served in a fancy Chinese restaurant, there are times all I crave is for those greasy noodles, oily fried rice and chicken in thick spicy garlicky sauce which is best delivered in those small white boxes. Chinese food in US is much different than the Chinese food we get in India. There are some things on the menu which I can never resist and one of these is this glossy garlic sauce served with fresh crunchy vegetables or chicken or any other protein along with rice.
I can never get enough of this sauce. Since we moved to Colorado, we haven't had good luck finding Chinese restaurant and even though I have tried making Chinese food at home, I must say that I am horrible when it comes to Chinese sauces. So one day when I almost gave up, Ronak was like " why don't I try making this recipe?". He is amazing when it comes to creating sauces and he is my designated taste tester when I make sauces for pastas. And as I guessed, it turned out to be even better than the restaurant version!!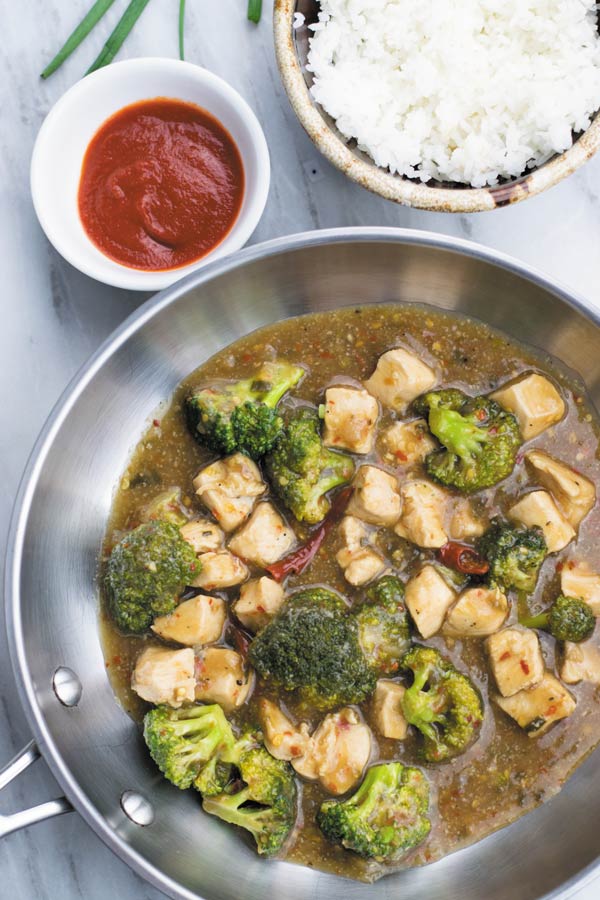 Since then I have asked him to make this meal thrice in one week and after carefully noting down all the proportions, I made it again for the blog. We kept it simple and just added chicken and broccoli but earlier we kept it meatless and added broccoli and tofu. Served over plain white rice, this dish is divine! The SAUCE!! I make sure to keep extra sauce on the side to add over rice! So so good.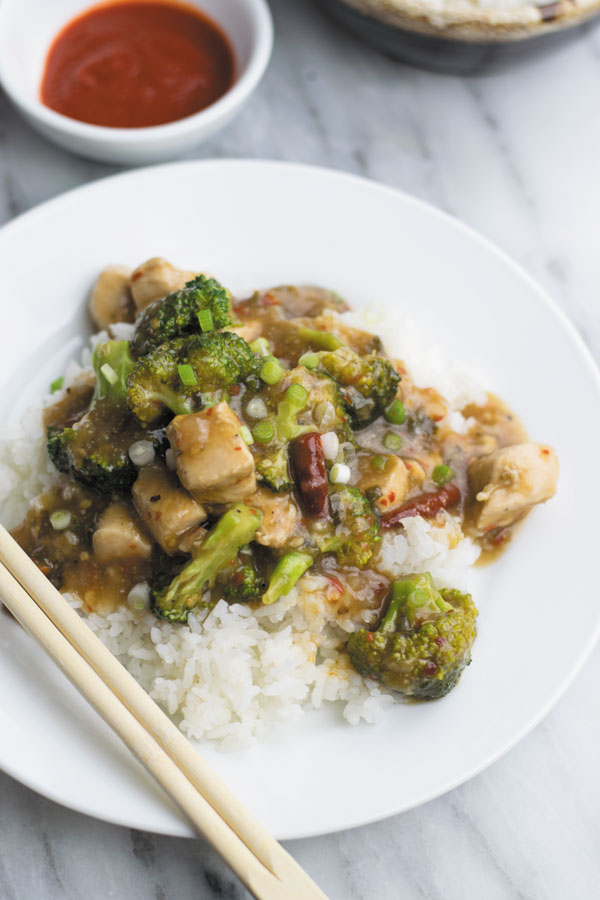 So go ahead and give this a try! If you make these or any other recipe from our blog, do tag us by using#naivecookcooks on social media channels.
If  you enjoyed this recipe, don't forget to FOLLOW me on  INSTAGRAM ||FACEBOOK||PINTEREST ||TWITTER ||GOOGLE+ || BLOGLOVIN || YouTube

One Pan Chicken and Broccoli in Garlic Sauce
Ingredients
Garlic Sauce:
4 tbsp oil
3 green onions, finely chopped
3 tbsp minced garlic or garlic paste
3 whole dried red chilies
2.5 tsp crushed red chili flakes
5 tsp white granulated sugar
1.25 tsp ginger paste
¼ tsp black pepper powder
2 tbsp soy sauce
3 cups water
5 tsp corn starch
1 tbsp red wine vinegar or rice wine vinegar
Chicken and Broccoli:
2 chicken breasts, cleaned and chopped in small pieces
1 large head of broccoli, washed, cleaned and separated in small florets
Instructions
Garlic Sauce:
In a deep heavy pot add oil. Once hot, add finely chopped green onion, garlic paste, dried red chili and crushed red chili flakes and saute until fragrant for about 3-5 minutes.
To it add ginger paste, soy sauce, black pepper and mix. Add water, sugar and red wine vinegar and bring it to a boil.
In a small bowl add corn starch and few tbsps of the spice mix from pot and mix. Add this cornstarch mix back to the pot. Stir continously using a whisk until cornstarch is evenly mixed. In about 10-15 minutes the sauce should start to thicken.
Add chicken pieces and keep simmering the sauce along with chicken. Once chicken is almost cooked, add broccoli pieces and cook for another 3-5 minutes.
Serve with plain white rice.
Some more delicious easy DINNER recipes ->>