California Pizza Kitchen aka CPK's famous BBQ Chicken Pizza made on a puff pastry for an easy, no fuss dinner ready in no time! Tons of flavor!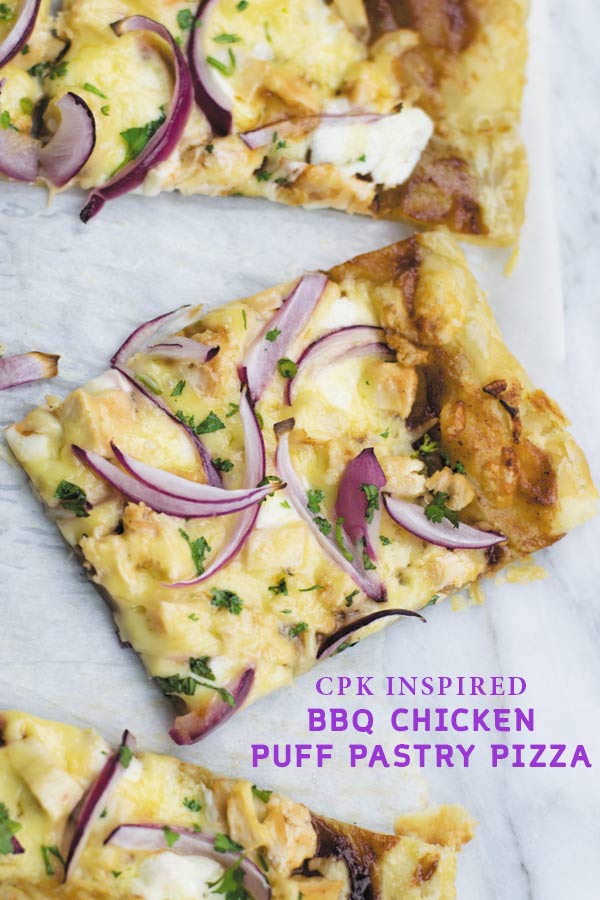 Craving your favorite restaurant's BBQ Chicken Pizza but got no time to make a fresh pizza crust?! Then make it on a super quick readymade puff pastry dough for a taste to die for! Buttery melt-in-mouth puff pastry topped with the best BBQ sauce, BBQ seasoned chicken, cheese and red onions! This is one pizza I can eat for every meal.
So few years back I had my first encounter with CPK and I loved almost everything we ordered. Since then we have been regulars there but there are some items on the menu I almost always order. Their Thai Crunch Salad is one of those and that's the only salad I absolutely love to eat and that leaves me feeling satisfied and full unlike most of the other salads which always make me feel hungry even after finishing a huge serving! 😛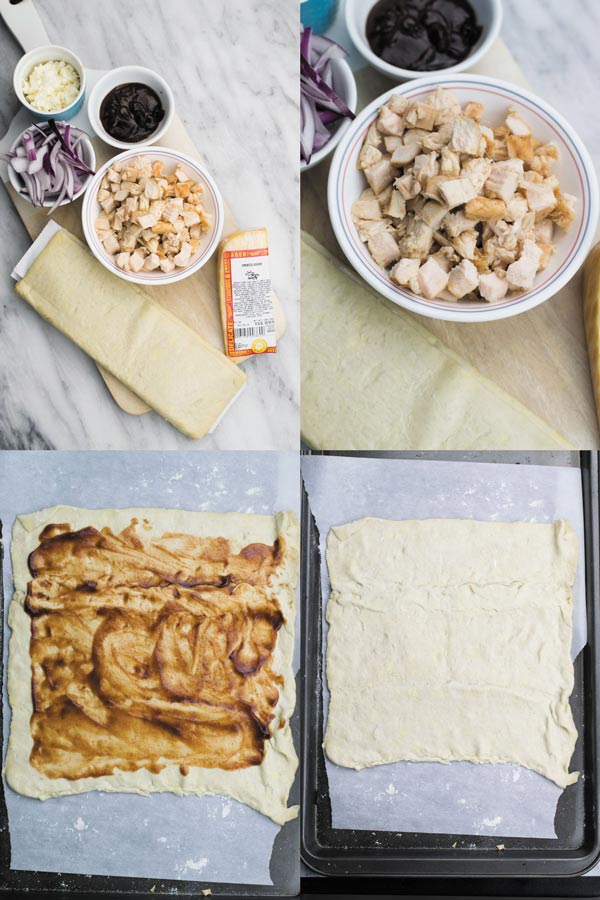 I have tried many of their pizzas and this is one of the few I haven't ordered yet.I know how can I do that?! But recently while looking for recipe ideas when I saw that this is one of the oldest pizzas on their menu, I knew I had to try to make this at home and even though I haven't eaten it at the restaurant, it's so simple that I was told by friends who have eaten it that it tastes exactly like the original!
Instead of using my favorite Pizza Crust recipe, I used puff pastry as I was short on time and it worked out beautifully! Puff pastry makes it really delicious with the soft buttery crust and perfectly cooked BBQ  chicken and cheese! Try to buy smoked gouda if you can as that's what they use and I must say it gives it that amazing smokey flavor. SO GOOD!
As you can see in picture above, I have already cooked my chicken in BBQ sauce and chopped it. Thawed room temperature puff pastry is rolled on a generously floured parchment paper and on it my favorite BBQ sauce is used. Make sure you use your favorite best tasting BBQ sauce as that's the shining star of this recipe.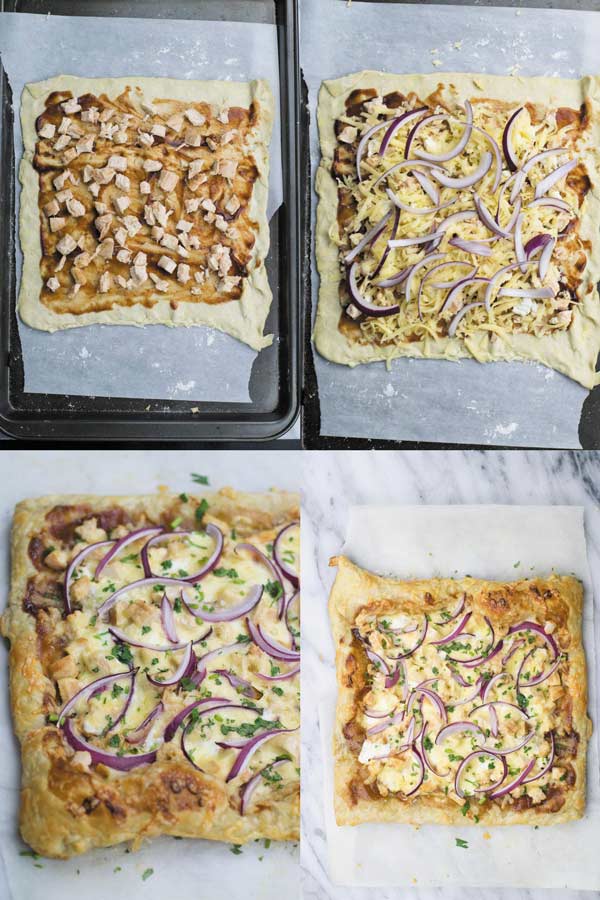 Then chopped BBQ seasoned chicken along with mozzarella and smoked gouda is spread all over the dough. Then thinly sliced red onions and whole thing is baked for about 15-17 minutes until cheese is melted and bubbling and crust is goldenish. It's allowed to cool down for 5 minutes and then devoured immediately with lots of beer!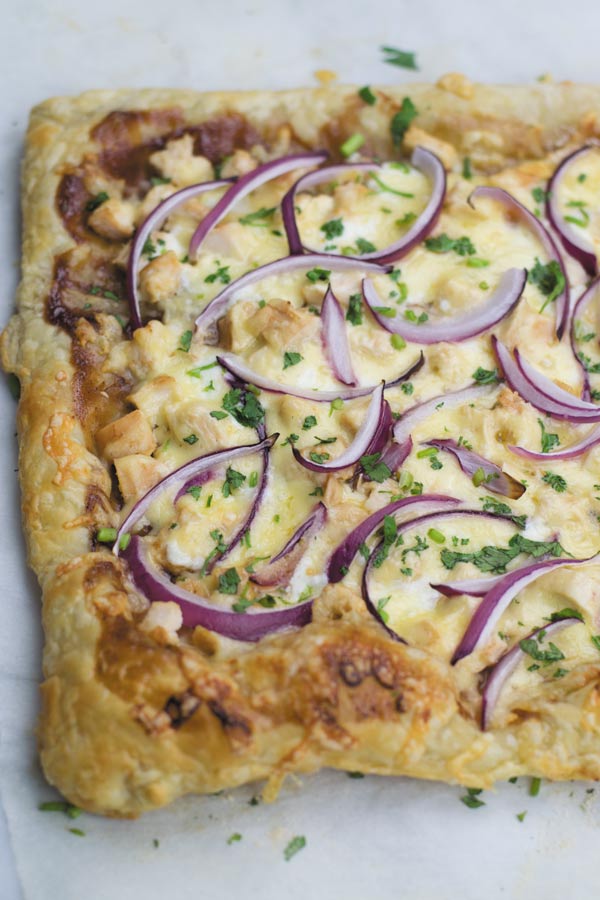 It's a great weeknight pizza, you can have the chicken ready a night before and leave puff pastry to thaw in fridge all day. At dinner time it will take just 15 mins of hands on work to get this pizza going. I even made it for a lazy Sunday night dinner and served along with a big salad.
If  you enjoyed this recipe, don't forget to FOLLOW me on  INSTAGRAM ||FACEBOOK||PINTEREST ||TWITTER ||GOOGLE+ || BLOGLOVIN || YouTube 
CPK Inspired BBQ Chicken Puff Pastry Pizza
Ingredients
BBQ seasoned chicken :
1 chicken breast
¼ cup of your favorite BBQ sauce
Salt & Black pepper to taste
Pizza:
1 sheet of Puff pastry or use my homemade Pizza Crust recipe
¼ cup of your favorite BBQ sauce plus extra
Chopped & cooked BBQ seasoned chicken
½ cup shredded mozzarella cheese
½ cup shredded smoked gouda cheese
⅓ cup red onion, sliced thin
Finely chopped cilantro, for garnishing
Instructions
BBQ seasoned chicken:
Preheat oven to 350F.
In an oven safe baking dish, place cleaned chicken breast. Sprinkle salt and pepper on both sides and add ¼ cup BBQ sauce all over the chicken. Using your hands rub the sauce all over and under the chicken breast. Bake in a 350F oven for 15 minutes. Flip the chicken breast and if it's dry add more sauce and bake for another 10-12 minutes or until chicken is no longer pink in the center where the thickest part is.
Let it cool enough to touch. Chop it into small pieces.
Pizza:
Increase oven temperature to 425F.
While chicken was cooking, make sure you get everything else ready to go.
Lay the thawed puff pastry on a parchment paper lined baking sheet and make sure to sprinkle flour all over the parchment paper. Spread BBQ sauce all over the puff pastry leaving about ½-1" borders all around. Add chopped chicken, then shredded mozzarella and shredded smoked gouda. Lay sliced red onions. Bake for about 15-17 minutes or until cheese is melted and bubbly and puff p[astry is goldenish.
Take it out of the oven and let it cool down for 5 minutes. Cut into slices using pizza cutter or knife and serve.
 Some more easy PIZZA recipes ->>