One Pan Chicken and Broccoli in Garlic Sauce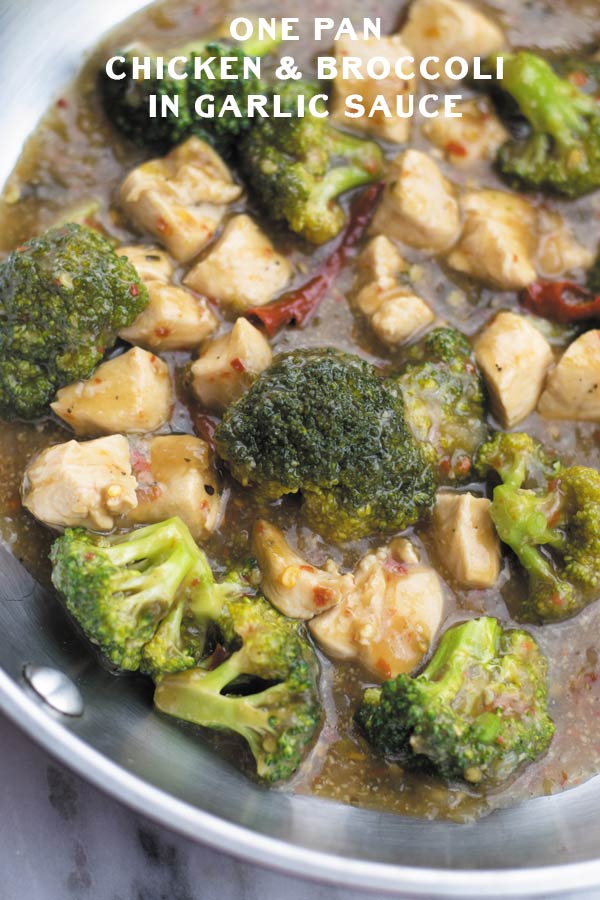 4 tbsp oil
3 green onions, finely chopped
3 tbsp minced garlic or garlic paste
3 whole dried red chilies
2.5 tsp crushed red chili flakes
5 tsp white granulated sugar
1.25 tsp ginger paste
¼ tsp black pepper powder
2 tbsp soy sauce
3 cups water
5 tsp corn starch
1 tbsp red wine vinegar or rice wine vinegar
2 chicken breasts, cleaned and chopped in small pieces
1 large head of broccoli, washed, cleaned and separated in small florets
In a deep heavy pot add oil. Once hot, add finely chopped green onion, garlic paste, dried red chili and crushed red chili flakes and saute until fragrant for about 3-5 minutes.
To it add ginger paste, soy sauce, black pepper and mix. Add water, sugar and red wine vinegar and bring it to a boil.
In a small bowl add corn starch and few tbsps of the spice mix from pot and mix. Add this cornstarch mix back to the pot. Stir continously using a whisk until cornstarch is evenly mixed. In about 10-15 minutes the sauce should start to thicken.
Add chicken pieces and keep simmering the sauce along with chicken. Once chicken is almost cooked, add broccoli pieces and cook for another 3-5 minutes.
Serve with plain white rice.
Recipe by
Naive Cook Cooks
at https://www.naivecookcooks.com/one-pan-chicken-broccoli-garlic-sauce/