The best Crispy Baked Parmesan Chicken Bites you will ever make at home – extra crispy, tender & BAKED! Just 30 mins is all you need to make these!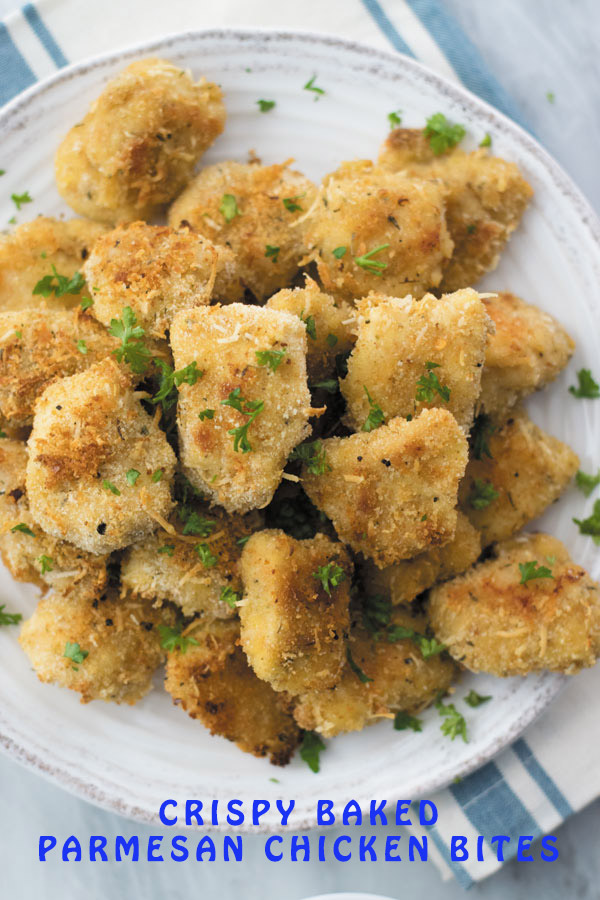 Lately weather's been cooling down here! Last 2 days it's been sort of chilly and I can just feel that fall is around the corner!! Raise your hands if you love fall?!!! Yes yes I do!! Yesterday I went to World Market and saw whole section with fall goodies. I can't wait to start wearing cozy sweaters, comfy clothes, drink tons of mulled wine and just enjoy outdoors without worrying how hot it is! Since weather has been a bit chilly, I tried making fresh from scratch ravioli tonight for dinner and then filled it up with creamy mushroom filling. So good! I posted a picture of my funny looking raviolis on Instagram Stories!
Btw Snapchat vs Instagram Stories! I have been seeing people debating about these two and wonder which one you guys like more? Me personally, I never really liked Snapchat or should I say that I could never figure out how to use snapchat properly! 😛 Using Instagram stories is so much easier and to be honest really fun!! I feel connected to my favorite people when I see what they have been upto! 
Lately I have been making these chicken bites quite often for dinner. When I run out of time, I know this is something we both love eating, so these crispy chicken nuggets along with a big salad becomes our dinner!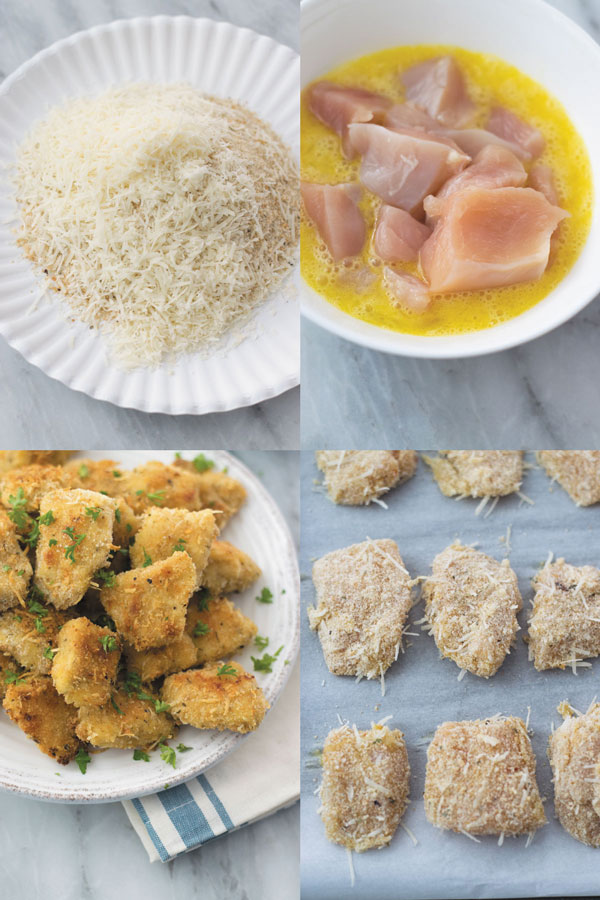 Making these bites is seriously simple. Just take bread crumbs (store bought or make your own seasoned breadcrumbs), mix shredded parmesan. Take egg and oil in a bowl and to it add chicken pieces. Then coat these egg dipped chicken pieces with breadcrumb mixture and bake! These are super satisfying and even though they are baked, they taste as if they are fried which is always a good thing 😛 Baking takes total of just about 15 minutes and the inside get's super tender. Unlike most store bought chicken bites, these are not chewy at all.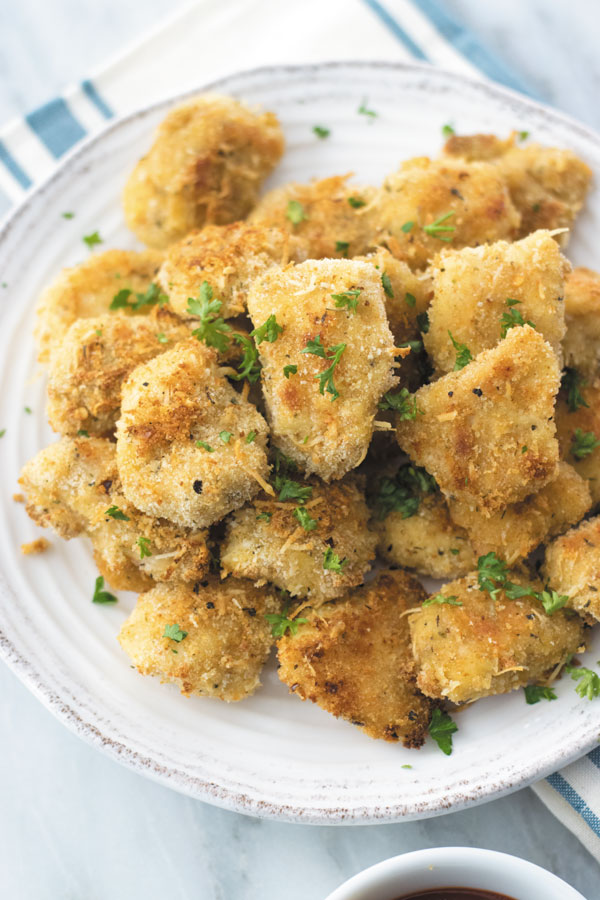 These are great for quick dinner on weekdays or for weekends when you don't really want to go out and don't want to cook anything to eat! These are such a lifesaver!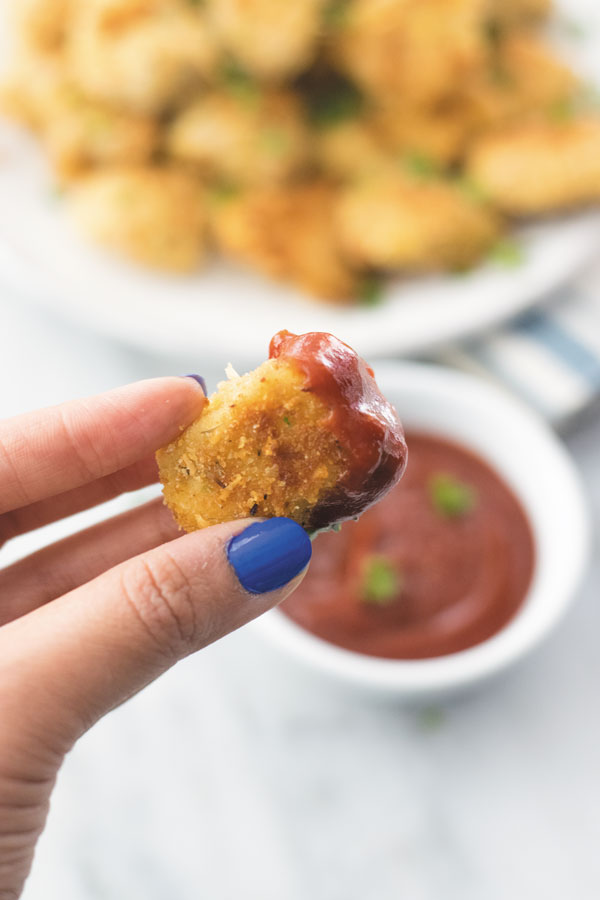 If  you enjoyed this recipe, don't forget to FOLLOW me on  INSTAGRAM ||FACEBOOK||PINTEREST ||TWITTER ||GOOGLE+ || BLOGLOVIN || YouTube

Crispy Baked Parmesan Chicken Bites
Ingredients
Crispy Baked Parmesan Chicken Bites:
2 chicken breasts, cleaned, cut in small pieces
¾ cup bread crumbs (If using plain store bought add seasoning as mentioned HERE. or make your own seasoned breadcrumbs)
½ cup shredded parmesan cheese
Salt & Black pepper to taste
1 egg
1 tbsp oil
Oil for spraying
Instructions
Crispy Baked Parmesan Chicken Bites:
Preheat oven to 400F. Get a baking tray and lay it with parchment paper and grease it with oil.
Take chicken breasts, clean and cut them into small pieces.
In a bowl break an egg and to it add oil. Mix.
In a shallow plate take seasoned breadcrumbs and parmesan. Mix and taste for seasoning. Make sure this mixture is well seasoned.
Dip few pieces of chicken in egg mix. Working with one piece at a time, after dipping in egg mix cover it with bread crum mixture. Using hands pat the bread crumbs tightly all around the chicken piece. Place it on ready baking sheet. Repeat.
Once done spray all the chicken pieces with oil and bake for 6 minutes at 400F and then flip, spray some more oil and bake for another 6-9 minutes. To check if chicken is cooked, cut one piece in half and if the meat is white, that means it's ready to eat. If meat is still pink, cook for another minute or two.
** If you are using frozen chicken, then the baking time will be a little more.
Some more easy weeknight dinner ideas ->>