Chocolate & Peanut Butter goodness in soft & chewy brownie cookies! Just few ingredients to make these sinful Chocolate PB Brookies.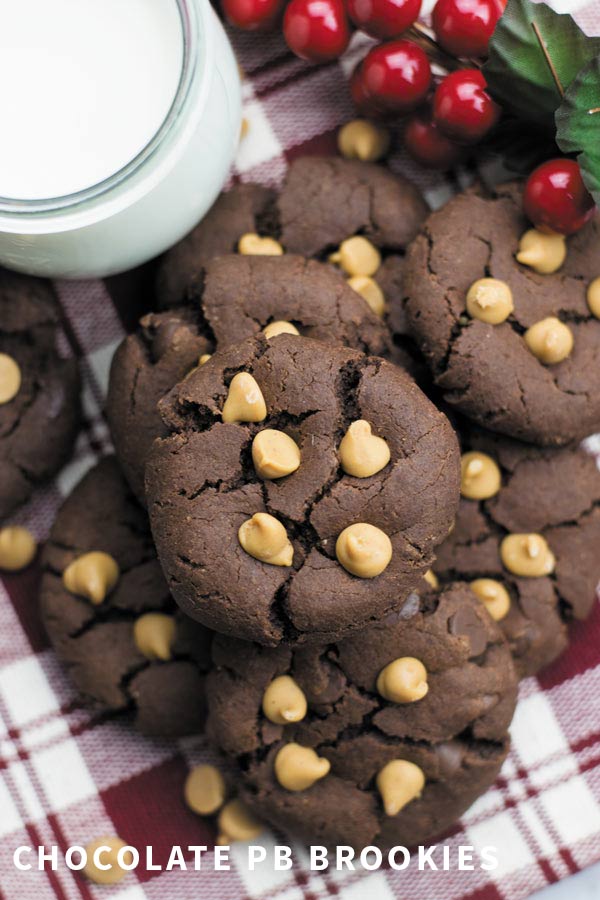 Love a good brownie? Love a good soft & chewy cookie? How about both in one but with everybody's favorite Peanut Butter added in for extra taste! We are big Chocolate Peanut Butter lovers and the one from PB & Co. is the best when it comes to CHOCOLATE PEANUT BUTTER. This stuff is seriously addicting friends.
But for these brookies you can use any kind any flavor of peanut butter you enjoy. Since we shared Kaveri's Brookies we have been ourselves addicted to those, so I thought why not make a little healthier version with Peanut butter! And replacing most of the butter with peanut butter worked like a charm.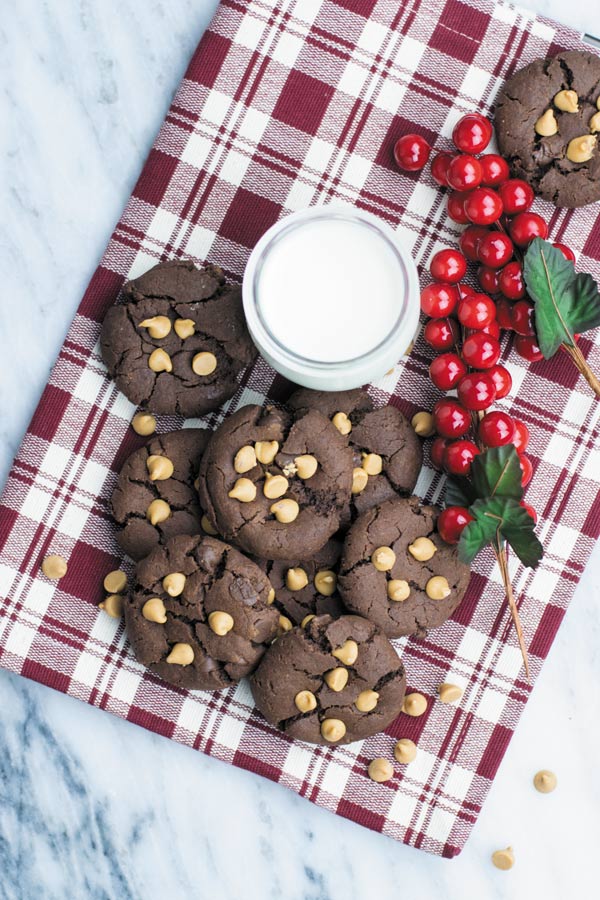 These Chocolate PB Brookies are soft, thick and chewy with a strong peanut butter flavor. Peanut butter lover's dream, if I say so myself!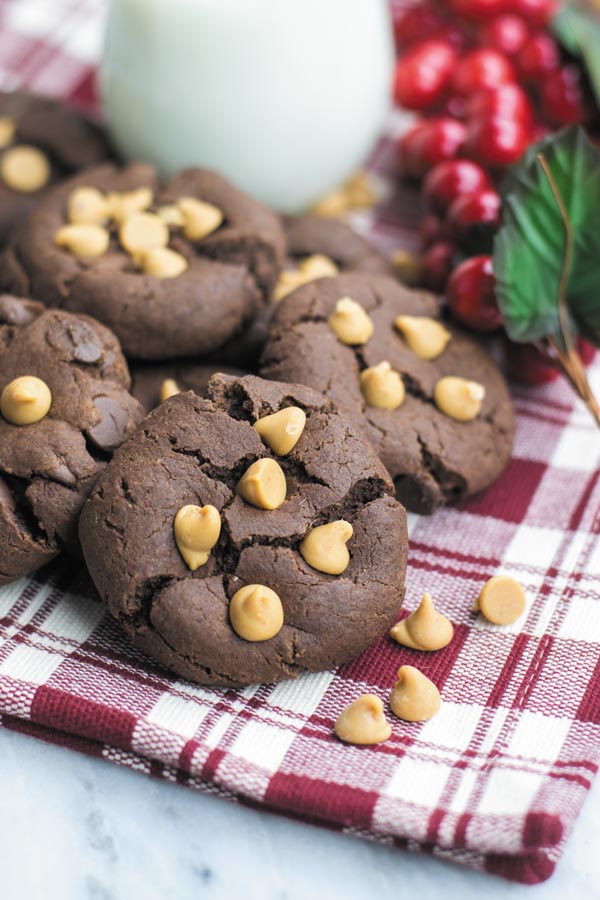 I am baking another batch for the week. Today I tried my hands at CPK's Tiramisu from CPK's cookbook and I can't wait for it to get ready to eat! Nacho chicken wings and Tiramisu for a lazy stay in Friday night dinner! What are your Friday night plans?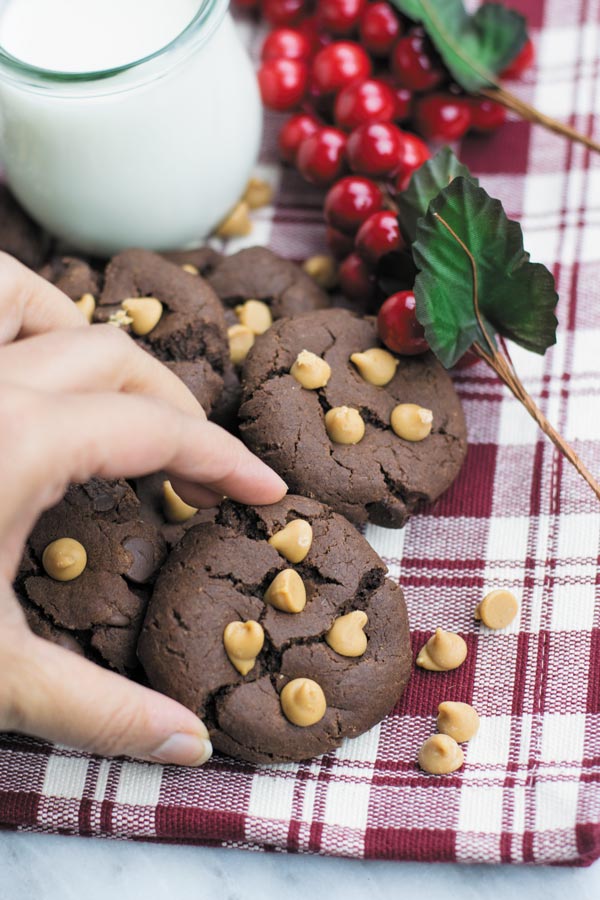 So go ahead and give this a try! If you make these or any other recipe from our blog, do tag us by using#naivecookcooks on social media channels.
If  you enjoyed this recipe, don't forget to FOLLOW me on  INSTAGRAM ||FACEBOOK||PINTEREST ||TWITTER ||GOOGLE+ || BLOGLOVIN || YouTube

Chocolate PB Brookies
Ingredients
½ cup all purpose flour
¼ cup dark cocoa powder
¼ tsp baking powder
½ tsp baking soda
⅓ cup castor sugar
¼ cup Peanut butter
1 tbsp unsalted butter, melted
¼ cup semi sweet chocolate chips
¼ cup peanut butter chips
¼ tsp salt (skip if using salted butter)
1 tsp vanilla extract
3-4 tbsp milk
Instructions
Preheat the oven to 320F. Line a baking tray with parchment paper.
In a bowl, sift together the flour, cocoa, baking powder and baking soda. Stir in the sugar and salt. Mix until combined.
Add the peanut butter, butter and vanilla extract.
Add milk (add 2 tablespoons and if you require more to bind your dough then add 1 more tablespoon and proceed. I ended up adding about 3.5 tbsp milk).
Add semi sweet chocolate chips and mix.
Bring together to form a smooth dough.
Chill the dough in the fridge for about 10-15 minutes so it is easier to make balls out of them. If you do not wish to chill, you can scoop the dough on the parchment paper and bake directly.
Make even sized balls and place on the parchment paper, at least 2 inches apart from each other as the brookies tend to spread.
If you do not want your brookies to spread too much, keep the filled tray in the fridge for 10 minutes and then bake. This will give you thicker brookies.
Bake for 10 minutes ONLY. The brookies may look soft or undone, but don't be tempted to bake longer or they will turn crispy.
Once out of the oven place peanut butter chips on hot out of the oven brookies. Leave them on the tray for 10-15 minutes until fully cool and immediately transfer to an airtight container to store.
Some more festive cookie recipes ->>