These Vegan Chocolate Banana Muffins are super moist, packed with chocolate and so delicious that even pickiest eater won't mind eating these!! Perfect breakfast or any time treat!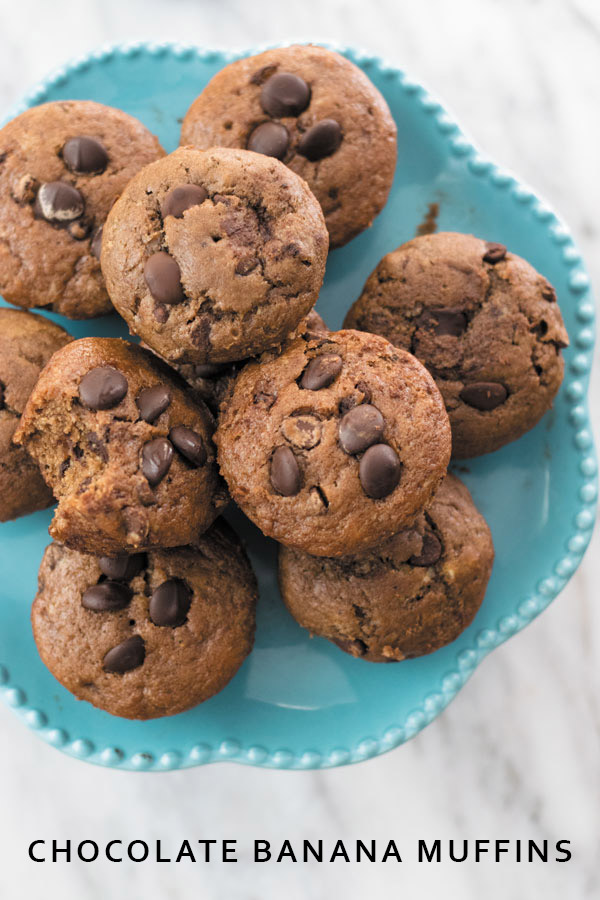 These muffins you guys! Vegan (Egg free + Dairy free), these muffins are way better than even the regular egg and milk muffins. In my husband's words these are the best chocolate muffins with tons of chocolate flavor! These muffins are super moist, packed with intense chocolate flavor and very subtle banana flavor. Banana gives them moistness and to make them extra moist I added yogurt ( normal or dairy free both work) which made these muffins seriously super soft. I added lots of chocolate chips inside the batter so when you bite into it, you get this nice fudgy interior. To balance the sweetness I top the hot baked muffins with dark chocolate chips.
Seriously if you make them once, you won't stop eating these!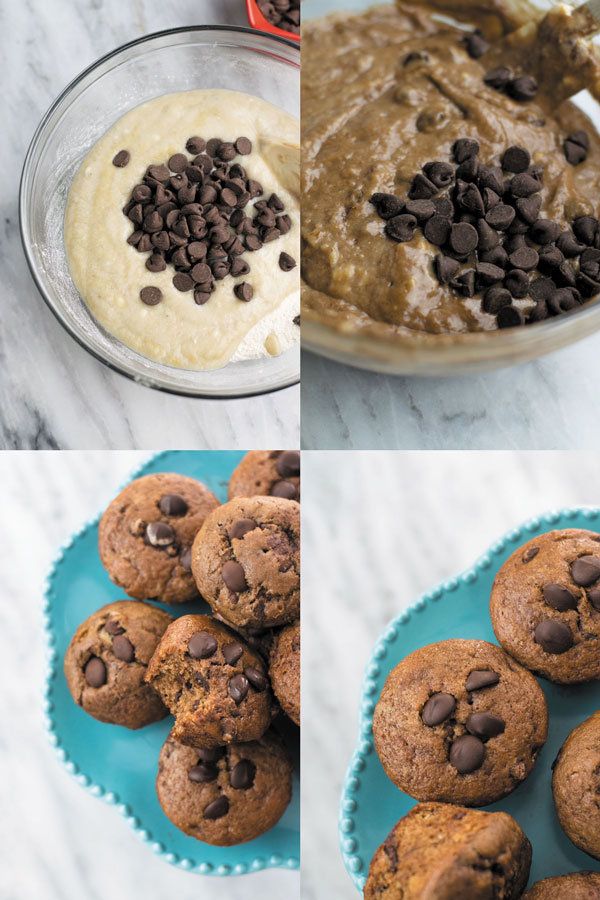 I got inspired to make them after you all loved the simple Banana Muffins I posted few months back and those are still on high rotation here but since I made these, I think we are going to be seeing more of these atleast for the time being until we get really tired of chocolate! 😛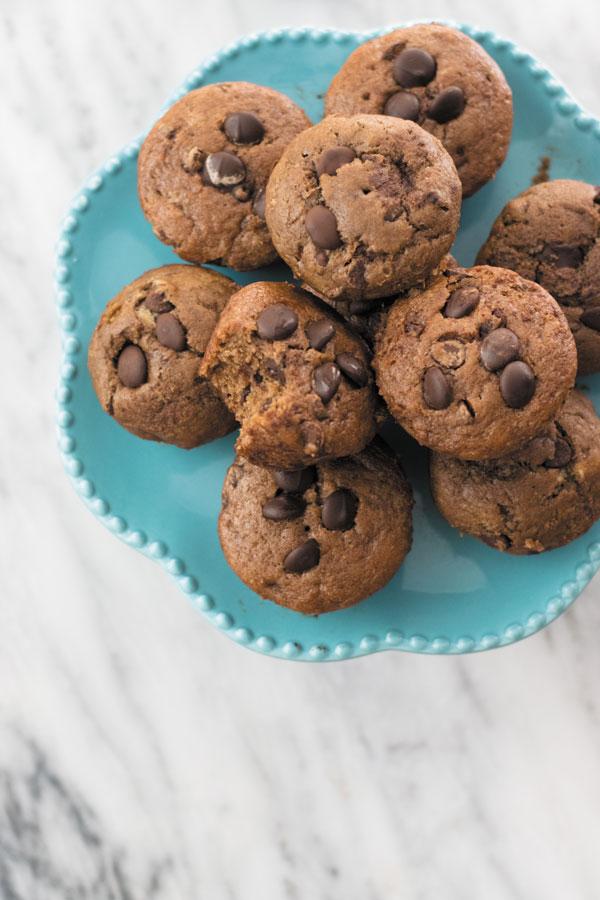 As you can see, making these muffins doesn't take much time or efforts. Just mix your dry ingredients and wet ingredients and mix them gently. As I always say NEVER OVERMIX or your muffins will be dense. Just mix them enough so the batter is combines. They are then transferred into muffin cups and baked.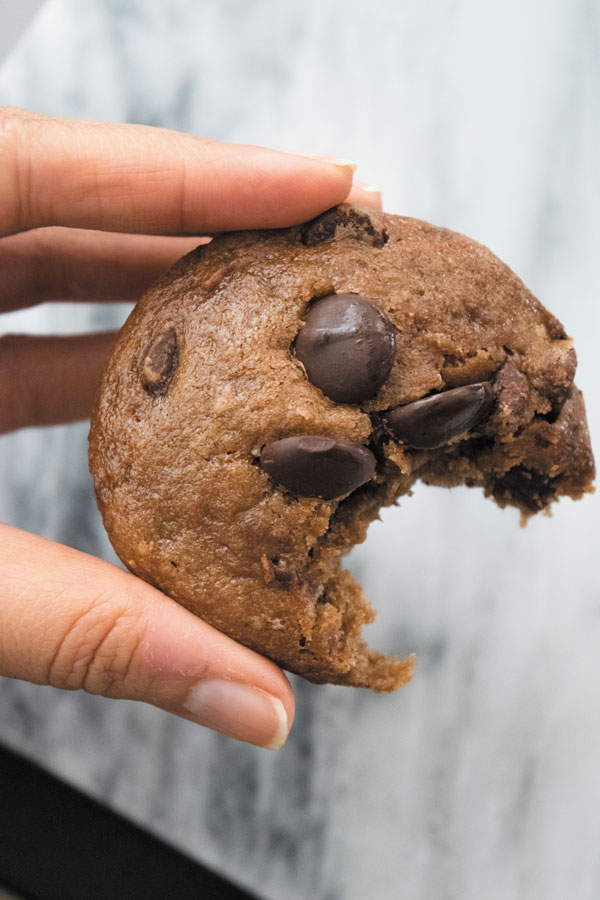 Can you see how moist and chocolate loaded they are?!! DIVINE.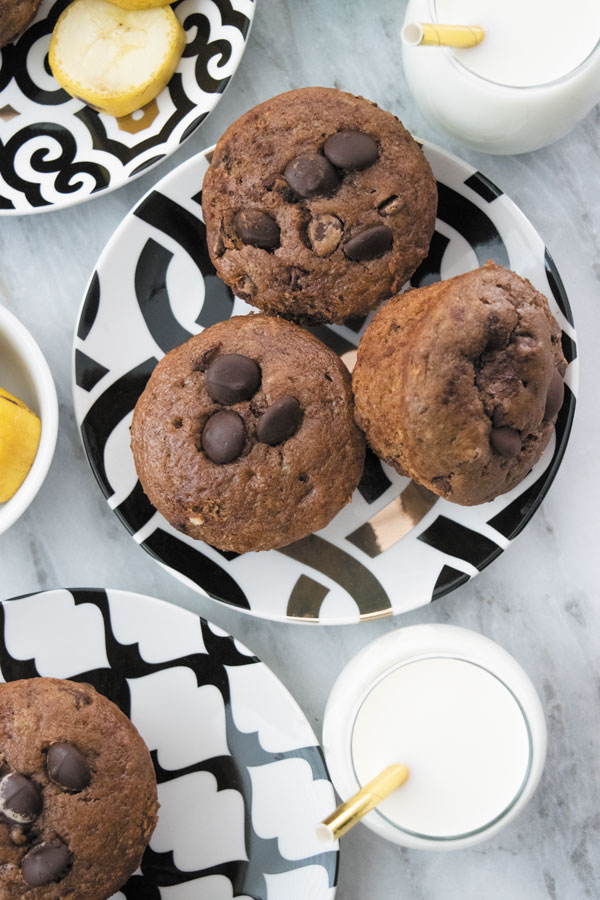 What are you waiting for? Go ahead, you must already have all the ingredients at home. Make a batch. I promise they won't last long enough!!
And if you have bananas that are not really ripe or whose skin is not dark say almost blackish, then here is a trick! Place bananas with skin on, on a baking tray and bake in a 350F hot oven for 7-12 minutes or depending on when their skin turns out dark. I had bananas with the skin color like you see in pictures that is super bright yellow. So I did the same thing and had super sweet ripe bananas with black skins in no time!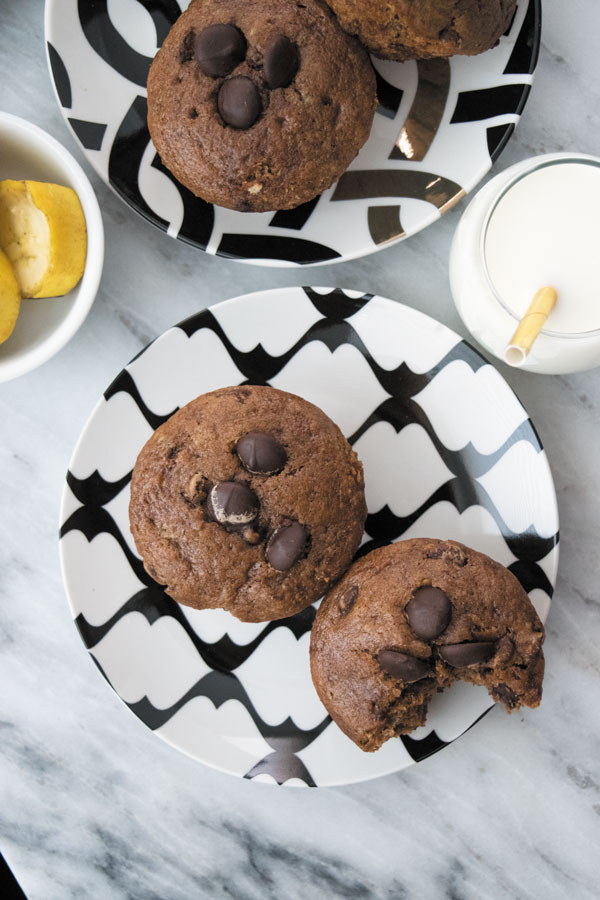 If  you enjoyed this recipe, don't forget to FOLLOW me on  INSTAGRAM ||FACEBOOK||PINTEREST ||TWITTER ||GOOGLE+ || BLOGLOVIN || YouTube
Chocolate Banana Muffins
Ingredients
Dry Ingredients:
¾ cup all purpose flour
⅛ tsp salt
½ cup white granulated sugar
½ tsp baking powder
¼ tsp baking soda
2 tbsp cocoa powder
½ cup semi sweet chocolate chips
Wet Ingredients:
2 tbsp milk (use dairy free milk for vegans and normal milk if you don't have vegan restrictions)
2 tbsp yogurt ( use dairy free yogurt for vegans and normal yogurt if you don't have vegan restrictions)
½ cup + 2 tbsp banana puree (from a large super ripe banana)
¼ cup olive oil or canola oil
1 tsp vanilla extract
Extra dark or semi sweet chocolate chips, for adding on top of muffins once baked
Instructions
Pre heat oven to 350F and make sure oven rack is in the middle of oven.
Mix all dry ingredients in one bowl while mix all wet ingredients in another bowl.
Make sure your bananas are super ripe and sweet before making your banana puree. See how to quickly ripe bananas in oven in the post.
In another bowl, mix all wet ingredients.
Add wet ingredient mix to dry ingredient mix and gently mix, mixing just enough so the batter is just mixed through.
Grease your muffin pan with some oil. I found greasing muffin pan with oil and then dusting with flour or cocoa powder makes it super easy to take the muffins out as compared to baking them in muffin cups.
Once you have your muffin pan greased with oil, dust it lightly with coca powder.
Fill the each muffin cavity upto only a little more than ½ as they muffins rise a lot.
Bake at 350F for 20-25 minutes. One time it took my muffins 30 minutes to bake. So set the timer for 20 minutes and at 20 minutes, insert a toothpick in one of the muffin center and if it comes out wet, continue baking for another 4 minutes. Test again after 4 minutes and bake until the toothpick inserted in the center of muffin comes out dry.
Let them cool in muffin pan for few minutes. Take a knife and very carefully slide the knife around the muffins so in case they are sticking to pan, they will loosen up and come out in perfect shape!
Once cooled completely, you can store them in airtight container in fridge or outside if it's not too hot where you live.
Notes
Ami says :
This muffin recipe adapted from my
BANANA MUFFIN
recipe.
 Some more delicious MUFFIN recipes ->>