A simple & elegant holiday treat. This White Chocolate Fudge with Cranberries and Pistachios needs just 6 ingredients and makes for a great holiday gift!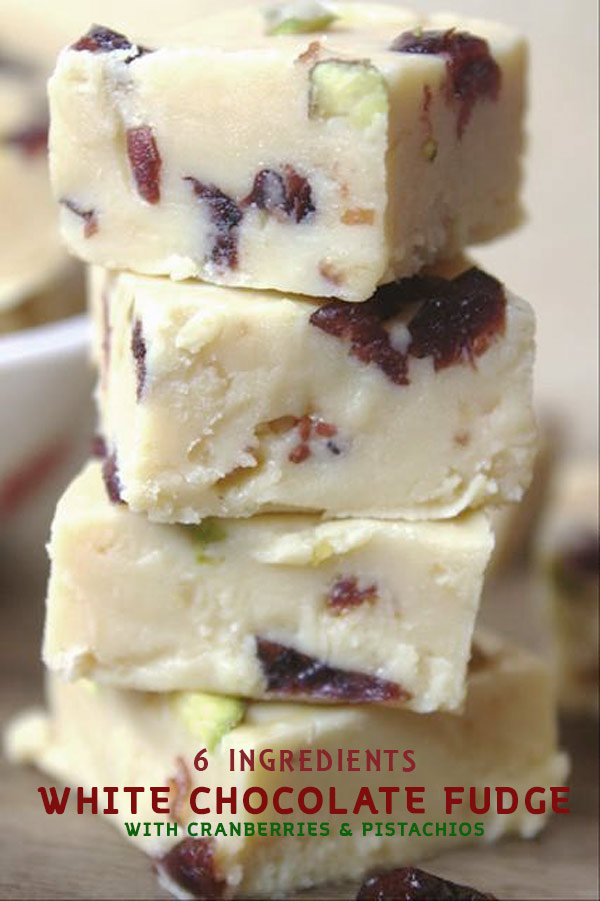 Let's just take few minutes and stare at this fudge. How gorgeous is it and filled with all the holiday colors! This fudge reminds me of holidays, spending time with our loved ones, making lots of good food and enjoying it with people we love. Usually during Diwali or Christmas, it's always hectic. So I am always looking to keep it festive, fun but less stressful.
Kaveri shared these amazingly soft, melt in mouth White Chocolate Fudge recipe. This requires just 6 INGREDIENTS, is packed with dried cranberries & pistachios.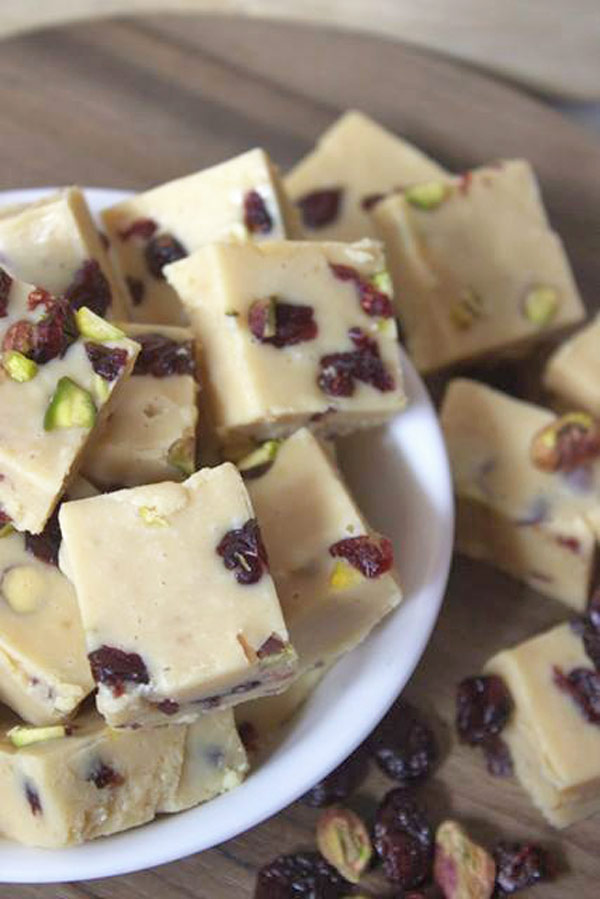 Recently while on our trip to Mt.Rushmore, I had the best Oreo Fudge ever. It was really soft, not overly sweet and with just the right amount of oreo chunks. Since then I have been waiting for holidays so I can create all sorts of fudge recipes and thanks to Kaveri, we have our first fudge recipe on the blog today! This is my favorite time of the year with trees changing to gorgeous fall colors, weather getting cozy. This weekend we went for Pumpkin Chunkin and it was so much fun to see all sorts of equipments people made and used to throw pumpkins.
I tasted the best vegetarian arepas and chicken pita sandwich with the softest pita ever! Yesterday we went hiking on mountain and the view was just to die for. I posted few pics and insta stories on Instagram in case you want to see!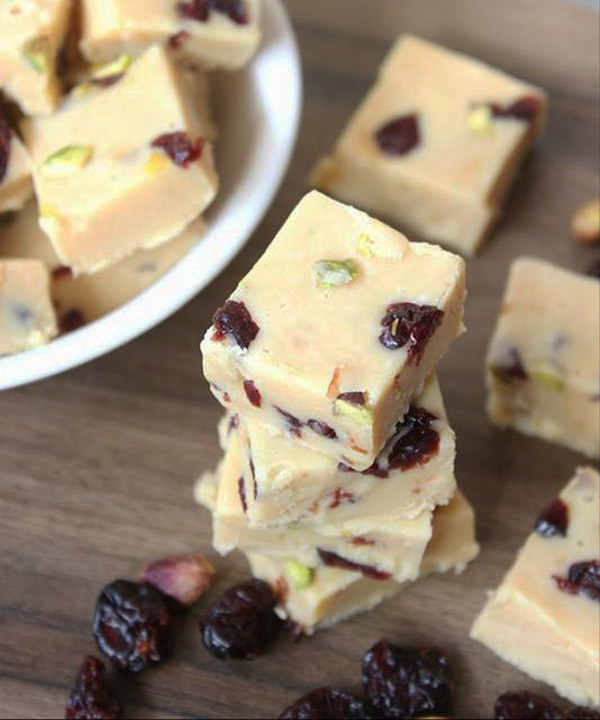 So go ahead and give this a try! If you make these or any other recipe from our blog, do tag us by using#naivecookcooks on social media channels.
If  you enjoyed this recipe, don't forget to FOLLOW me on  INSTAGRAM ||FACEBOOK||PINTEREST ||TWITTER ||GOOGLE+ || BLOGLOVIN || YouTube

Easy 6 Ingredient White Chocolate Cranberry Pistachio Fudge
Ingredients
White Chocolate Fudge:
1 can sweetened condensed milk (400 ml)
3 cups chopped white chocolate or compound (I used one full 500gm block of chocolate)
1 teaspoon vanilla extract
⅛ teaspoon salt
1 cup dried cranberries, chopped
Handful of salted pistachios, chopped
Instructions
White chocolate fudge:
Line an 8-inch square pan with foil. Combine the sweetened condensed milk and chopped white chocolate in a medium saucepan over medium heat, stirring constantly. Mix until the chocolate has melted completely and the mixture is smooth and thick. Once smooth, remove from the heat and stir in the vanilla and salt. Then stir in the cranberries and pistachios. Pour it into the prepared pan and smooth the surface with a spatula or tap a few times on the counter. Refrigerate for 3 hours, or leave at room temperature overnight. Once set, lift the fudge out of the pan. Cut the fudge into 1-inch squares. Can be stored for about 8-10 days at room temperature.
Some more HOLIDAY GOODNESS ->>