A simple 15 mins Veggie Omelette Recipe that is great for any meal of the day! Superb flavors, filling & healthy with basic ingredients!
These days I am always looking for simple recipes that take no more than 15 – 30 mins, uses basic pantry/fridge ingredients, are superb in flavors and are something that I know even Ronak would love! Eggs have always been my favorite – even though there is someone in our family of 2 (you know who! :P) for whom eggs are only part of breakfast menu but not for me! I can seriously eat them easily for 1-2 meals a day without any complaints!
So lately before leaving for India when I was trying to get a little head start on recipes for September, I realised that I was making these veggie omelettes with finely chopped bell peppers, onions, jalapenos, big juicy tomato slices and lots of goat cheese for our breakfast a lot. It was a very filling healthy breakfast meal which needed almost no toast ( a good thing as lately we have been trying to stop eating bread which has been super hard but we have showed good restrain for almost 10 days now!).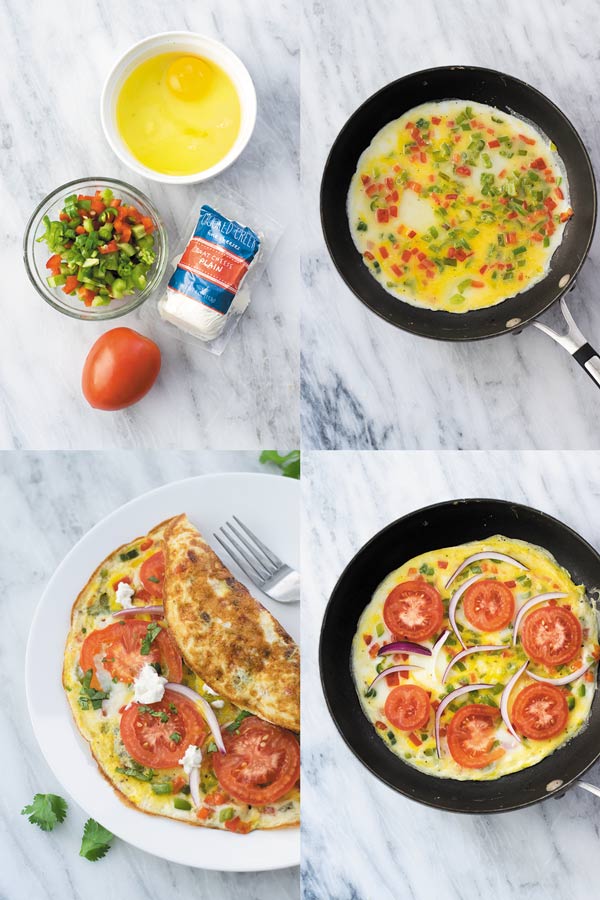 So I knew this was something I would like to post on our blog as it's a perfect 15 min meal option great for any meal of the day, really filling with 2-3 egg whites and 1-2 yolks. You can switch up the veggies and use whatever you have in your pantry. For us this is the combination that we really enjoy and I would suggest to start with this combination first and then the next time start with little bit of modifications as per your taste! I like to sautee the veggies first so they are almost cooked and add them in eggs along with salt, pepper and little milk. Then I let the omelette cook in a skillet and place tomato slices over it immediately as it starts cooking so tomatoes also get slightly cooked and once it's almost cooked, I add a generous amount of goat cheese and roll it up and serve immediately! If you like spicy, then a few drops of good hot sauce really takes this to another level.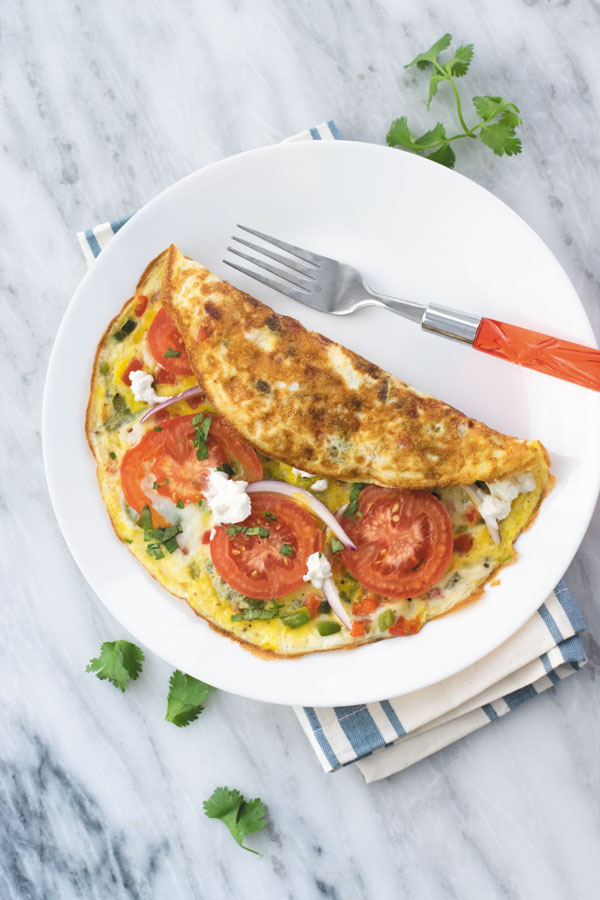 That's about it! If you don't want to serve it with toast but want it to be more filling as a meal, you can serve with some roasted or skillet cooked veggies, you can even add chopped kale/spinach inside eggs.
If you LOVED this recipe, PIN IT to make it now or later and share with your friends ->>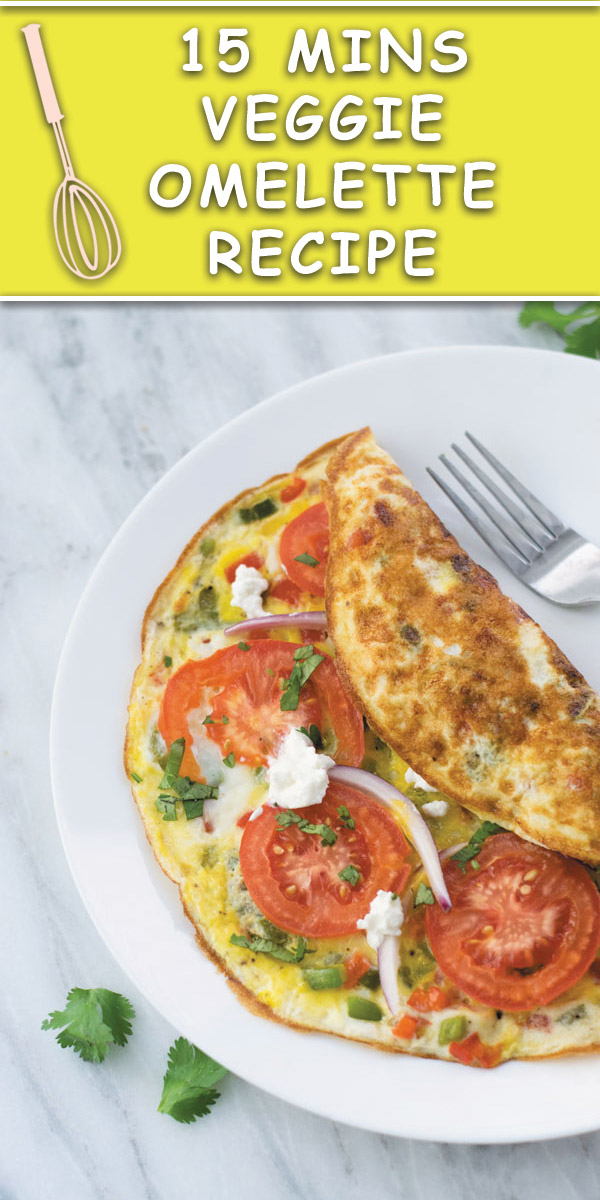 If  you enjoyed this recipe, don't forget to FOLLOW me on  INSTAGRAM ||FACEBOOK||PINTEREST ||TWITTER ||GOOGLE+ || BLOGLOVIN || YouTube

15 Mins Veggie Omelette Recipe
Serves:
1 meal size serving
Ingredients
15 mins Veggie Omelette:
½ cup finely chopped bell peppers
½ serrano or jalapeno or green chili, finely chopped (or more/less as per taste)
¼ cup finely chopped red onion
3 tsp oil, divided
Salt & black pepper to taste
1 egg yolk
3 egg whites
1 tbsp milk
4-5 juicy tomato slices
Good amount of crumbled goat cheese or feta cheese as per what you like
Hot sauce (optional)
Instructions
15 mins Veggie Omelette:
In a skillet add 1 tsp oil. Once hot, to it add chopped bell peppers, jalapeno and onions. Add a pinch of salt and black pepper and cook for few minutes on medium-high heat until softened.
In a bowl add egg yolk, egg whites, salt, black pepper, milk and this cooked veggie mixture. Whisk it until everything is mixed.
To the same skillet, add the remaining 2 tsp oil and make sure to spread the oil using spatula so it coats entire cooking surface of skillet. Add this egg mixture and spread it all around by moving the skillet around. Let it cook on medium-low heat. Immediately add tomato slices on half side of omelette. Once it starts to cook, pick up the edges of the omelette using spatula so the extra liquid part of egg mixture flows underneath and starts to cook too.
Once the omelette is almost cooked with top with bare wet surface and bottom nice golden brown, add crumbled goat cheese on half/ full of omelette and cover one half of omelette over the other half. Cook for few seconds longer so the heat makes the goat cheese melt. Take it off heat and slide it carefully onto a plate.
Serve immediately just as it is or with toast or with roasted vegetables on the side.
Some more delicious quick meals ->>