Savory Multigrain Spinach and Cheese Waffles served with a runny sunny side up egg on top!! These waffles are packed with super nutritious stuff – flaxseed flour, almond flour, oat flour and whole wheat flour!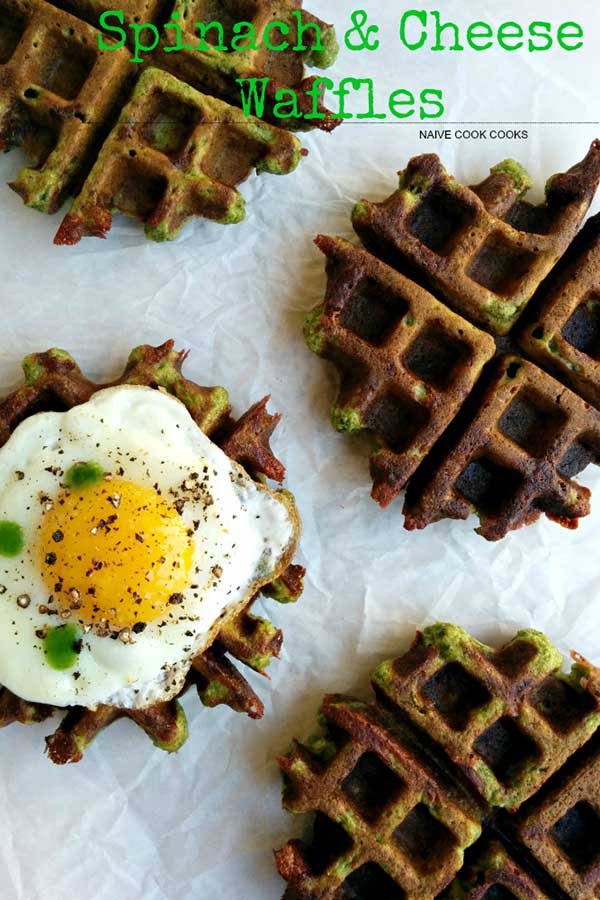 Sitting at home, while typing this I am thinking of how tough it gets when you fall sick. I always stress on healthy eating. There were days when I was too much into health food and I realised that I wasn't enjoying what I was putting in my body. I was just eating simply for eating healthy. Jerry convinced me that balance is the key and we can still be healthy if we eat everything in moderation and most importantly enjoy what we eat. Lately I have been playing with lots of different kinds of recipes and making an effort to include little healthy and little indulging foods in our diet. These waffles are one of a kind. We have been lately wanting to eat more savory breakfasts. Pancakes, waffles drenched in maple syrup with berries and whipped cream or greek yogurt have been not our cup of tea for sometime now. So this weekend when I was trying to use up leftover veggies and fruits before leaving, I realised I had a bunch of spinach and I can easily use it up to make spinach & parmesan waffles. With parmesan cheese in these, I was sure Jerry will love these. I wanted to do a NO- all purpose flour batter so I went the multi grain waffle route. These waffles are packed with spinach, flax seeds oats, almonds and whole wheat, all grinded up to make a smooth batter. You can't even tell that these are multi grain waffles. They are super light and soft. No issues of being dense or hard to chew because of multi grains.
Served with a hot runny yolk egg on top and a drop of your favorite hot sauce (I am in love with this hot sauce.), these will surely become a favorite breakfast, brunch or dinner recipe at your home. I am confident that these will be superb for breakfast for dinner kind of meal too! Just make some extra and freeze. For dinner, just pop them in a preheated oven and voila serve fresh warmed up waffles with hot eggs! On another note,Thanks for your inputs yesterday. I have been working on fixing my blogher ads and they emailed me saying that my pictures are overlapping the adds in the sidebar. I am trying to fix those and I appreciate your help! I will love to know your inputs and tips on running blogher ads.Did you face the same problems initially like me in setting them up and fixing your blog??
Fall is here, so enjoy with good food and good health!

Multigrain Spinach & Cheese Waffles
Savory Spinach & Cheese Waffles served with a runny sunny side up egg on top!! These waffles are packed with super nutritious stuff - flaxseed flour, almond flour, oat flour and whole wheat flour!
Ingredients
1 egg, room temperature
1½ cup milk (any kind. I used 2% organic milk)
2 Tbsp. grapefruit juice (You can easily use orange juice too)
1 tsp. vanilla extract
2 Tbsp. olive oi or canola oil or coconut oil
2.5 Tbsp. flaxmeal (I grind flaxseeds at home to make flaxseed flour)
½ cup almond meal ( Almonds grinded at home to get almond flour)
½ cup plus 1 Tbsp. whole wheat flour
½ cup oat flour
2 tsp. baking powder
1 tsp. sea salt or to taste
½ tsp crushed black pepper
½ cup spinach puree ( Just rinse fresh spinach and grind it into a high speed blender for puree)
1 cup shredded parmesan cheese
4 eggs for topping
Instructions
Whisk egg, milk, grapefruit juice,vanilla, oil and spinach puree together.Add cheese and stir.
Add the dry ingredients into a mixing bowl and mix well, pressing out any clumps. Add the wet ingredients to the dry ones and stir until just combined. Let the mixture sit for a few minutes.Add enough batter to fill your preheated waffle iron. Once done, serve with freshly made eggs and hot sauce. You can also serve some salad if making these for dinner.
Don't stack them. Lay them indivisually on a rack and let them cool down if making in advance.Just preheat in a 350F oven for 5-7 minutes before serving. Serve with freshly made sunny side up eggs.
Notes
Basic multi grain waffle recipe adapted from Sprouted Kitchen.
More Savory Breafast Recipes: