Creamy under-30-mins mouth watering ricotta rosemary frittata with greens!! Who said breakfast has to be boring!
Hello and let me tell you that it feels super good to be back home!Back home, back to my old familiar workspace and not to forget the most important part of work – kitchen!! Kitchen, you were missed big time!
I am finally done with all the travelling for few months (fingers crossed!) and all I want to do is enjoy this cozy autumn weather, though who am I kidding, it's still in 80's here but still it does feel like fall! There is a lot coming here soon, so stay glued!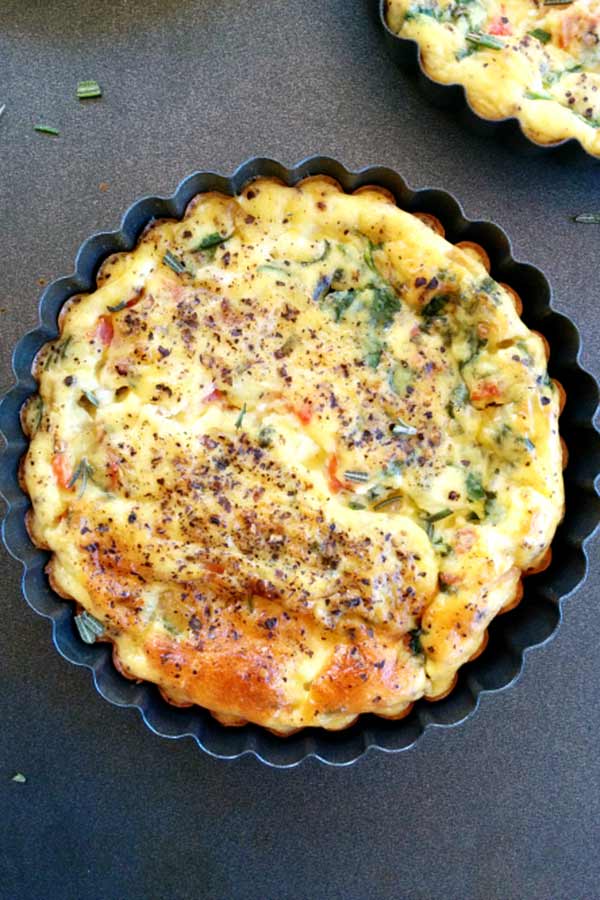 This frittata! This is one of those recipes that you make just purely out of intuition and there you end up with a winner!I made this frittata on a rushed up sunday morning when I couldn't figure out what to cook but looking at all the fresh rosemary growing in the pot, all I could think of was eggs. So there we had frittata for brunch. This under 30 minute frittata is super easy to throw together on those rushed up mornings and it looks super fancy and tastes way more fancy! Mark my words!
Creamy ricotta imparts a super creamy texture and freshly chopped rosemary makes it so fragrant. The best part – you can make them ahead of time, just pop them in microwave before serving and they taste just like fresh out of the oven!

Ricotta Rosemary Frittata with Greens
Creamy under-30-mins mouth watering frittata with fresh rosemary and ricotta cheese!! Who said breakfast has to be boring!
Ingredients
1 tsp oil
3 tbsp red onion, chopped fine
2 tbsp tomato, chopped fine
5 tbsp spinach & kale mix, chopped fine or any greens
½ tsp rosemary fresh, chopped
3 eggs
Salt to taste
Black pepper to taste
3 tbsp ricotta cheese
1 tbsp milk, any fat content
Instructions
In a skillet, add oil. Once hot, add onions. Saute until soft. Add tomatoes and cook until soft.Add spinach & kale mix and fresh rosemary.Cook for another minute.Take it off heat. Transfer the veggie mix in separate tart shells or an oven safe skillet.
In a separate bowl,break eggs. Add ricotta,salt, black pepper and milk. Stir until it all gets uniformly mixed. Add it over the veggies. Stir it all together. Bake in a 350F pre heated oven for 15 minutes or until a knife comes out almost clean. I say almost as sometimes in a matter of seconds, eggs get super dry and taste horrible. So keep an eye.
Notes
Can be prepared ahead of time. Just warm up in microwave or oven before serving.
You can easily make these in under 30 minutes by multi tasking.
You can add any kind of greens you want. Get creative!
More Breakfast Savory Recipes:
https://www.naivecookcooks.com/shakshuka/