Multigrain Spinach & Cheese Waffles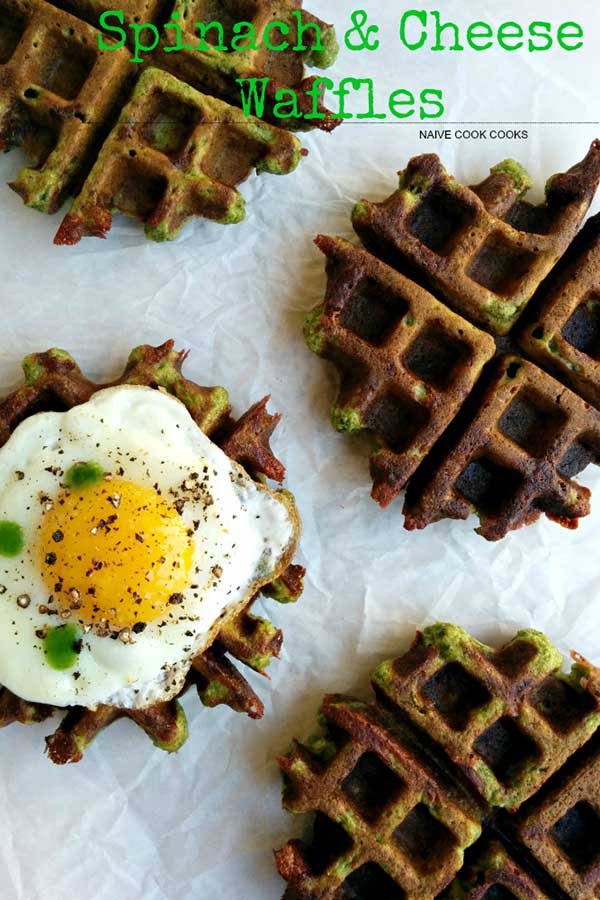 1 egg, room temperature
1½ cup milk (any kind. I used 2% organic milk)
2 Tbsp. grapefruit juice (You can easily use orange juice too)
1 tsp. vanilla extract
2 Tbsp. olive oi or canola oil or coconut oil
2.5 Tbsp. flaxmeal (I grind flaxseeds at home to make flaxseed flour)
½ cup almond meal ( Almonds grinded at home to get almond flour)
½ cup plus 1 Tbsp. whole wheat flour
½ cup oat flour
2 tsp. baking powder
1 tsp. sea salt or to taste
½ tsp crushed black pepper
½ cup spinach puree ( Just rinse fresh spinach and grind it into a high speed blender for puree)
1 cup shredded parmesan cheese
4 eggs for topping
Whisk egg, milk, grapefruit juice,vanilla, oil and spinach puree together.Add cheese and stir.
Add the dry ingredients into a mixing bowl and mix well, pressing out any clumps. Add the wet ingredients to the dry ones and stir until just combined. Let the mixture sit for a few minutes.Add enough batter to fill your preheated waffle iron. Once done, serve with freshly made eggs and hot sauce. You can also serve some salad if making these for dinner.
Don't stack them. Lay them indivisually on a rack and let them cool down if making in advance.Just preheat in a 350F oven for 5-7 minutes before serving. Serve with freshly made sunny side up eggs.
Basic multi grain waffle recipe adapted from Sprouted Kitchen.
Recipe by
Naive Cook Cooks
at https://www.naivecookcooks.com/multigrain-spinach-and-cheese-waffles/