This shop has been compensated by Collective Bias, Inc. and its advertiser. All opinions are mine alone. #MakeItMerrier #CollectiveBias
Indian style scrambled eggs (Egg Bhurji) along with crispy potatoes wrapped in soft tortillas! Perfect make ahead breakfast!
Tis the season friends! Hot breakfasts, creamy PSL's, cheesy comforting food and lots of sweets is all you should be focusing on right now!!❤❤
With Diwali & Thanksgiving both coming up soon, it must be crazy at some places! We just came back from a mini Chicago trip which was great. But it was a business trip and we got one day where we roamed around carelessly because other days we both were busy with our work. I was attending the conference for 2 days from early morning till night and it was such a fulfilling experience. I never knew how strong this community is, how wonderful each person is! I am so happy to be part of this wonderful community.
These breakfast wraps were what saved us today. I created them before leaving for our trip because I knew when we came back there wouldn't be much to eat. Today for breakfast we warmed them up and enjoyed with a good helping of avocado mash and hot sauce. Oh boy, they were good!
As I keep telling you all the time, these few months are my favorite time of the year and this year we are planning to continue our Christmas tradition, which we started last year. We ate sugar cookies, drank hot chocolate and watched Home Alone and Santa Claus while sitting by the fire place. It was the perfect first Christmas we had as a couple together and even though it was very simple, it was the best for us. So many memories. This year if all goes well, I would love to create a simple dinner for our family. And for days like those these EGG BHURJI BREAKFAST WRAPS will come in handy. Egg Bhurji is simple scrambled eggs made Indian style. So flavorful and when wrapped in a soft tortilla with crispy spicy potatoes and cheese, they can most easily be called the best breakfast ever! The best part : You can even FREEZE these and just pull out a few when in the mood.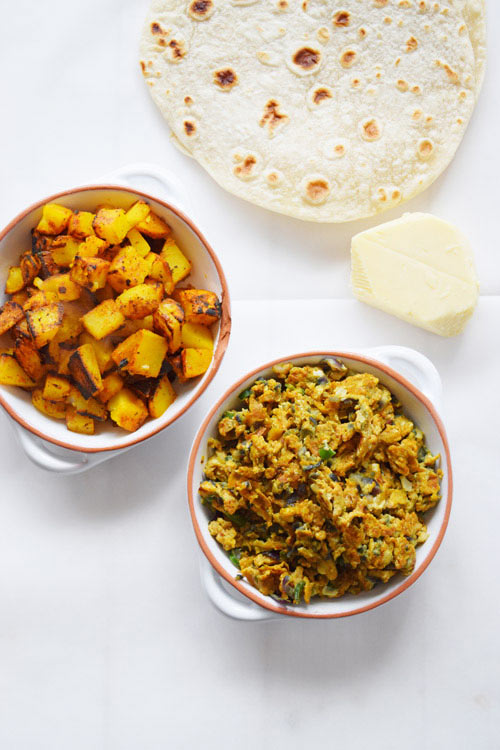 We enjoy eating these with avocado mashed with a few spices and hot sauce but if you are planning on making and eating them the same day, then I would STRONGLY suggest you smear the tortillas first with a thick layer of this avocado mash and then place your eggs, potatoes and cheese.
For making this avocado mash, which we literally eat 5 out of 7 days in a week, simply mash some avocados and add salt, red chili flakes and lime juices and mix! There it is – the best avocado mash you will ever eat!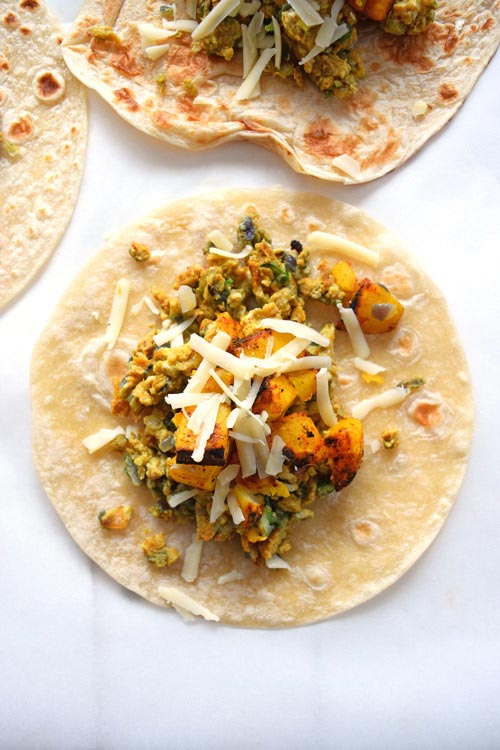 And since these are breakfast wraps, I like to grab them while on my way to finish tasks and buy a cup of coffee! My current favorite are these instant pods from STARBUCKS which are the best!! I mean most of us love getting STARBUCKS but if you can make it at home?! Much cheaper and you can have it anytime!!
Find more information about Starbucks coffee HERE.
"Get a $5 Starbucks Card e-gift when you purchase 3 or more qualifying Starbucks products."
Follow along for a lot more delicious treats and life happenings on INSTAGRAM || FACEBOOK ||PINTEREST ||TWITTER ||GOOGLE+

Egg Bhurji Breakfast Wraps
Ingredients
2 tsp oil
½ cup finely chopped red onion
3 green chilies finely chopped or as per taste
5 eggs
Salt to taste
½ - 1 tsp red chili powder
1 tsp turmeric powder
2 large potatoes, peeld and chopped in small pieces
2-3 tsp oil
Salt to taste
Red chili powder to taste
½ tsp turmeric powder
1 cup shredded cheese ( I used cheddar)
4 soft tortillas (large ones)
Instructions
In a skillet, add oil. Once hot , add onions and saute on medium flame until starting to turn golden. Add green chilies.
In a bowl, add eggs and using a fork stir them. To them add the cooked onion mixture. To it add salt, red chili & turmeric powder. Stir until it's all mixed.
Heat the same skillet and to it add this egg mix. Cook on medium- low heat and stir continuously and once it's all softly scrambled, turn off the heat. Taste and adjust seasoning.
Keep aside.
Clean the same skillet and heat it. To it add some oil and chopped potatoes. Cook them on high covered. Keep checking and stirring them every few minutes so they don't burn. Once they are all cooked and crispy add salt, red chili and turmeric and cook for another minute or two.
Now once everything is ready, assemble them and pack them.
Lay down the flour tortillas and add egg bhurji (scrambled eggs) in the center of each by dividing the egg mix in 4 parts. Now same way ad potatoes. If you feel potatoes are a lot, save the extra for later.
Add cheese the same way on all of them and fold them tightly. Take plastic wraps and tightly wrap them in plastic wraps.
**If you are making to eat them the same day, then in a bowl add a avocado, salt, lime juice, red chili flakes and mix. Add 1-2 tbsp of this avocado mix on each tortilla and then add the rest of the ingredients.
***If making them in advance, then thaw them overnight in fridge to eat the next day or simpley pop them in microwave. I also like to crispy them on the skillet if I have some time on hands and serve with this avocado mash and hot sauce!
More Savory Breakfast Ideas:
https://www.naivecookcooks.com/kale-hashbrowns-pistachio-pesto-breakfast-pizza/