Mini  bhakarwadi chaat made with mini sweet & spicy bhakarwadis that will knock the socks out of your guests. A really delicious appetizer to serve for your next gathering!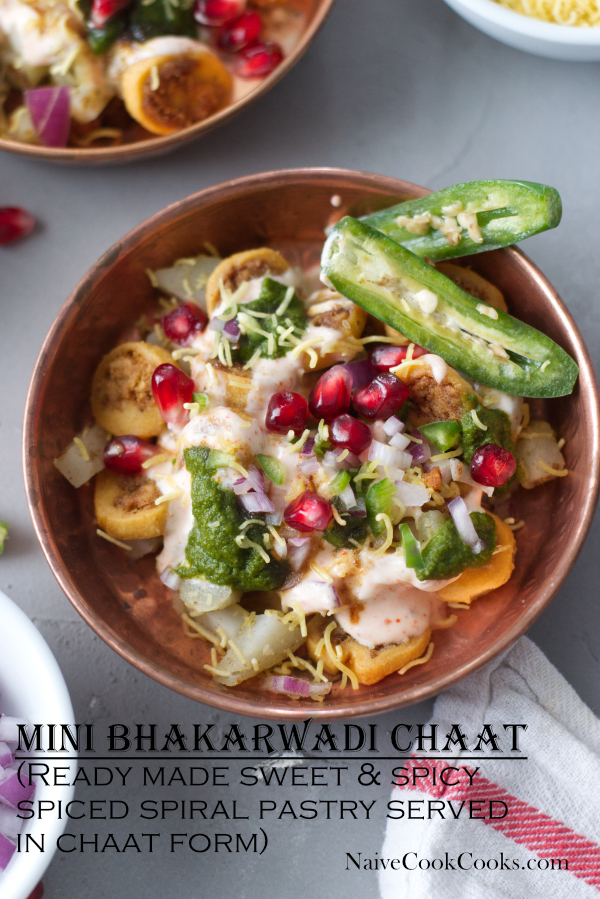 Diwali is just round the corner and if you are looking for a super easy dish that will make you look like a SUPER HOSTESS , try this amazing take on everybody's beloved sweet & spicy crunchy snack! I was able to find these MINI BHAKARWADIS at our Indian store as well as at our Asian store.
First RESIST AND NOT FINISH THEM ALL EVEN BEFORE YOU START ON YOUR CHAAT!
The basic things you need to make a good chat are ->>
GREEN CILANTRO CHUTNEY
SWEET DATE TAMARIND CHUTNEY
YOGURT THINNED OUT WITH MASALAS
ONIONS
TOMATOES (OPTIONAL)
BOILED POTATOES
SEV ( FRIED THIN CHICKPEA FLOUR NOODLES)
CHAAT MASALA
CILANTRO FRESH (OPTIONAL)
ROASTED CUMIN SEEDS ROUGHLY CRUSHED
SALT, BLACK PEPPER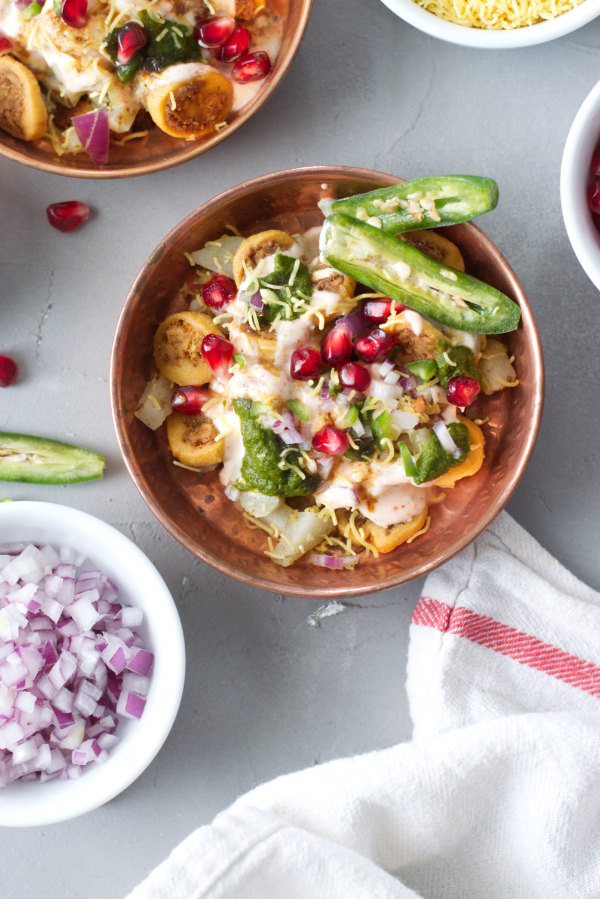 So once you get all these MUST HAVE CHAAT INGREDIENTS, it literally takes 10 minutes to throw a mean bowl of chaat together! I am for sure serving it for my Diwali gathering and also including at our Thanksgiving table this year! 
So YOU ASK WHAT EXACTLY IS THIS CHAAT? Well it's super simple! In a bowl add finely chopped onions, tomatoes, potatoes, cilantro along with chaat masala, salt, black pepper, roasted jeera and sev. Give it a good mix. Then to it add handful of mini bhakarwadis. Toss again. Meanwhile have all other ingredients like chutneys and yogurt ready. Place this mix onto a plate, drizzle both spicy & sweet chutney along with masala yogurt. Garnish with more sev, chopped serranos, onions, chaat masala and SERVE IMMEDIATELY!
CAN I MAKE THIS CHAAT AHEAD OF TIME? So you can get everything ready as in all chopping done, all chutneys and yogurt ready BUT ASSEMBLE IT WHEN & ONLY WHEN READY TO EAT or they will get soggy.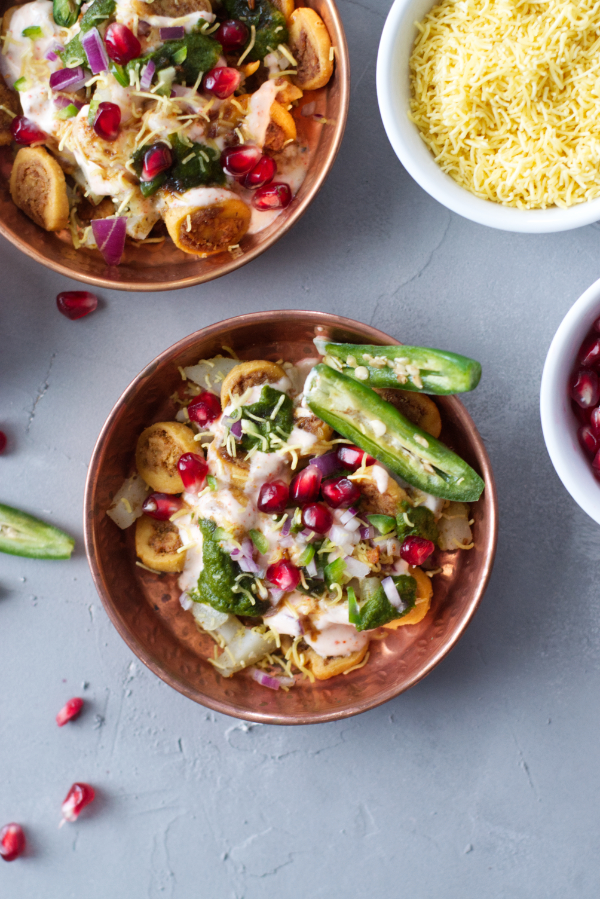 I hope you make it and share it with your loved ones!
So go ahead and make this tempting CHAAT!! If you make this, remember to tag us on social media by using #naivecookcooks . We will feature your pics on our SOCIAL MEDIA CHANNELS!
If  you enjoyed this recipe, don't forget to FOLLOW me on  INSTAGRAM ||FACEBOOK||PINTEREST ||TWITTER ||GOOGLE+ || BLOGLOVIN || YouTube 

Mini Bhakarwadi Chaat
Ingredients
DRY MIX :
1 Packet MINI BHAKARWADIS (I was able to find ANAND BRAND mini bhakarwadis at my Asian as well as Indian store) *
1 potato boiled, peeled and chopped into small pieces
½ red onion, chopped into small pieces
¼ cup finely chopped cilantro
Salt to taste
Pinch of Black pepper
Good 1-2 pinches CHAAT MASALA ( available at any Indian store)
½ tsp roasted cumin seed powder ( roasted jeera)
½ cup Fine sev ( also available at Indian grocery store)
Assembly :
DRY MIX
Green cilantro chutney
Sweet & spicy date tamarind chutney
¼ cup of thick yogurt mixed with 2 tbsp water and salt, ½ tsp red chili powder, 1tsp roasted cumin seeds powder and 1 tbsp sugar.
Additonal garnishings - fine sev, onion, serrano, cilantro and good pinch of chaat masala
Instructions
In a bowl, add potatoes, onion, cilantro,salt, black pepper, chaat masala, roasted jeera and fine sev as mentioned in DRY MIX. Toss them together. Taste and then add 2 big handful of mini bhakarwadis. Quickly mix and serve them on 2 plates (half in each).
Now working quickly drizzle generous amount of spiced yogurt, green chutney, date tamarind chutney (not much as bhakarwadis have sweetness to them already), fine sev, onions, serranos (optional), cilantro and a good pinch of chaat masala
SERVE IMMEDIATELY!
Notes
Ami says :
* In case unable to find MINI BHAKARWADIS, get the regular size ones, break them into small pieces and used them instead!
SOME OF THE INGREDIENTS I USED HERE ->>
SOME MORE CHAAT RECIPES ->>