Simple melt-in-mouth Indian Cookies with a twist! Chocolate NanKhatai will be your new favorite cookie!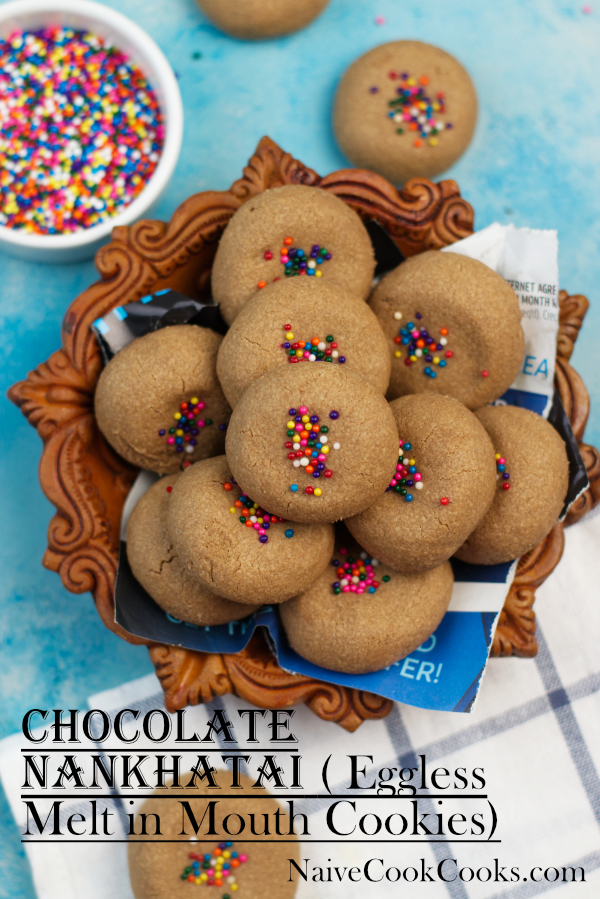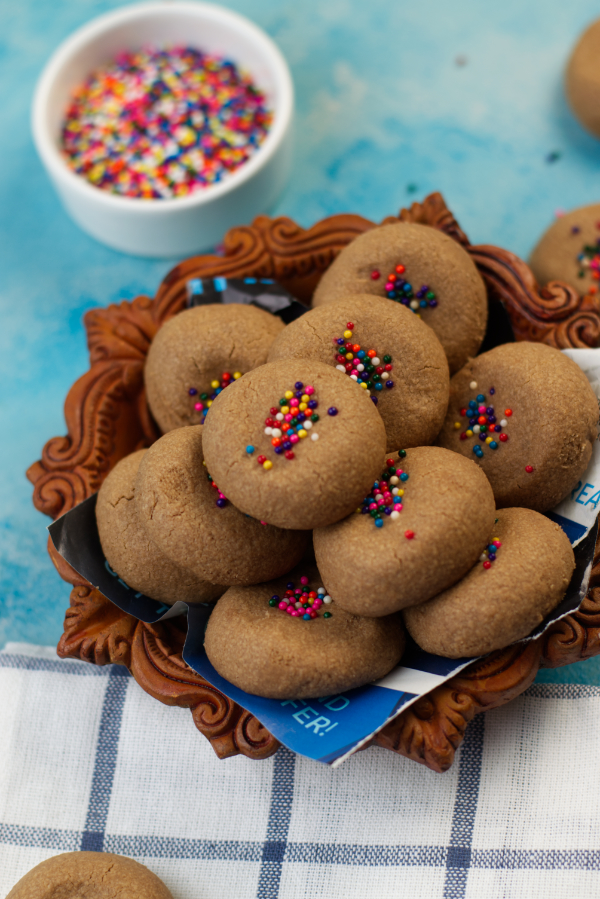 Starting October and until end of December is probably my absolute favorite time of the year and with so many fun festivals/holidays lined up  i am so excited!! After a long time made one of our favorite Indian sweet but with a twist!
Nankhatai aka a very simple basic EGGLESS Indian cookie just like a shortbread cookie- its crisp exterior and melt in mouth interior always wows everyone! This need very few basic ingredients and unlike regular NanKhati which is plain cardamom flavored, these are chocolate cookies. We all know chocolate makes everything better, doesn't it?!
NanKhatai is sort of Indian version of shortbread cookies. I have memories of eating them when we would have state fair which was like once every year and lots of street vendors will sell these. The buttery smell was so intoxicating that it was must to buy them every single time and that was one of the main reasons we would look forward to fair 🙂
 The crunchy, crumbly, aromatic cookies bring back fond memories to mind. Not only are they easy and quick to make, it uses simple ingredients that most of you will already have in your pantry. The addition of chocolate gives it a great twist that makes it even more irresistible!
I am planning on making these myself soon as they are really easy and this is my first contribution to Diwali and since I always loved the classic version, I am sure these will be a hit too! 2020 has been a year so looking forward to enjoying these 3 months which happen to be my favorite because there are so many fun holidays/festivals which I absolutely love!
So go ahead and bake a batch! If you make these, remember to tag us on social media by using #naivecookcooks . We will feature our favorite pics!
If  you enjoyed this recipe, don't forget to FOLLOW me on  INSTAGRAM ||FACEBOOK||PINTEREST ||TWITTER ||GOOGLE+ || BLOGLOVIN || YouTube 

Chocolate NanKhatai Recipe
Ingredients
All purpose flour (maida) – 1 cup
Powdered Sugar – ½ cup
Corn flour (cornstarch) – 1 tablespoon
Clarified Butter (ghee) – ½ cup (you can even use butter at room temperature
but only if you do not have ghee)
Cocoa powder – 1.5 tablespoon
Baking powder – ½ teaspoon
Chopped almonds or sprinkles for garnish (I used colorful sprinkles)
Milk – 1-2 teaspoons (if required for kneading)
Instructions
Preheat the oven to 170 degree C (~335F) for 10 minutes.
In a bowl sift together the flour, cornstarch, cocoa powder and baking
powder and mix well.
In another bowl, add the powdered sugar and ghee and mix well with a
hand beater until the mixture is light and fluffy.
Add the flour mixture to this sugar-ghee mixture and mix well.
Knead into a smooth dough (use your hand ). Use little milk if required
to bind the dough.
Line a baking sheet or cookie sheet with parchment paper. Divide the
dough into equal small balls and place them on the tray spacing them out.
Lightly press the almonds or sprinkles on top of the dough balls.
Bake the cookies for 18-20 minutes. They may appear to be soft after
baking but will turn crispy on cooling completely. Once cooled, store them
in an airtight container.
Some more COOKIE recipes ->>