Spicy Indian Chaat with crispy potatoes, chickpeas and pomegranate!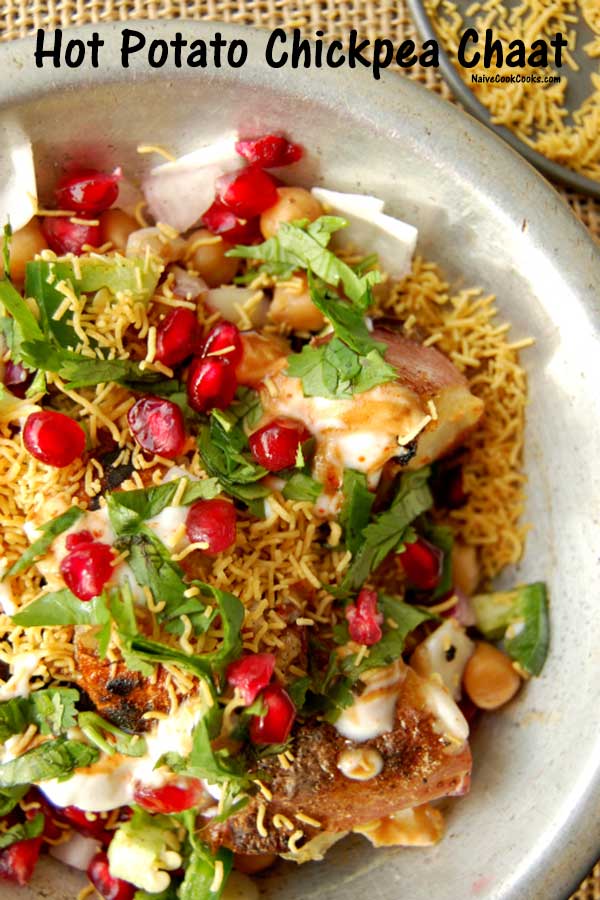 Let's do something different today.
We have lately been talking a lot about holidays so I figured just like me, you must be already getting sick of it. So why not take our taste buds to a tour of something spicy, crunchy, sweet and full of awesomeness. Let's treat ourselves to this delicious and I so seriously mean delicious. We had this for dinner and next day again for lunch and now all I can think of is this again!! I might make some for myself for lunch (Best part of working from home!).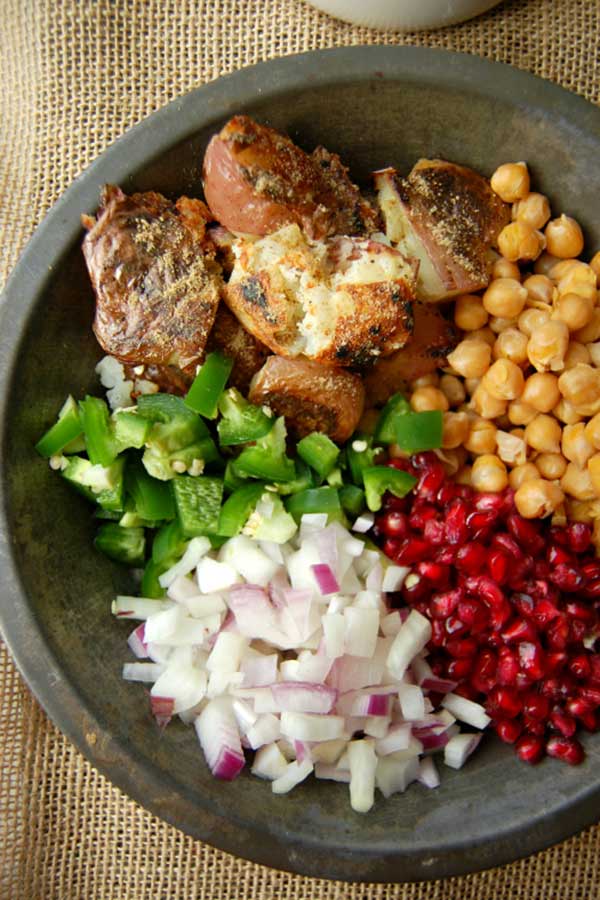 I grew up eating lots of chaat back home in India (Chaat is basically savory Indian 'food truck' food. You will find small shops or even people roaming around with small carts with all sorts of delicious chaat items). Especially during winters, my mom will make different versions of chaat majority of that with hot crispy potatoes. So few days back when I came across a recipe from The famous London restaurant "Gymkhana" by Karam Sethi, I was all over it. It took me back to my roots and all I wanted was that chaat.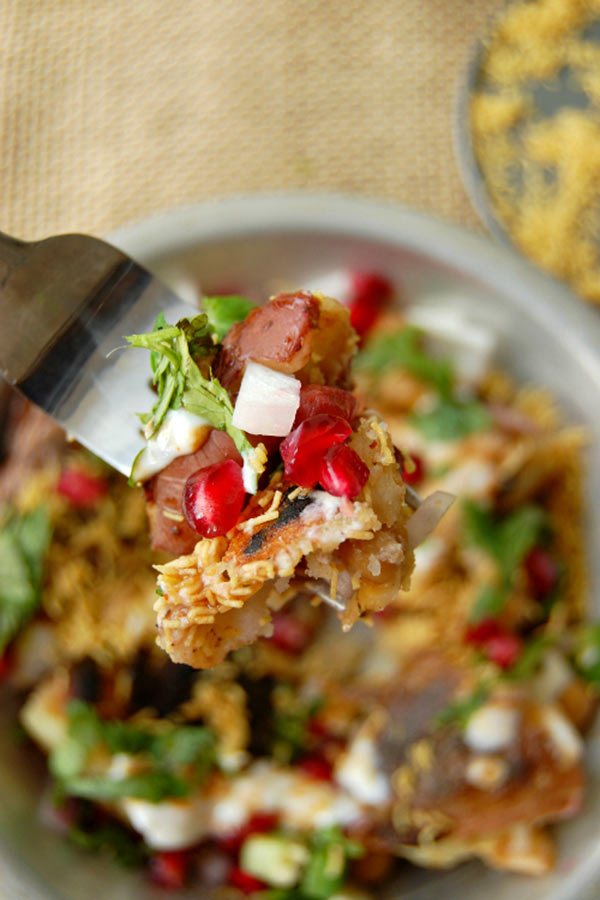 After making it twice already, I have found a middle ground and the best and easiest technique to make this. Its so simple to make that you will have a batch of this fresh chaat in no more than 30 minutes on your table. Packed with fresh flavors, this is a perfect weeknight meal.  Very humble dish with mind blowing flavors, this one will keep you going for more.
And if you are this year planning on doing something different for thanksgiving, you can serve it as a salad or an appetizer with lots of good wine.
Just do it, already!
Hot Potato, Chickpea & Pomegranate Chaat
Spicy Indian Chaat with crispy potatoes, chickpeas and pomegranate!
Ingredients
4-5 potatoes, cleaned, boiled and chopped in big chunks
2 tbsp olive oil or ghee
1 cup boiled chickpeas
1 jalapeno, chopped
1 red onion, chopped
Seeds from 1 pomegranate
½ cup yogurt
Chaat masala (Easily available in Indian stores or speciality stores)
salt to taste
Red chili to taste
Sugar to taste
Lemon/lime juice to taste
Fresh cilantro for garnishing, chopped
Fine sev (These can be found in Indian grocery stores) (If hard to find, you can leave these)
Instructions
On a hot skillet, add oil or ghee. Once hot, add the boiled cubed potatoe pieces. Smash them a bit so they cook evenly. Cook on med-high until crispy. Flip and repeat on the other side. Once done, transfer them to a bowl. Add chickpeas, jalapeno, onion, pomegranate seeds, salt and chaat masala and lemon or lime juice. Stir it around and taste. You might need to add more salt or chaat masala or lemon/lime juice.
Now serve it in indivisual plates.
In another bowl, beat the yogurt to make it smooth. To it add, salt, red chili and pinch of sugar and mix and adjust to taste.
Top the potato mix in the bowls with some of this yogurt, fine sev (optional) and cilantro. Serve immediately.
Enjoy with a hot cup of tea!
Notes
Make sure you serve the potatoes piping hot as that's when it tastes the best.
I have suggested the total time as 1 hour as if you are boiling potatoes in a pot, it will take you an additional ½ an hour.
You can keep everything ready and just before you are ready to eat, crispy the boiled potatoes and assemble.
More Quick Easy Recipes:
https://www.naivecookcooks.com/veggie-pot-pies/