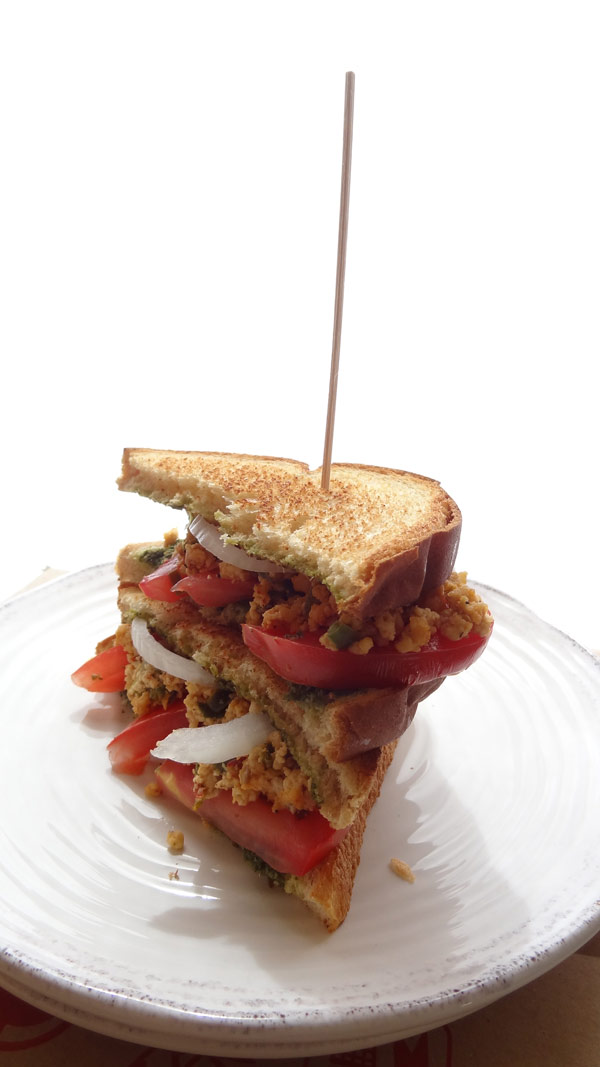 I love pesto based sandwiches be it basil-walnut pesto, parsley pesto, kale pesto or my all time favorite Indian style pesto or in simple terms coriander chutney. I grew up eating simple chutney based sandwiches. I remember some days when my mom would be in a rush to go somewhere or simply not in the mood to cook anything fancy, she would make these by smearing a good amount of chutney on bread and layering it with cucumbers, tomatoes, cheese, paneer . Last night when I made this chutney after a long time, I could not resist and ended up stuffing myself with 4 slices of bread with chutney.
I even enjoy eating it straight out of the jar. I think it reminds me of my roots and old pleasant memories. Well the only important thing to make sure is that you get the best possible coriander/ cilantro. Fresher the herb, better the taste. Their is no particular recipe as I eyeball the ingredients and taste and adjust.
Feel free to adjust the garlic, ginger, salt, lemon juice and green chilies to your taste.

Indian Chutney Paneer Sandwich
Ingredients
Coriander/Cilantro Chutney
1 bunch of fresh coriander/cilantro, roughly chopped
3-4 garlic cloves
½" fresh ginger, peeled
1 tsp cumin seeds
1-2 green chili, chopped
lemon juice, adjust according to taste
salt to taste
Chutney Paneer Sandwich
2 cups grated paneer (Indian cottage cheese), homemade or store bought
1 cup green bell pepper, chopped fine
1-2 green chilies, finely chopped
Salt to taste
Black pepper to taste
1-2 tsp olive oil
4-5 garlic cloves, minced
Chaat masala (optional)
Chutney
1 Tomato, sliced
1 Onion, sliced
Ketchup
Butter for toasting bread slices
Instructions
Coriander/Cilantro Chutney
In a blender, throw in all the ingredients. Pulse it by adding drops of water if too dry. Pulse until you get a smooth paste like consistency. Add water according to desired consistency. Taste and adjust seasoning.
Keep in an airtight container in refrigerator for upto a week or freeze for upto a month.
Chutney Paneer Sandwich
For making paneer mix :
Heat up a skillet on low- medium gas. Add olive oil and garlic. Cook it for a minute or two and add bell peppers. Cook the bell peppers properly for 5-7 minutes or until soft. Add grated paneer along with salt and black pepper. Cook it by mixing it well for 5-10 minutes. Sprinkle chaat masala if using and mix.
Assembling sandwich :
Smear chutney on both bread slices. Now put a good amount of paneer mix on one slice. Put some onion and tomato slices. On the other bread slice, smear ketchup and put it on top of the other bread slice. In a skillet, add little butter and cook the sandwich by pressing it frequently and flipping it until you get the desired crispy texture.
Serve along with more chutney.
More Indian Inspired Recipes: