Stunning fool proof recipe for Challah Bread which is a great bread to have around at all times and it's so simple that you can easily make this yourself!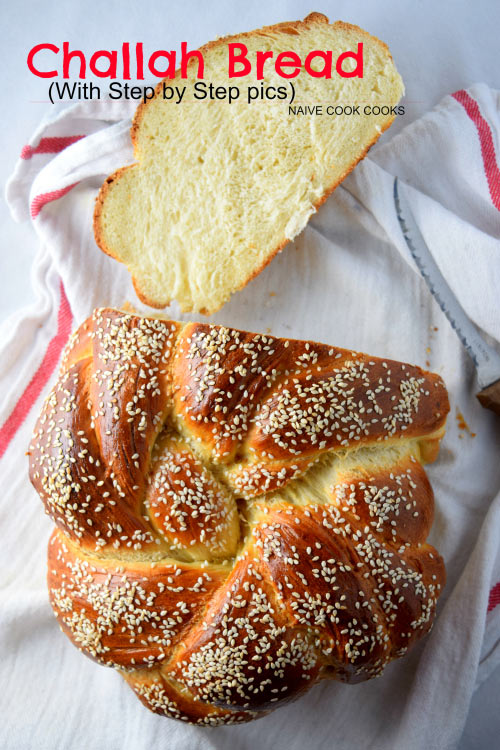 I have always fancied making Challah bread from scratch at home. But I never dared to give it a try. The shape was too complicated and I always thought that it must be one difficult bread to make at home and only a proffesional bread maker should try making it at home. But how wrong was I.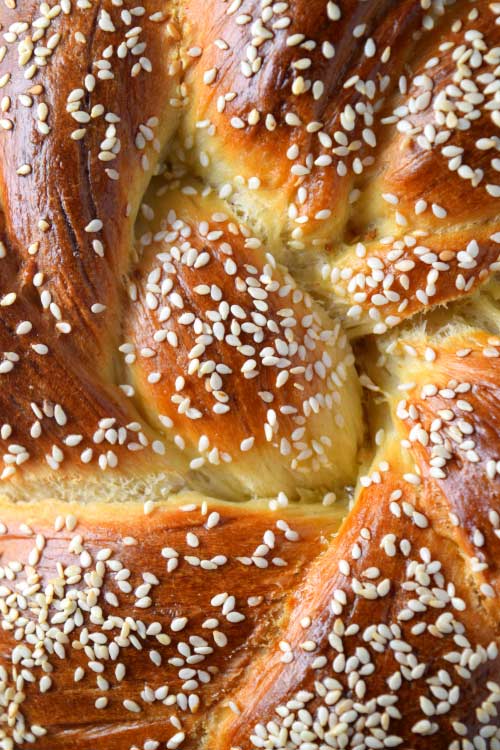 Challah bread is a special Jewish braided bread eaten during holidays and other special occasions. It is basically a bread made up of eggs, flour, sugar, salt, yeast and water. Though now people have started making it with whole wheat flour, without sugar and all other kinds to meet their dietary preferences. Here I have made my first ever Challah bread but without raisins as around here we are not too big on raisins in our food.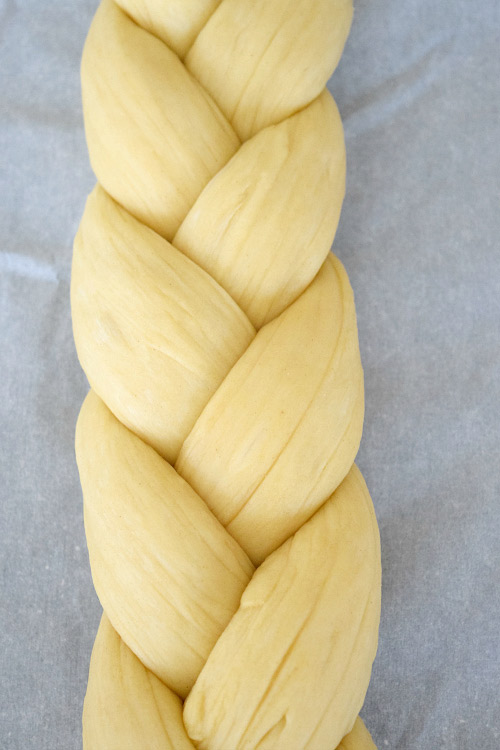 This bread is super moist with a nice crusty exterior and is in my mind the best bread to make french toast with. Toasted with butter, jam or eggs on top it tastes equally delicious. We had the leftover bread for our Sunday brunch with soft creamy scrambled eggs and little hot sauce. Perfect.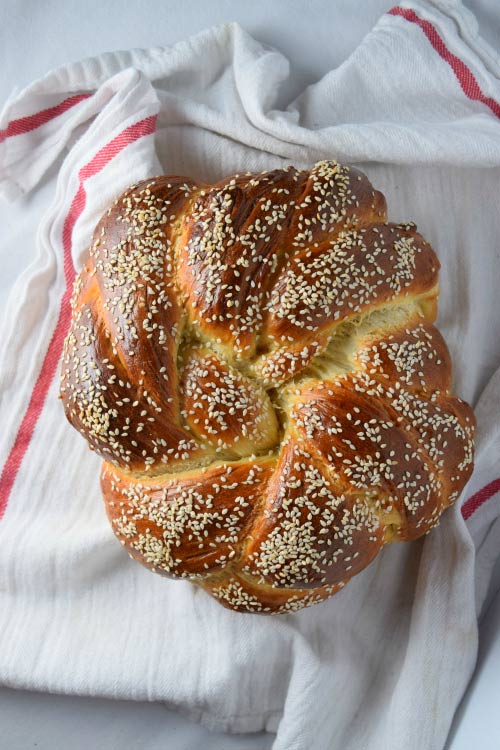 Here are some step by step pics to show how it is braided because I used to feel overwhelmed but you will see how ridiculously easy it is!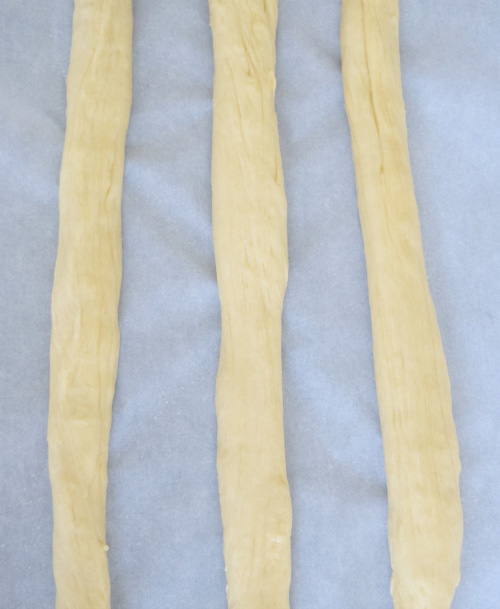 Divide the dough into 3 balls, preferably equal sized. Roll each ball into a long rope. Apply little oil on your work surface and roll each ball until you get a nice length of about 1′ with a 1″ diameter. Try to roll them as even as possible but even if you can't, don't worry as it will still turn out gorgeous.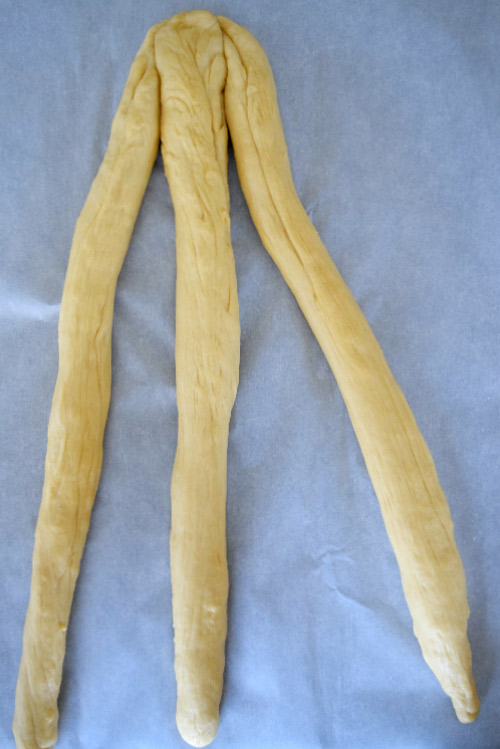 At one end join all three ropes as seen in the pic above and start braiding. Try to make it into a tight braid.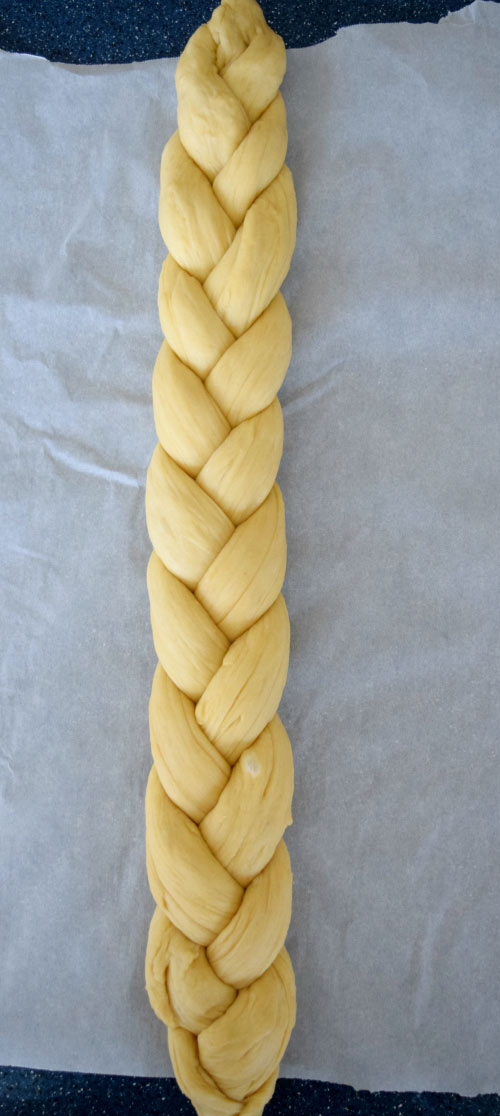 Once you reach towards the end, pinch all three ropes together to seal. Now you have a long tightly breaded gorgeous dough.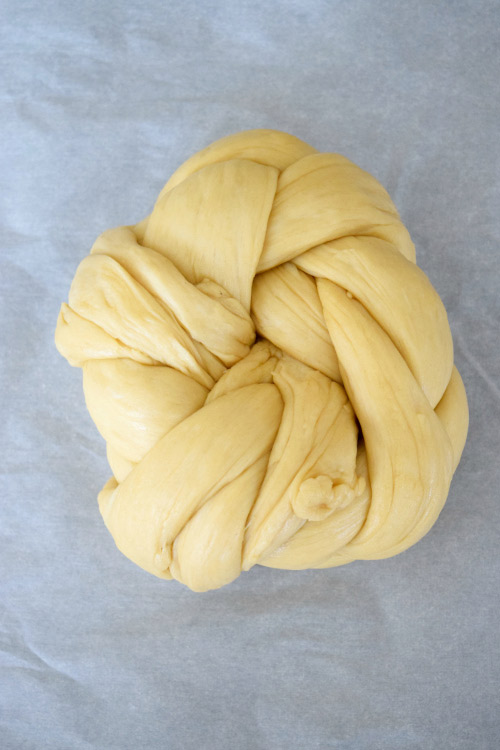 Now take the braid and tie a knot and then wrap the two edges underneath. This will give it a round crown shaped look as you see above. This took me 2-3 trials and you must watch this video to see how exactly she does it.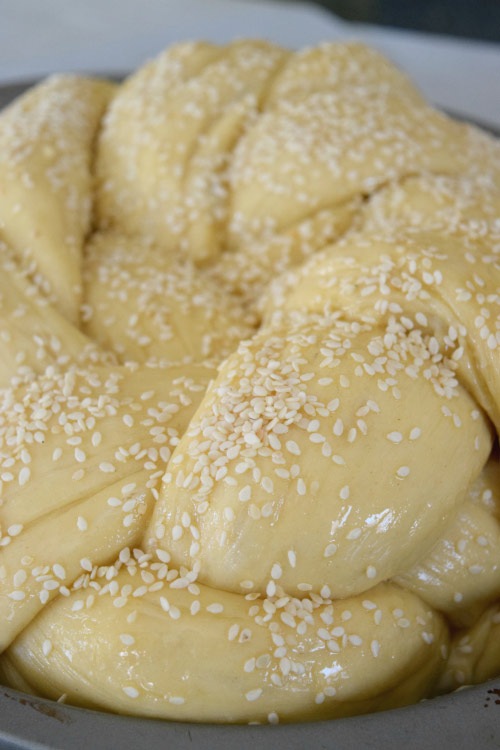 After it has risen, coat twice with egg wash to have that beautiful crusty exterior and sprinkle with sesame seeds. Bake and enjoy!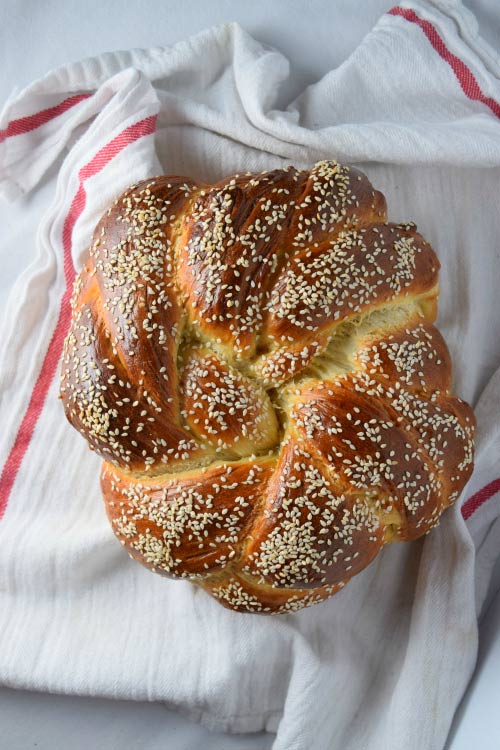 Help in spreading the word!
Follow along for lot more delicious treats and life happenings on INSTAGRAM || FACEBOOK || PINTEREST 

How to Make Challah Bread
Ingredients
1¾ teaspoons active dry yeast
½ tablespoon granulated sugar
(3/4 + ⅛) cups lukewarm water
¼ cup olive or vegetable oil, plus more for greasing the bowl (I used olive oil)
2 large eggs + 1 egg for brushing
¼ cup granulated sugar
½ tablespoon table salt
(4 + ¼) cups all-purpose flour
½ cup raisins (about 70 grams) per challah, if using, plumped in hot water and drained (optional, I skipped raisins)
Poppy or sesame seeds for sprinkling (I used sesame seeds good amount around 2-3 tbsp)
Instructions
In a large bowl, mix yeast with water and ½ tbsp sugar. Let it stand for good 5-10 minutes until it starts to bubble.
To it, add oil while stirring. Add 2 eggs one at a time and add ¼ cup sugar and salt.Add flour and mix. Once the dough comes together, it's time to knead. You can knead it in a mixer (I used my kitchen aid mixer or knead by hands) on a floured surface until smooth. Clean the bowl and spray with some oil. Transfer the dough ball and cover and let it rise in a warm place for 1 hour until double in size.
After an hour, punch down the dough and knead for 1-2 minutes. Cover and let it rise for another 1 hour.
Now if you are using raisins, this is the time to incorporate them inside the dough.
As seen in pictures and the video by Joy of Kosher, braid it into a long braid and make a know and twist the edges underneath to get a round crown shaped challah bread dough.
Now transfer it to a greased baking sheet or pan. Break remaining egg in a bowl and brush egg wash on top of the shaped dough. Let it rise for another hour in a warm place.
Brush another coat of egg wash and sprinkle sesame seeds if using.
Bake in a 375F preheated oven for 10 minutes and then lower the temperature to 350F for another 20-30 minutes until the top gets nice golden brown.
Notes
I used Smitten Kitchen's Challah bread recipe which is adapted from Joan Nathan's Challah bread recipe. I watched Joy of Kosher's video to help me learn the basics of kneading, braiding and shaping the dough.
I have used
Smitten Kitchen's Challah Bread recipe
which has been adapted from
Joan Nathan's Challah bread recipe
as my reference. I used
Joy of Kosher's Challah bread making video
for learning how to knead, bread and shape the dough.
More Bread Recipes: