This delicious super soft Avocado Chocolate Breakfast Bread is made using whole wheat flour, flaxseeds, avocados & is Eggless & Dairy Free! Mornings just got better!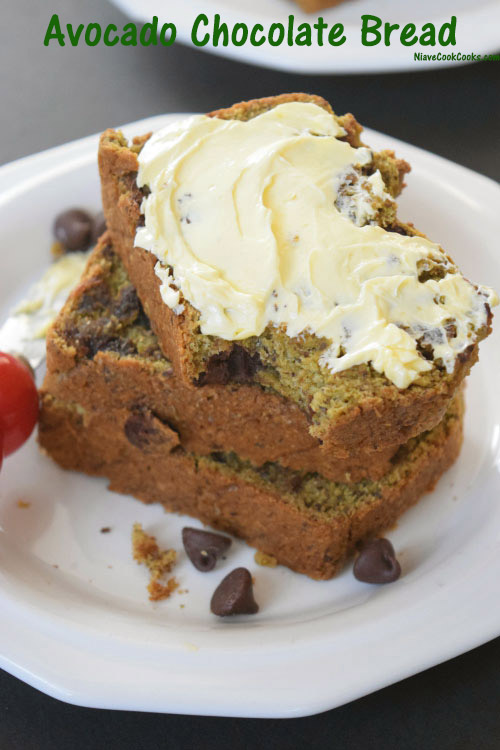 It's Friday finally! And we had a hell of a hectic week and I am all looking forward to doing totally nothing this weekend starting today. But first I made sure to make a giant batch of this to keep at hand for times when you just don't know what to eat but you are still trying to eat healthy!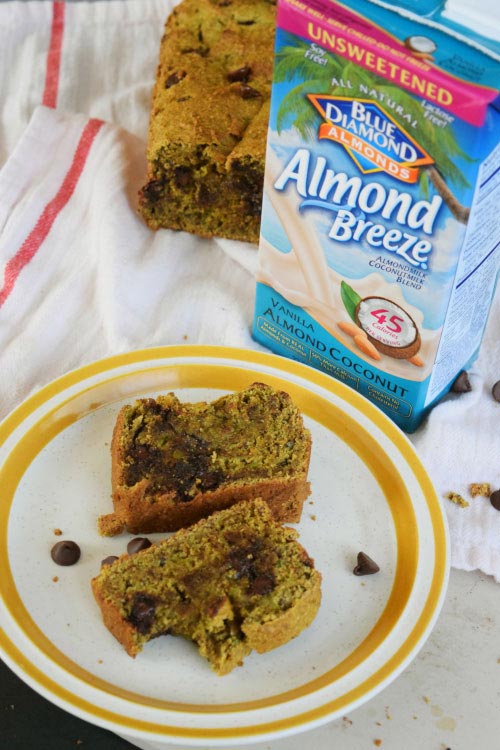 This bread guys! It has all healthy ingredients – white whole wheat flour, avocados, flaxseed, NO EGGS (if you are not into eggs), dairy free (I used my new favorite ALMOND BREEZE ALMOND-COCONUT MILK!) & is so soft that you might think it might be loaded with butter/oil but no such thing!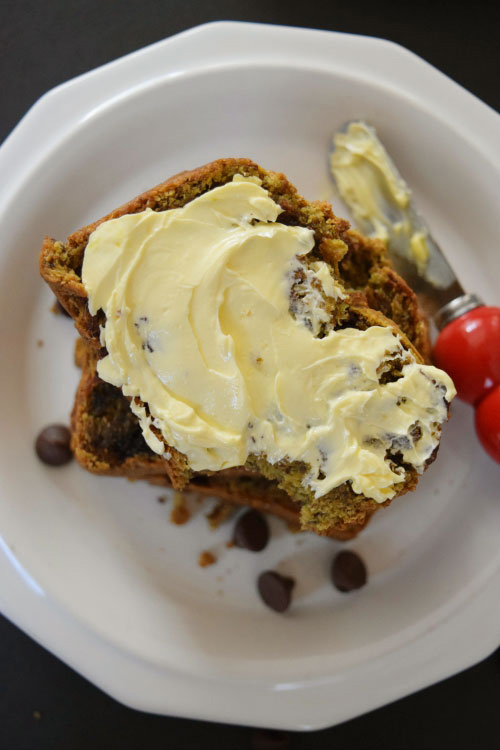 It makes whole healthy eating especially for breakfast thing so much easier and with a thick slice of this with some butter & coffee, you are good to go out of the door! It keeps you full longer too because of all the fibre from whole wheat & flaxseeds. I am making another batch today just so I am ready for the coming week too! Talk about planning!
Follow along for a lot more delicious treats and life happenings on INSTAGRAM || FACEBOOK ||PINTEREST ||TWITTER ||GOOGLE+

Avocado Chocolate Breakfast Bread
Ingredients
2 cups white whole wheat flour
2 large avocados, mashed smoothly or pureed (I got about 1 cup of puree)
1.5 tsp baking soda
6 tbsp + 2 tbsp flaxseed powder, divided
Pinch of salt
1 cup sugar
2 flax eggs (Take a bowl and add 6 tbsp water. To it add 2 tbsp flaxseed powder and let it sit for 5-10 mins)
¼ cup ALMOND BREEZE ALMOND COCONUT MILK
2 tsp vanilla extract
½ cup semi sweet chocolate chips
Instructions
In a bowl, add flour, baking soda, salt,sugar,6 tbsps flax seed powder and stir. In another bowl, add avocado puree, flax eggs, vanilla extract & milk. Stir together until combines and add to the dry mix. Stir it until uniformly mixed. Stir in the chocolate chips.
Pre heat oven to 375F.
Line a oven safe loaf pan with parchment paper or generously spray with oil. Add the batter and even it out.
Bake for good 27-30 minutes or until knife comes out clean. If you decide to use muffin pan for baking, your baking time might me way less! In muffin pan, it took me around 12 mins to bake these.
**I used a 10.5" * 3" loaf pan. Its like a long & narrow pan so basically you can use the one you have at home but just keep checking for doneness at around 15+mins by inserting a knife as depending on the shape of the pan, bread baking time will depend!!
Notes
After it is fully cooled, I like to cut it in slices and store in ziplock bag in refrigerator! You can either enjoy it cold or warm it up a bit in microwave and enjoy with some butter! Tastes great!
More Avocado Recipes:
https://www.naivecookcooks.com/cheesecake-factorys-avocado-egg-rolls/