Learn How To Make Banana Chips with just 3 ingredients at home! No more funny smelling store bought banana chips!
During weekdays, I always find myself starring in the pantry for some snacks to munch on. My pantry is almost always packed with ingredients not products if you understand what I mean. Being a food lover, I usually keep a well stocked pantry but usually with items I can use in preparing recipe and these days the only ready to eat product you will find in our pantry is few packets of chips. I say few cause like normal people we don't really keep just one kind. Every week during our grocery shopping, we pick up 2-3 varieties convincing ourselves that they will last us for good two weeks. And every time we prove ourselves wrong !!
So this makes me wonder do you make your own snacks?? If yes, i would love to know what do you make??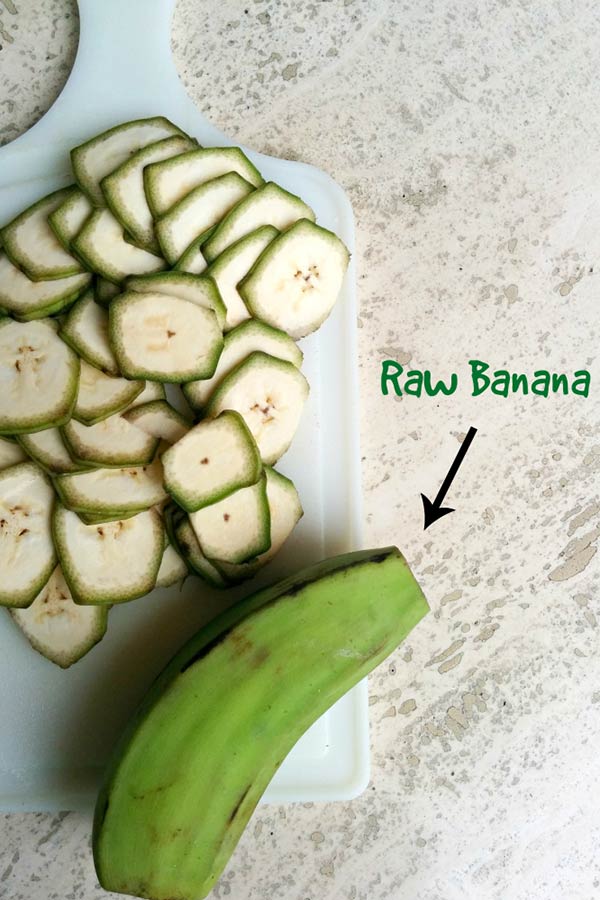 So as you might have guessed by now, these chips were a cry for help!! Last week after spending like 20 mins (literally!) starring in the pantry, I realized I need to start making my own snacks. The first thing I wanted to make was fresh banana chips which have memories attached. I grew up munching these almost whenever I could lay my hands on these.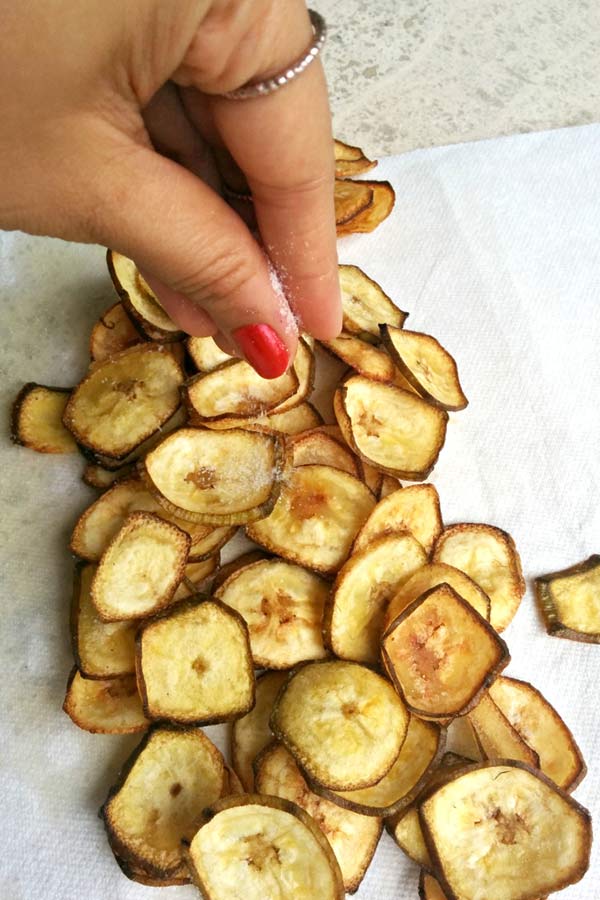 Super crunchy in every bite, I won't really call them a healthy snack but hey gloomy days call for things like these to cheer you up! Right? Don't worry I will be trying to make baked version soon as I love them so much that I really need to find a healthier way so I can eat a whole jar of these rather than stopping myself after like 2bowls!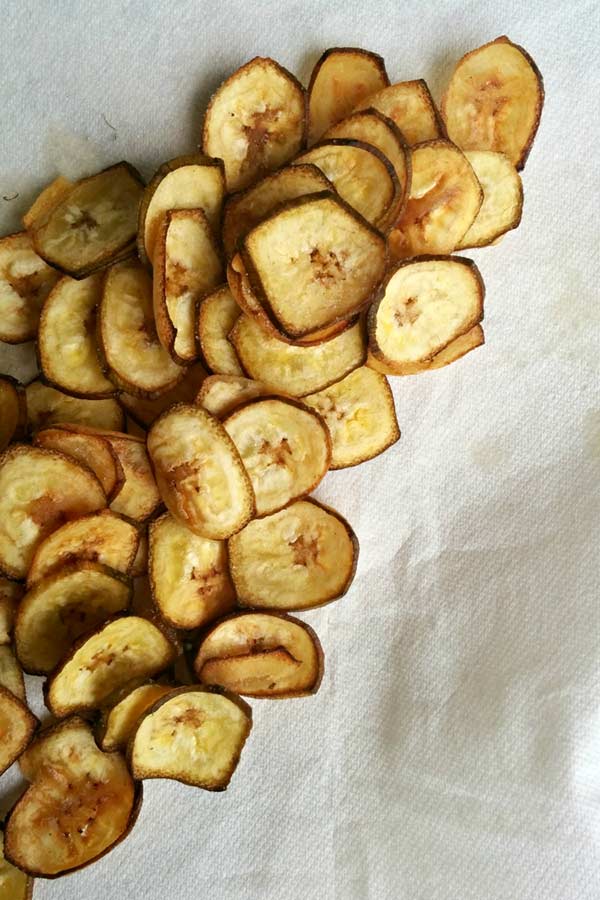 Do remember to buy raw green bananas and not plantains as these two are different. I found these raw green bananas at Indian grocery store but I think you should be able to find them at specialty stores. Super crispy with a sprinkle of salt, these are homemade banana chips you won't stop eating!
How to Make Banana Chips
Super crispy fried chips made from raw banana! It's snack time!
Ingredients
2 raw green bananas
Oil for frying
Salt to taste
Instructions
Peel the raw bananas and slice them real thin. Heat a deep pot with oil for frying. Once oil gets hot, add a piece of banana. If it comes out to the top sizzling, means the oil is ready. If not, let it heat up more.
Once oil is hot enough, add half of the sliced banana slices and stir slowly and let them fry. It will take good 8-12 mins or more until they get crispy. Take them out on a paper towel to absorb the excess oil. Immediately sprinkle with salt. Repeat with the next batch.
Once at room temperature or cold, store them in an airtight container.
Notes
I enjoyed eating them fresh few minutes after frying.
You can add other flavorings too but personally I like them simply salted.
Remember and this is very important that raw bananas are NOT plantains. They are different.
More Simple Snack Recipes: