Perfect flaky soft biscuits with pimentos and cheese make for a delicious breakfast treat, yummy tea time snack or serve for dinner to mop up the gravy.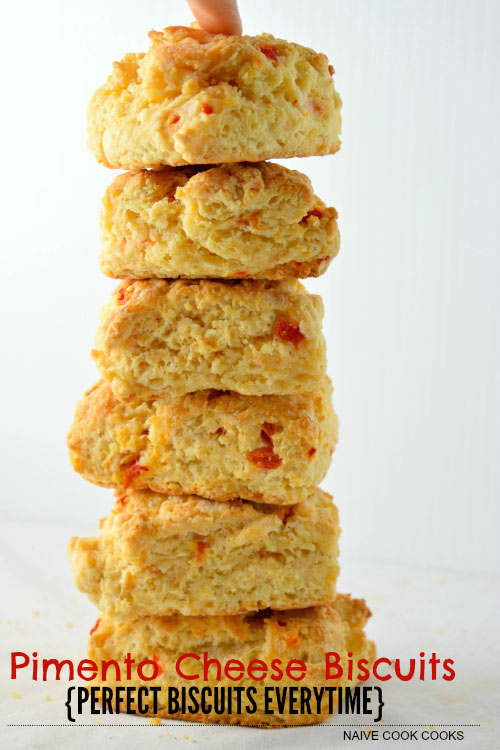 These BISCUITS.
I have been wanting to tell you about these biscuits for some time now but then THIS happened and I forgot about these biscuits. Then I made them twice in a week and they were just so perfect every single time. Soft (I had them out sitting in an airtight container for 3 straight days yet they tasted super soft and fresh!), flaky with tons of layers and just what you need to mop up that gravy.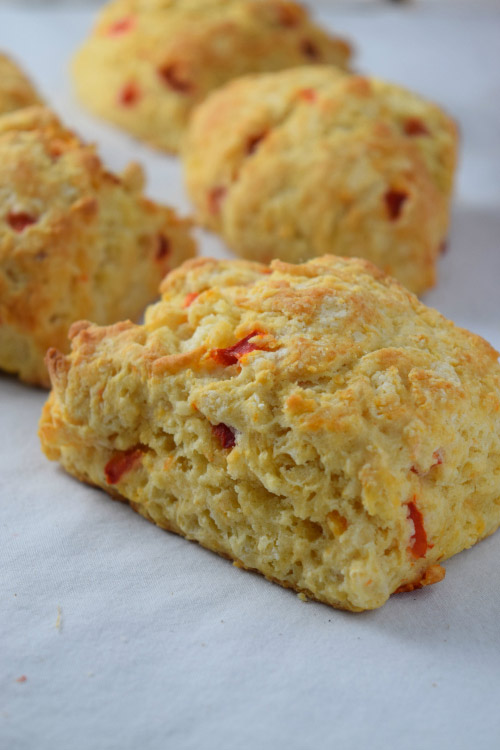 I have been baking biscuits for quite sometime now as they are Jerry's favorite. Usually I keep them simple or I make THESE (our FAVORITE!).
Last time when I made pimento crackers everybody loved them so much that I decided to start using pimentos in more recipes. But life happened and I forgot about that jar of pimentos sitting in the pantry. Last weekend while baking biscuits for brunch I decided to play with something new. I realized I had pimentos and some cheese. Well who doesn't love pimento cheese, right? That's when I decided to make pimento cheese biscuits and they were a HIT.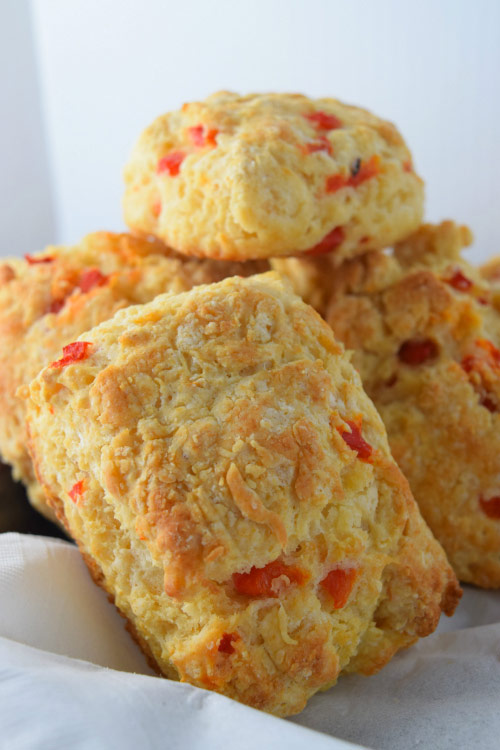 Can you just see how soft and spongy they turned out? They are delicious on their own or it never hurts to slather them with some butter. Perfect weekend brunch! And I had them later with a hot cup of chai as well. They made my weekend  extra delicious.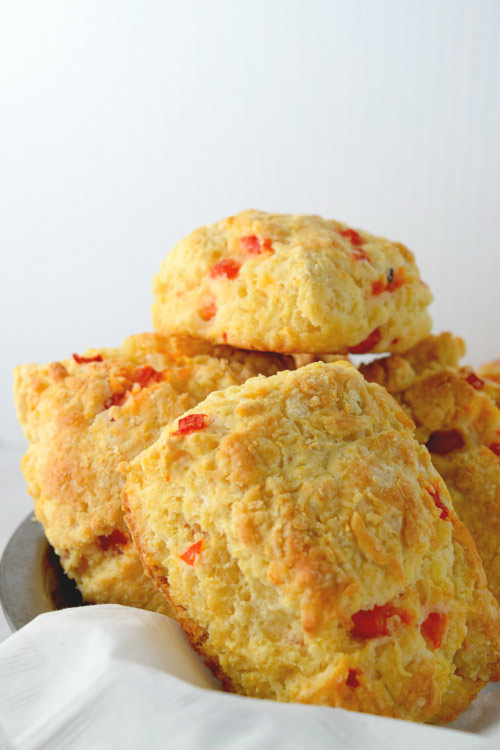 For brunch I served them with some cheese omelette, baked beans and veggie sausages. But you can serve them on their own or for afternoon tea or for dinner. They are great to take for travelling too as they stay super soft and you don't even need to warm these up.
Sharing is Caring, remember those wise words?!! 
Follow along for lot more delicious treats and life happenings on INSTAGRAM || FACEBOOK || PINTEREST 
Happy Eating!
Pimento Cheese Biscuits
Perfect flaky soft biscuits with pimentos and cheese make for a delicious breakfast treat, yummy tea time snack or serve for dinner to mop up the gravy.
Ingredients
1.5 cups Bread flour or all purpose flour (Both work great!)
1 tsp sugar
1-1.5 tsp salt (Adjust as per taste)
2 tsp baking powder
½ tsp baking soda
10 tbsp buttermilk (OR you can make buttermilk at home. Take around 9 tbsp milk (I use 2% fat content)in a bowl and to it add around ½ tbsp lime or lemon juice. Let it sit for 10-15 minutes until it curdles!)
7 tsp chopped pimentos (you can buy pimentos in jars usually at most grocery stores)
¼ cup shredded cheddar cheese (I prefer sharp but you can use any)
Instructions
Preheat oven to 425F.
In a bowl, mix flour, salt, sugar, baking powder and baking soda. Stir until mixed evenly.
To it add pimentos and cheddar cheese and stir around.
Now make a well in the center and add buttermilk (store bought or homemade). Stir it around until it just comes together. DO NOT OVER MIX. This is the most important thing to remember while making biscuits. Even if you feel you can still see some dry flour around and how bad you want to mix it again, just simply resist.
Gather the dough and transfer it to a lightly floured surface.
Pat it using your hands into a square and using a knife cut in 6-8 pieces. Or you can use a round cutter and cut them.
Place them on a parchment paper lined baking sheet and bake in the preheated oven for good 10-12 minutes or until golden.
Devour!
Notes
These biscuits stay fresh for upto 3-4 days stored in an airtight container.
More Bread Recipes:
https://www.naivecookcooks.com/stout-beer-multi-grain-bread/
https://www.naivecookcooks.com/orange-chocolate-chips-bread/