One Bowl, 30 Minutes & Just 11 ingredients most of which you will already have in your pantry. These super easy Homemade Turkey sausages/sausage patties take no time & are so much more flavorful and tastier than the ones at your favorite diner!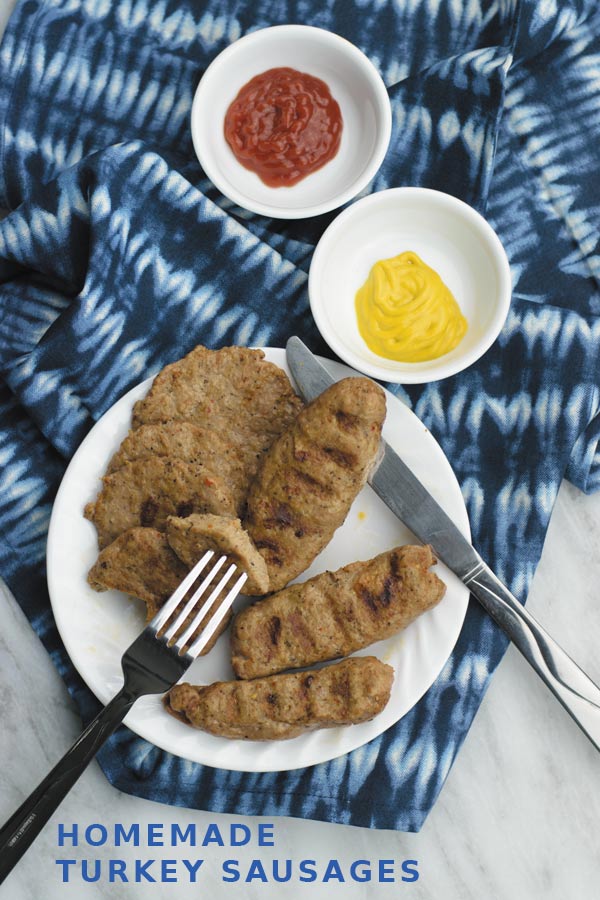 It's been almost 50 days since I last posted! I know, how weird is that? If you remember I announced my pregnancy on March 27th here and since then I have been wanting to get into my work routine but I have not been motivated enough. But last few days Ronak helped me and we finished some recipes and I knew I wanted to post since I have been missing you amazing readers and my blogging friends a lot lately. When they say that babies change your life, they are so true. We are still 4 weeks away from seeing our baby (**fingers crossed** If baby decides to show up on the due date!) but these past 8 months have been so different for us – busy planning & learning as being first time parents we had absolutely no clue what we needed and buying stuff for baby! If you are a parent already, have you ever thought how much stuff a tiny human being needs?!! It's CRAZY but everything is so darn cute!!!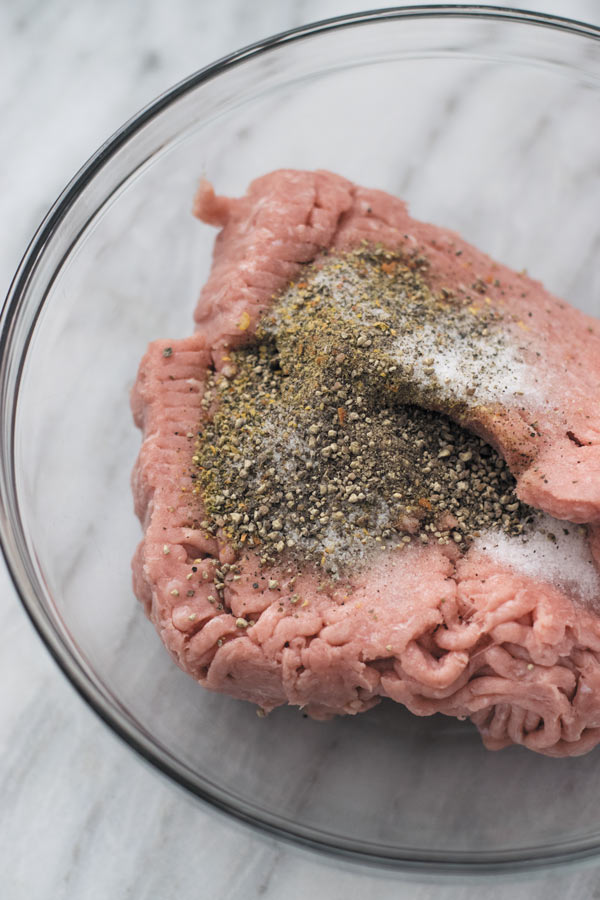 So enough me babbling about baby stuff, let's get to the recipe for which you are probably here for! But thanks if you enjoyed reading my non stop pregnancy hormone talk too! You guys are the best!!
So I have not been into too much meat lately, it's all about fresh fruits, lots of smoothies, salads, sweets for me lately. But recently at our favorite diner Ronak ordered turkey sausage patties and they tasted so good that all I wanted to do was go home and make some for us from scratch, obviously!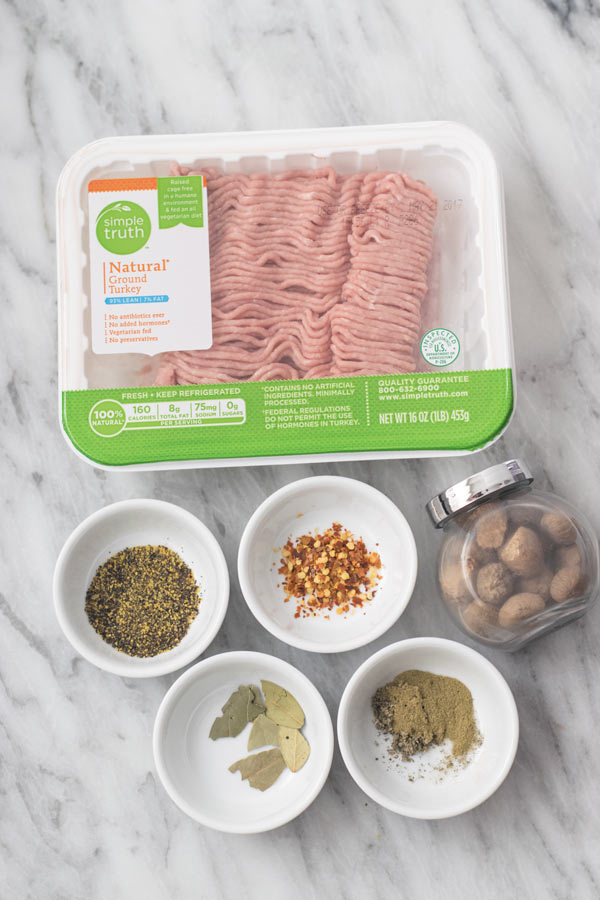 I used the recipe from Bobby Flay's " Brunch at Bobby's" and it turned out so delicious. I was sort of scared as the amount of spices looked way too much while mixing in the ground turkey but don't worry, it ended up being perfect. They tasted even better than the ones we recently had at our favorite diner and making them was so much fun. All you do is add the seasonings in the ground turkey or chicken or pork whichever meat you decide to use and then let it sit covered in fridge for few hours for the flavors to intensify.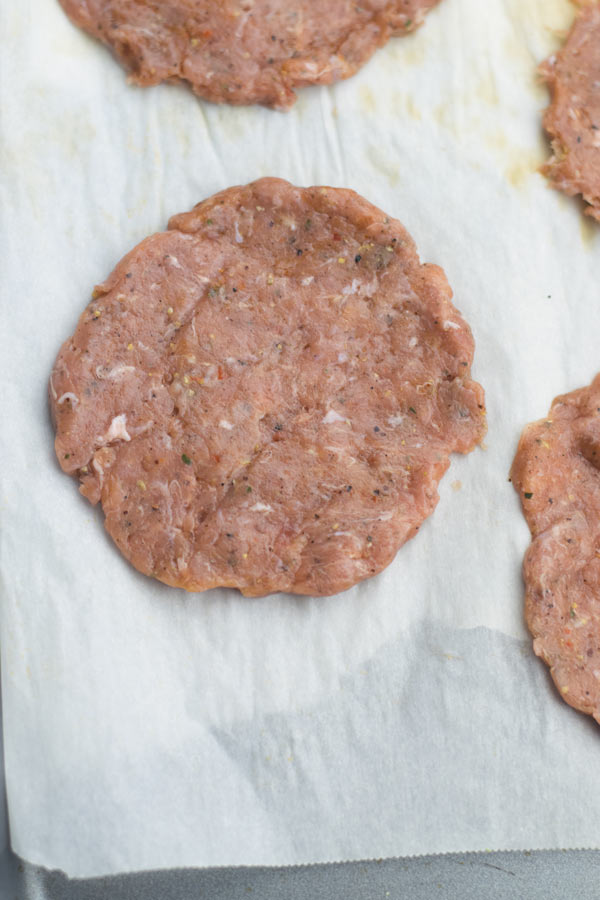 We went for some sausage patties and some as sausages which we then cooked in our newest Kitchen toy, Hamilton beach Searing Grill. I was lucky to receive this Hamilton Grill for reviewing and ended up liking it so much that I asked them if I could do a Giveaway too & the amazing people at Hamilton Beach agreed!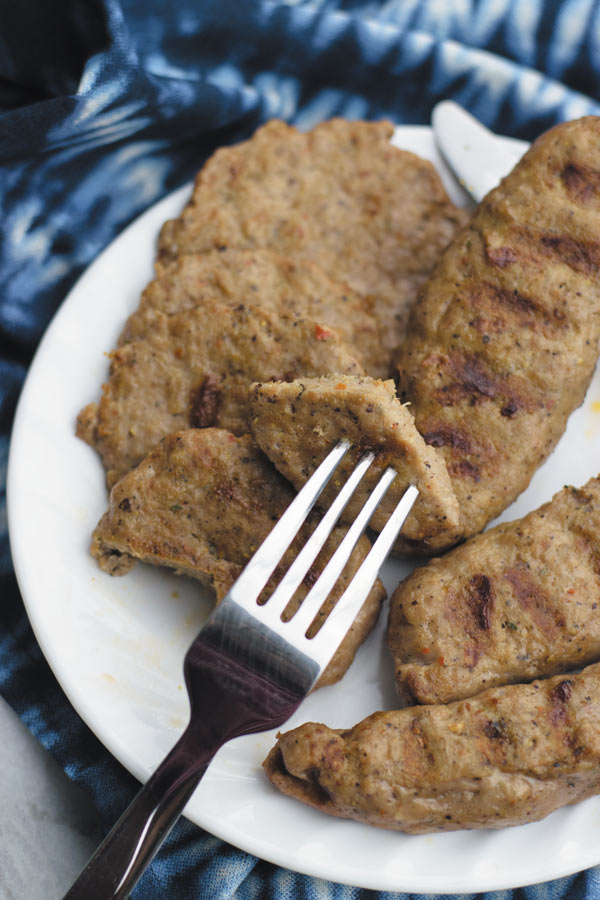 Homemade Turkey Sausages + HUGE GIVEAWAY!
Serves:
8-10 sausage patties
Ingredients
1 large bay leaf
½ tsp red pepper flakes
1 tsp dry sage powder
½ tsp dry thyme powder
1 tsp dry mustard powder
⅛ tsp freshly grated nutmeg
1 pound ground turkey (I used 90% lean) (You can also use ground pork or ground chicken)
1 + ⅛ tsp salt or to taste
¾ tsp ground black pepper
½ tsp paprika
Instructions
In a spice grinder, grind bay leaf and red pepper flakes. To it then add sage powder, thyme powder, mustard powder, grated nutmeg and give it few more pulses.
Add all this spice mix to ground meat. Using your hands or a fork, mix it all together so all the spices are evenly distributed in the meat.
Now cover the bowl with the mixture and let it sit in fridge for 4-6 hours so flavors intensify.
Once ready, you can either cook them on skillet or grill. I cooked them on grill. I heated my indoor grill and while it was heating up, shaped up the meat into sausage patties and sausages.
Then placed the shaped sausages/sausage patties directly on the grill and covered. In my indoor Hamilton beach searing grill it took just around 10 or so minutes to cook BUT make your own judgement as times will vary hugely depending on what kind of grill you are using and how hot the grill temperature is.
Notes
Ami says:
1. You can freeze half cooked sausages/sausage patties. Once these are half cooked, let them cool down fully. Then wrap them in indivisual parchment paper and place in ziplock and freeze.
2. You can also freeze them uncooked. Thaw them for like 20-30 minutes on the counter and then cook them on skillet on medium heat on both sides so they are evenly cooked.
3. Recipe adapted from "
Brunch @ Bobby's
"
 Now for the GIVEAWAY!!!
 1. To enter in the giveaway to receive a HAMILTON BEACH SEARING GRILL, what recipe are you planning to make this Memorial Day weekend??
Hurry, GIVEAWAY ends on 30th May 2017.
 Some fun recipes for warmer weather ->>