Easiest summer dinner ever! These easy but full of flavor BBQ Grilled Chicken Skewers make for an effortless delicious summer meal you can enjoy with your loved ones!
Happy Father's Day to all the Dads out there!! I grew up having the world's best dad for a father – he was the first man in my life who always loved me unconditionally and still does without judging me for who I was/am as a person. His love and support has always been there for me and no matter what I always knew that I can fall back on him if something goes wrong.
Papa you mean the world to me. Thank you for being my father. I love you the MOST.
Then when I got married I was lucky enough to find another dad in my father in law who made me feel at home, who loved me as his own daughter which made living so far away from my dad a bit easier. So let's make this day special for all the amazing dad's in our life. I will always be grateful to God for giving me 2 of the best dad's in the world as my father. My love for both of you is irreplaceable, you both mean so much to me.
Now before I get all emotional, I want to share a really easy recipe which is great for grilling and if you have a father who loves grilling then this is a PERFECT recipe as it's hassle free yet tastes divine! Soft juicy chicken pieces slathered in the most amazing bourbon seasoned bbq sauce.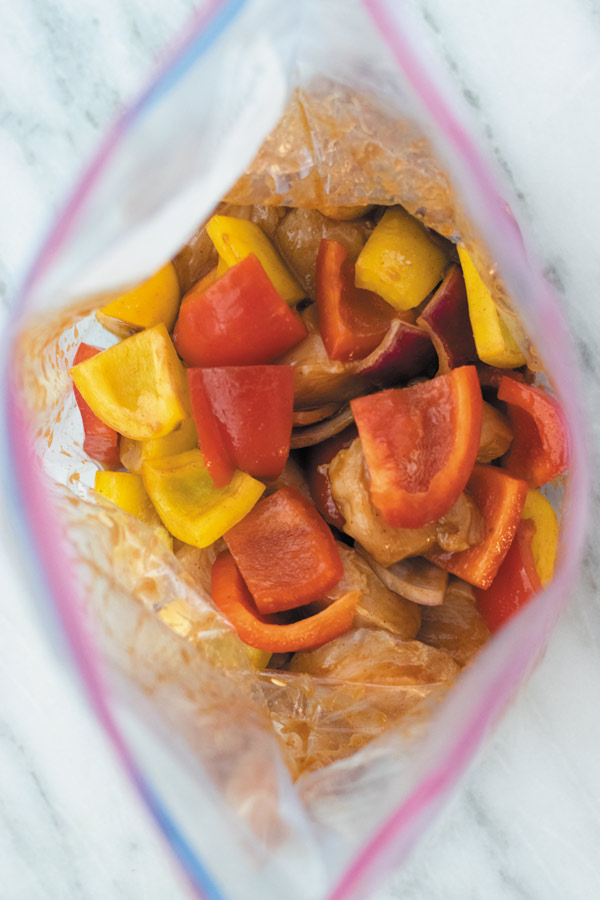 To make father's day special Shari's Berries were kind enough to send me this amazing Bourbon smoked spices kit which made this chicken so much more delicious. The smokiness from the spices along with bbq sauce makes this chicken one of a kind. Last night I gobbled up these succulent chicken pieces in no time! It was the perfect summer dinner which we enjoyed outside with friends, wine, grilled corn, salad and peach crisp!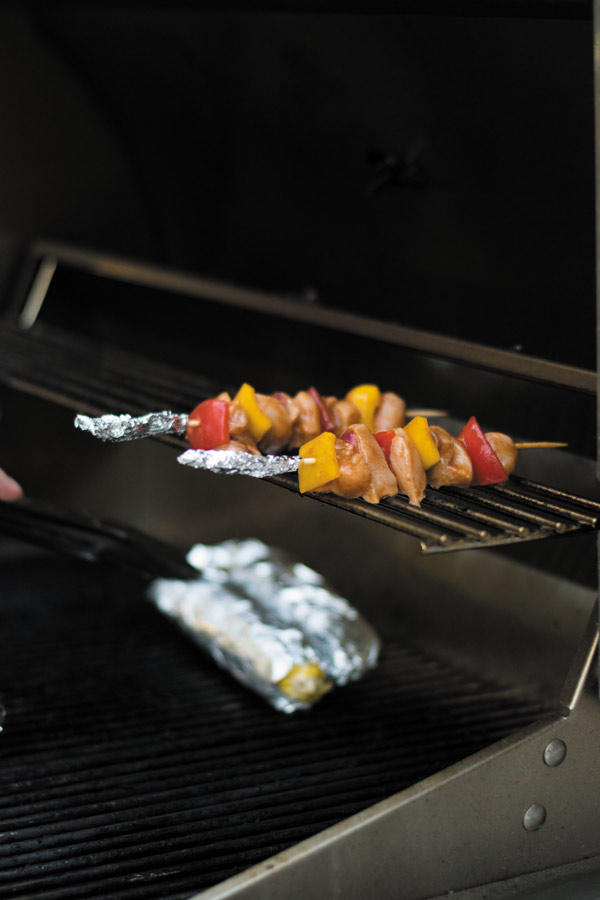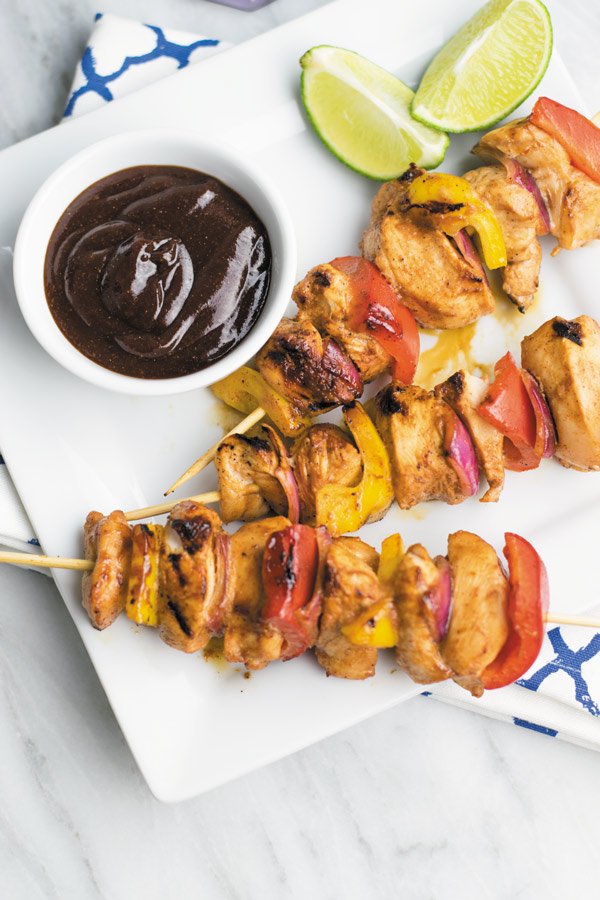 All you do is few hours before dinner, make sauce and add chicken pieces and veggies like bell peppers, onions in a zip lock bag. Stir everything around so chicken and veggies are coated in bbq sauce and let it sit in fridge for few hours.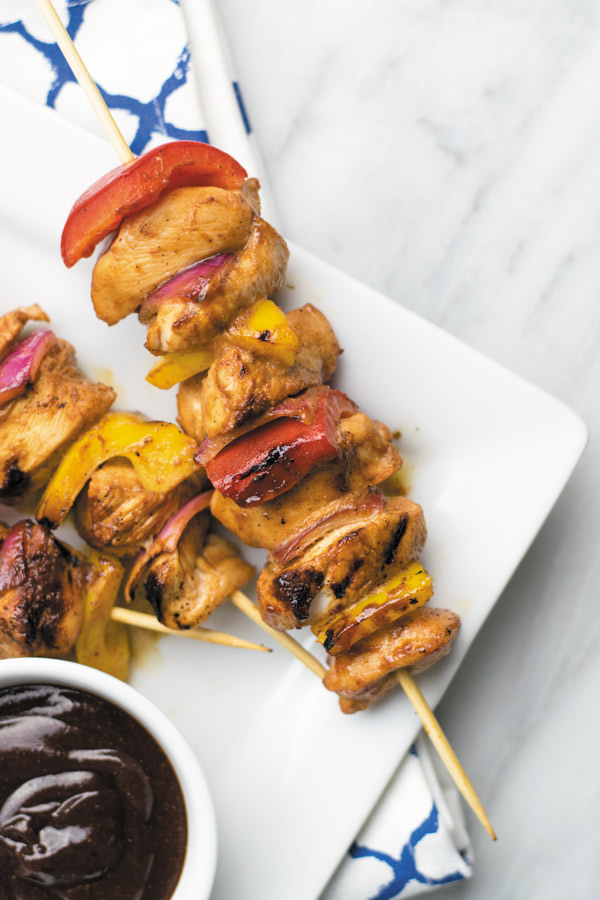 Make sure to save some sauce for grilling and dipping though I must admit they were so flavorful that I ate them without any dipping sauce!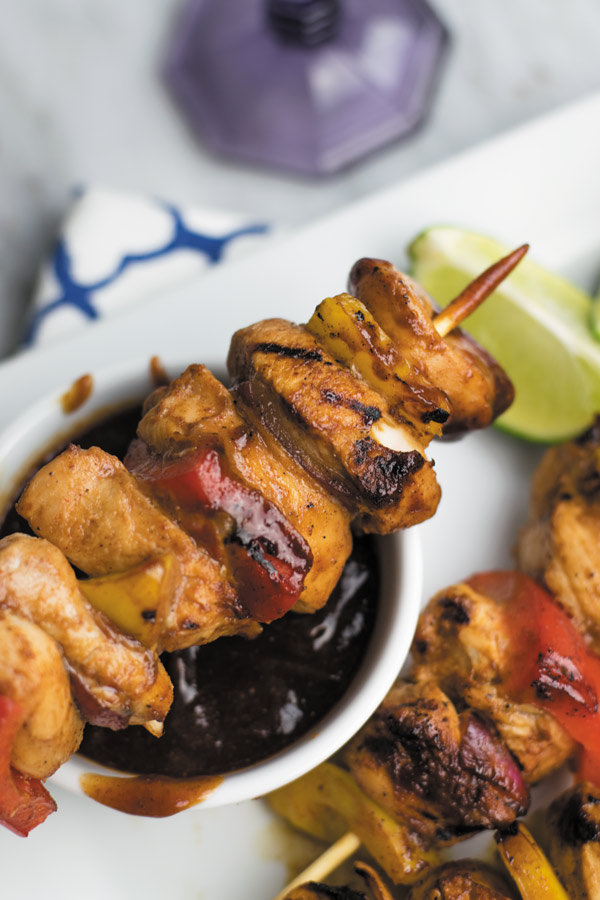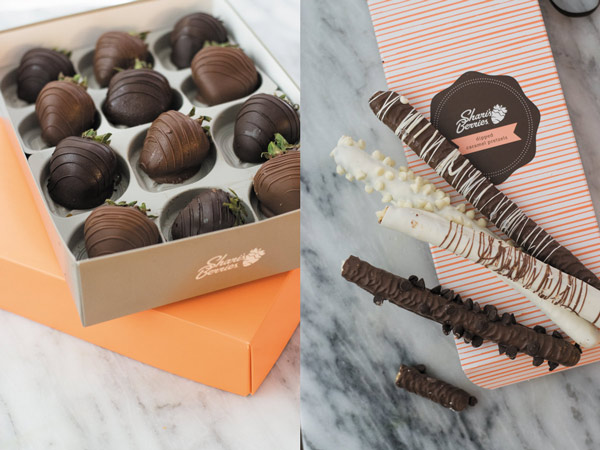 Shari's Berries were kind enough to send me one of Father's day specials with a dozen Belgian chocolate covered strawberries and chocolate covered pretzels! I have been eating these chocolate covered strawberries one a day everyday and they are so good!
If you are a procrastinator and  still deciding what to send your Dad for Father's Day , then check out the amazing Father's Day Gift collection at Shari's Berries.
Have fun, make sure you tell your dad's how much they mean to you and do something special if you are lucky to live close to them! 🙂
If you enjoyed this recipe, don't forget to FOLLOW me on  INSTAGRAM ||FACEBOOK||PINTEREST ||TWITTER ||GOOGLE+ || BLOGLOVIN || YouTube

BBQ Grilled Chicken Skewers
Ingredients
1 pound chicken breast, cut in 1" pieces
½ green bell pepper, cut into big 1" pieces
½ red bell pepper, cut in big 1" pieces
½ red onion, cut in big 1" pieces
Sauce :
1 cup your favorite bbq sauce
1 tsp bourbon smoked salt
¼ tsp bourbon smoked pepper
½ tsp bourbon smoked paprika
1 tsp oil
¼ tsp garlic powder
Instructions
In a bowl mix all the sauce ingredients.
In a zip lock bag add chopped chicken, both peppers and onions. Add half of this sauce and close the bag. Mix everything around so everything is coated with this sauce.
Let it sit in fridge for few hours.
If using wooden skewers, soak them in water for few hours.
When ready to grill, put them in skewers by alternating the chicken, peppers and onions. Grill on both sides and keep rubbing with extra sauce to keep them juicy.
Serve with more sauce on the side.
More EASY meals like this ->>