Homemade Thick ( Crispy Bottom) Pan Pizza with tons of flavor! The crust can be pre-baked in advance which  makes it perfect to have on hand for quick pizza cravings!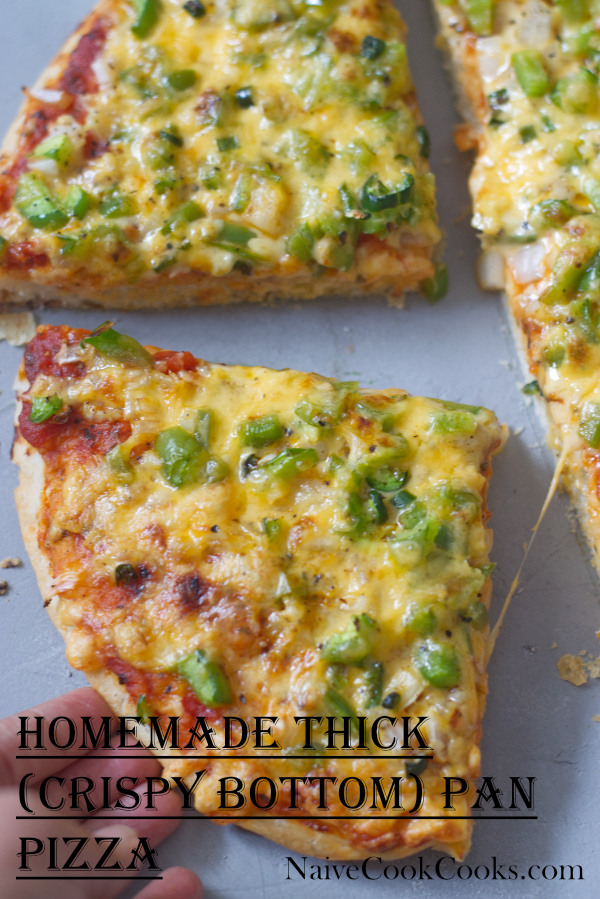 I am obsessed with this pizza lately. The crust has generous amount of cumin and carom seeds which makes it super delicious to eat and imparts such a great flavor! Forget about those boring pizza crusts which are hard to process. This is another of my aunt's recipes but like any Indian mother's recipe when she told me the recipe first, she used her own bowls ( Most Indian mom's never have exact measurements for any recipe! They will be like little bit of this little bit of that haha!) so when I made her  recipe for the first time,it turned out to be a complete mess! My flour was floating in water!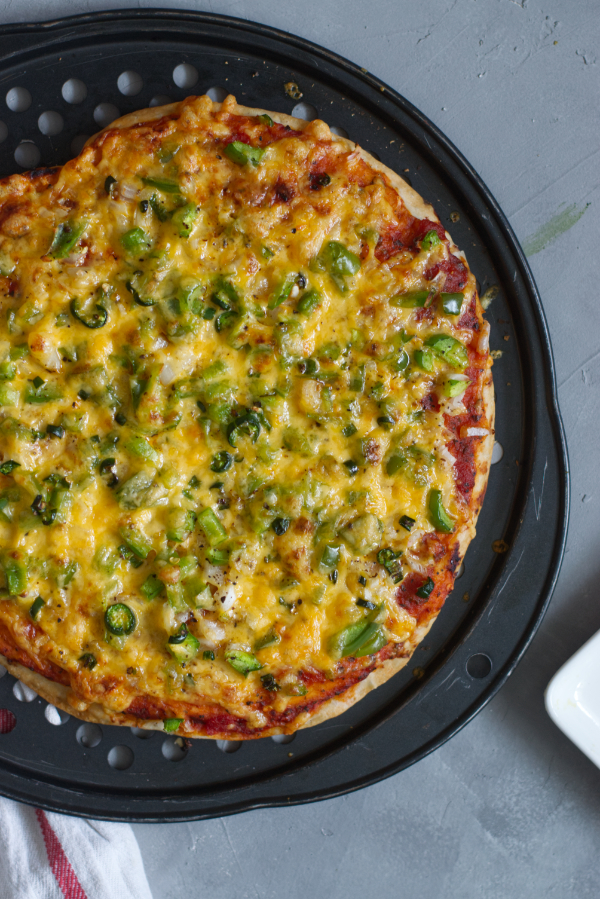 So next time obviously I took my time and was careful enough to watch my steps & also made sure to have her on video call so here after making this pizza for few times and finally having the recipe perfected, HERE IS MY VERSION with exact measurements so you don't have any blunders like me while making this pizza!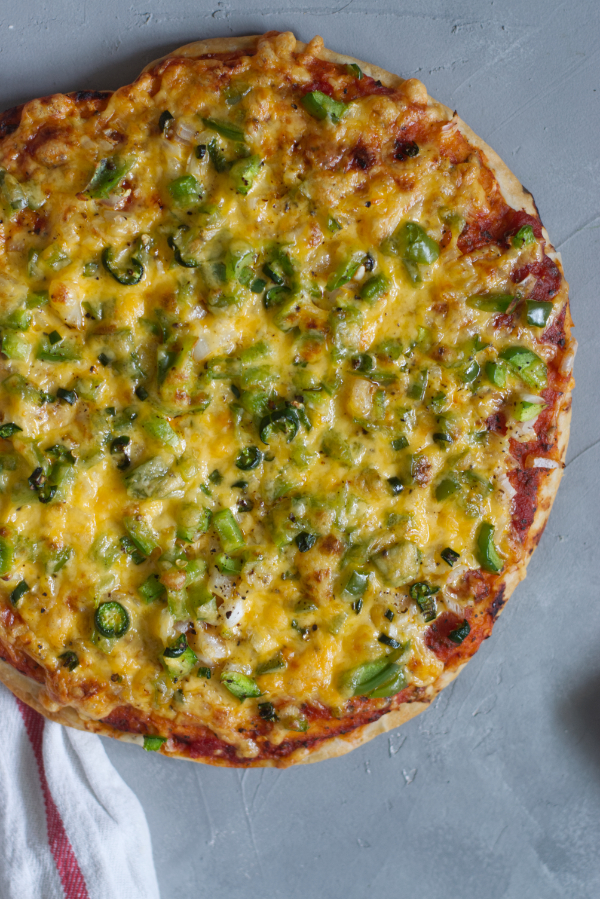 If you love making HOMEMADE PIZZA CRUST , this recipe is for you!! Especially if you love having a ready to eat pizza crust in your pantry/fridge at all times, then this recipe is for you!! 
The crust here is pre baked which is great for storing to make later. So when I know I am going to be super busy, I like to make the crust in advance by prebaking it and then store it in fridge or freezer depending on when I plan on using it.
The crust is super light, with crispy bottom and lots of flavor.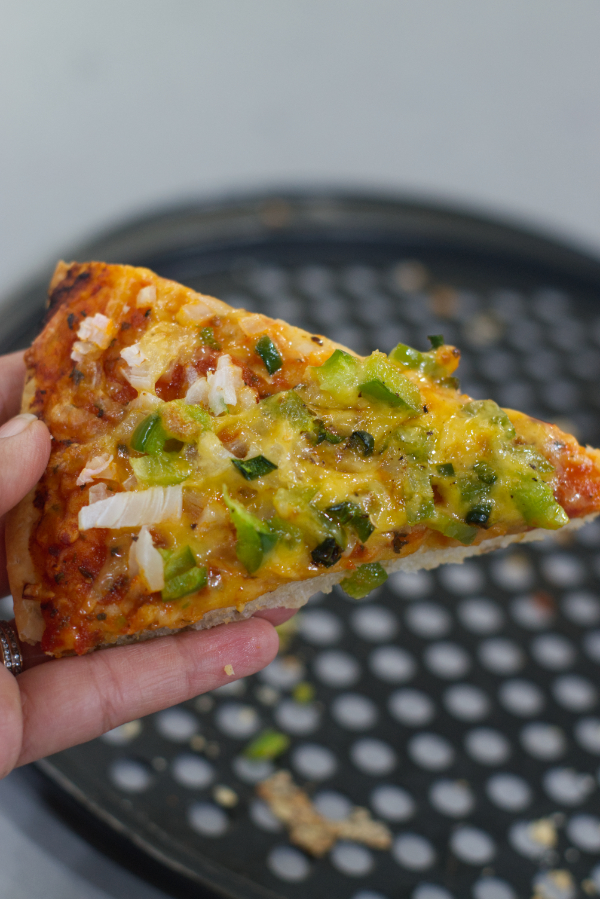 A simple step by step on HOW TO MAKE THIS PIZZA DOUGH :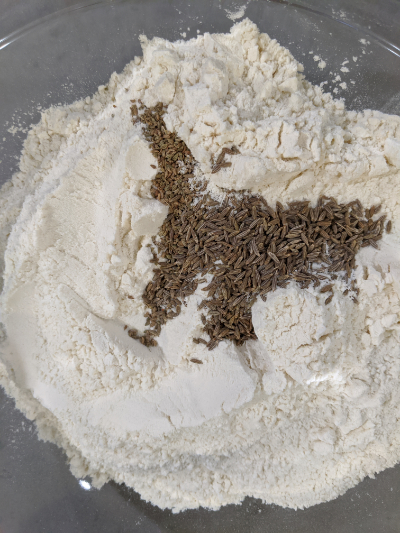 Mix dry ingredients –  add all purpose flour, carom seeds and cumin seeds to a bowl and stir. To it add oil and mix using hands so oil is nicely mixed with the dry flour.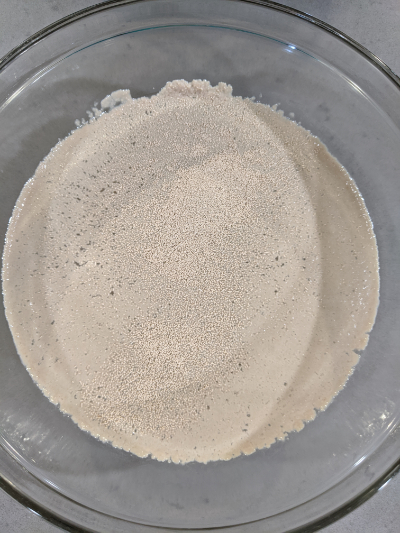 In another smaller bowl, activate yeast. To warm water add salt, sugar and active yeast. Let it sit in a warm draft free place for 10 minutes until you start to see bubbles on surface.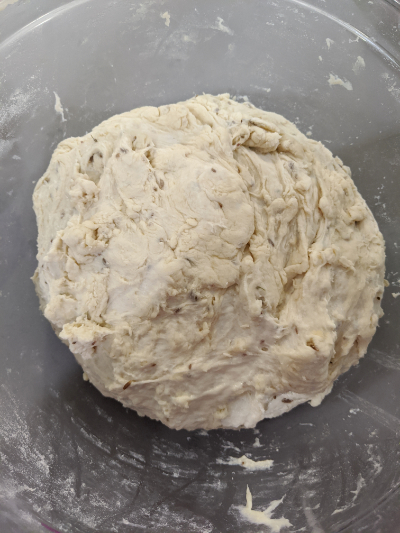 Add this wet mix to dry mix and start mixing. If the dough is super sticky, Take a little bit of flour at a time , and start kneading the dough. RESIST THE URGE TO ADD TOO MUCH FLOUR. The dough will stay slightly sticky. In other case after adding all the wet ingredients, if your dough is still little dry, start adding warm water 1 Tbsp at a time with constant kneading. Once its slightly sticky to the touch and smooth, stop. Add 1 Tbsp of oil and coat the dough with it.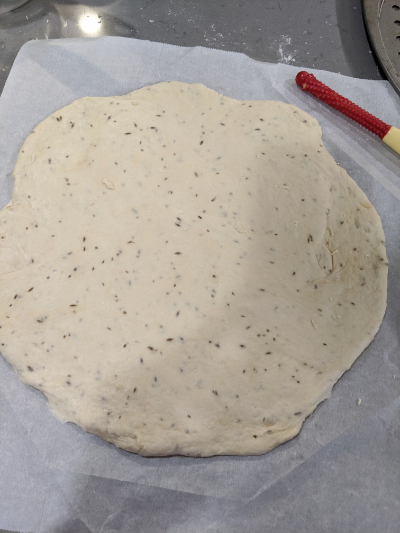 Divide the dough into 2 pieces, it will yield 2 large pizza crusts. You can even make pizza as per your desired pizza pan size.  REMEMBER THIS CRUST WILL RISE SIGNIFICANTLY so keep it only 1/3 – 1/4″ thick or if going for a slightly thinner crust, roll it to little about 1/8″, it will still rise a lot. I like to directly roll it on parchment paper so all I have to do is move the crust along with parchment paper to the baking tray.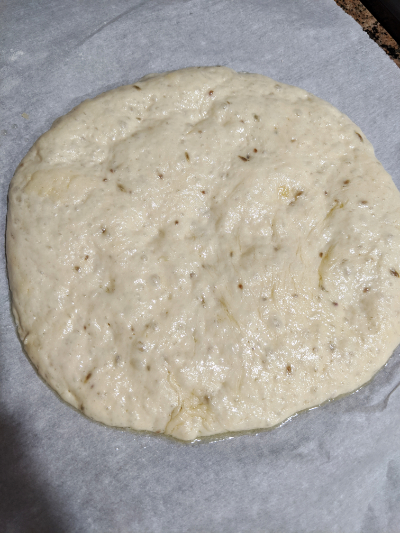 Once the crust is rolled and transferred to the baking pan, liberally coat the surface of pizza with oil. I like to place mine inside my TURNED OFF oven (with just the OVEN LIGHT ON) as it provides enough warmth needed for rising of the dough. Repeat with the remaining dough and leave the crusts to rise for 4-5 hours.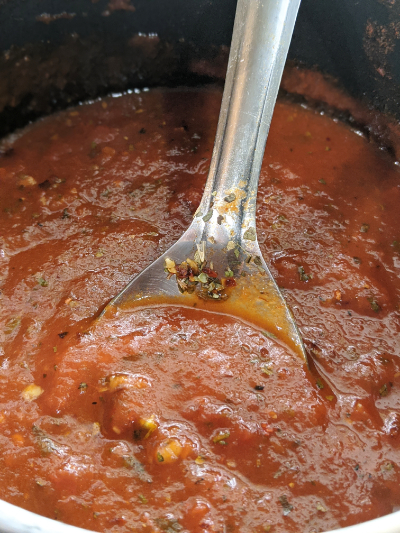 Now if you are planning on eating pizza the same day, get your sauce, cheese and toppings ready. BUT if you are going to be using the pizza crust at a later time, after 4-5 hours, preheat oven to 350F ( MAKE SURE THAT YOU PULL OUT THE PIZZA CRUSTS FROM OVEN FIRST BEFORE STARTING TO PREHEAT YOUR OVEN). Once oven is ready, place the pizza crusts on the middle rack and bake them for 11-12 minutes. Take them out and let them cool. Now at this stage once your crust is cooled completely, you are ready for storing in fridge/freezer.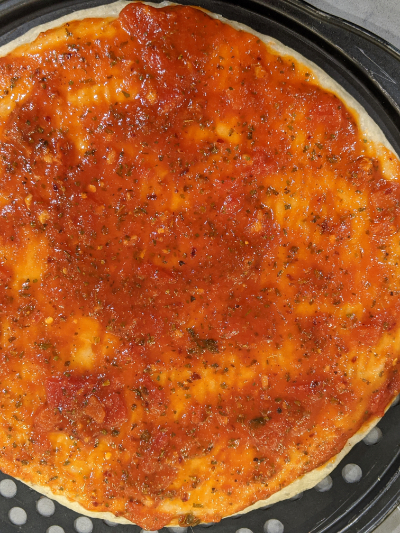 This is how I like to get my pizza assembled whenever I am making pizza – Sauce first!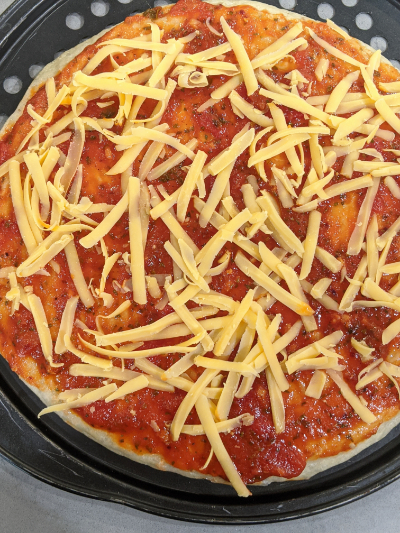 Then shredded cheddar cheese.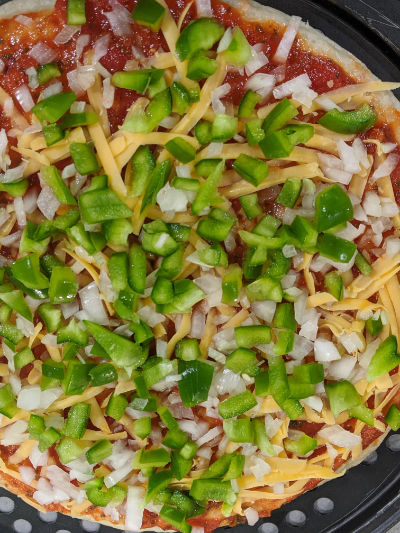 Then toppings – here I have used chopped onions, bell peppers, serranos.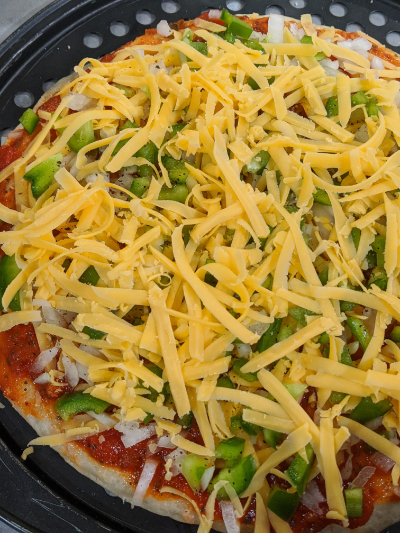 More shredded cheddar cheese.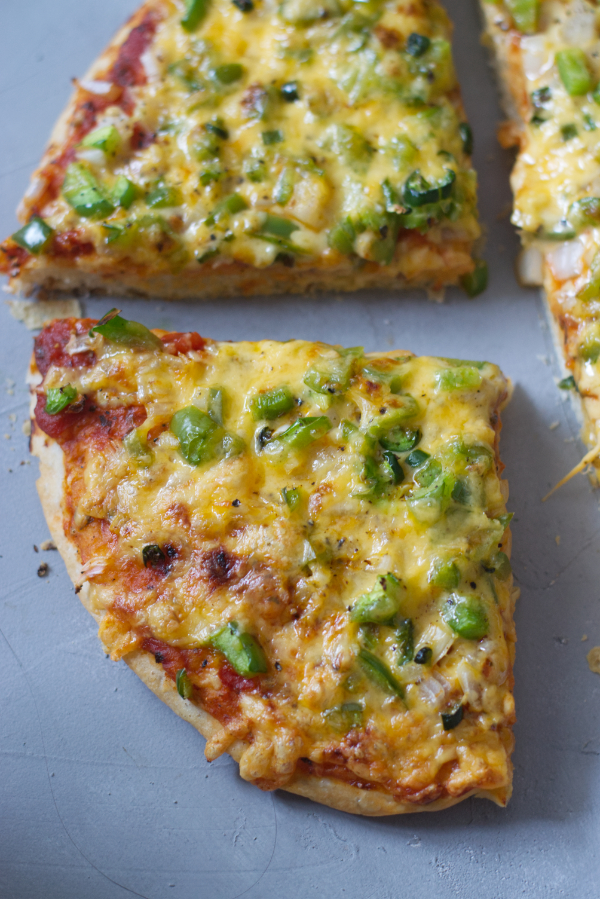 Then bake for good 15-20 minutes at 350F and then broil for 2-3 mins to get the cheese slightly charred. That's it!!
This is OUR FAVORITE PIZZA – even Aria loves this!! 
So go ahead & give this a try! If you make these or any other recipe from our blog, do tag us by using#naivecookcooks on Instagram.
If  you enjoyed this recipe, don't forget to FOLLOW me on  INSTAGRAM ||FACEBOOK||PINTEREST ||TWITTER ||GOOGLE+ || BLOGLOVIN || YouTube
I have a SHOP PAGE on AMAZON STOREFRONT where you can find tons of items from KITCHEN, FOOD ITEMS, KIDS/BABY TO HOME STUFF I absolutely love and use on regular basis! Hope you check it out and find it useful 🙂
Homemade Thick (Crispy Bottom) Pan Pizza
Cuisine:
Italian (Indian inspired)
Ingredients
PIZZA CRUST:
2 cups warm water
1 tbsp salt
1 tbsp sugar
1 tbsp ¼ tsp active yeast
4.5 cups all purpose flour (1 pound 4.3 oz / 576 gms)
1.5 tsp carom seeds (ajwain)
1.5 tsp cumin seeds (jeera)
6 Tbsp oil
Instructions
Mix dry ingredients - add all purpose flour, carom seeds and cumin seeds to a bowl and stir. To it add oil and mix using hands so oil is nicely mixed with the dry flour. A way to see if you have enough oil is after mixing oil with flour, take some flour in closed fist and release, it should stay in your fist without disintegrating.
In another small bowl, add warm water. To it add salt, sugar and active yeast. Stir and leave it in a warm draft free area for 10 minutes.
After 10 minutes, you will see bubbles on surface which means yeast is active.
Add this yeast water to the dry mix and start mixing. The dough is going to be sticky so add little bit of flour to help you knead. MAKE SURE TO ADD NOT TOO MUCH FLOUR.
Keep kneading it into a smooth dough ball, divide into 2 balls.
Take a piece of parchement paper that's going to fit on your baking tray. Spread flour and start rolling the dough ball into a ⅓-1/4 " thick pizza crust.
Transfer this pizza crust along with parchment paper onto pizza baking pan. Spread oil all over the crust and let it sit to rise fpr 4-5 years inside your TURNED OFF oven.
Bake in a 350 F preheated oven for 12 minutes.
Now if you are planning to make pizza another day, let the crusts cool completely then tightly wrap them in 1-2 layers of plastic wrap and store in fridge. If you think you might want to store pizza crusts for longer, then place them in freezer.
Whenever ready to bake pizzas, apply sauce - shredded cheese- toppings of choice - more shredded cheese and bake for 15-20 mins at 350F and broil for 2-3 mins.
REMEMBER TO PAIR THIS PIZZA WITH PIZZA CHUTNEY!! ( It's addicitng)
My must haves for baking homemade pizza
SOME MORE DELICIOUS PIZZA IDEAS ->>