Unlike any chutney, this SPICY PIZZA CHUTNEY is the best thing to put on all the pizzas! Keep a jar at hand all
times so top this on bagels, eggs and what not!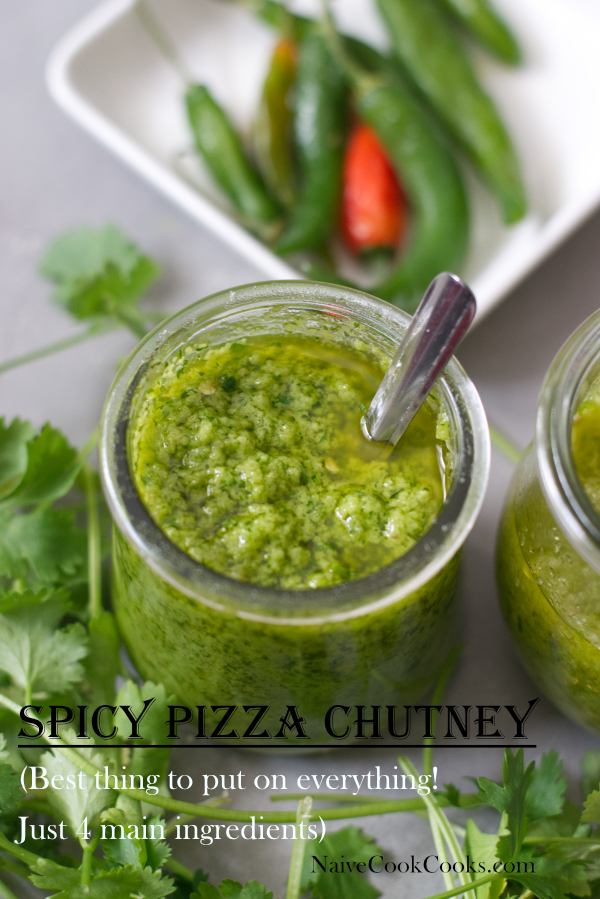 The first time I ever had this SPICY PIZZA CHUTNEY was after moving to US and that too when enjoying pizza with Ronak's side of the family. And I was and still am hooked to this spicy chutney. I saw every time we would make pizza at home or get it from outside, they will make this chutney quickly and it takes just few minutes to make (which is always a win!) and makes even the bland to me cheese pizza so good!
YOU ASK HOW IS IT DIFFERENT FROM REGULAR CILANTRO CHUTNEY ? So unlike cilantro chutney, this SPICY PIZZA CHUTNEY is usually made with just GARLIC , CHILIES (SERRANOS/ GREEN THAI CHILIES / HABANEROS or any spicy chili), SALT and  EXTRA VIRGIN OLIVE OIL . When we moved to STL, Isaw that his aunt sometimes add cilantro also in there which tastes really good too. I love both versions equally but I am obviously partial to the original version.
WHERE ELSE CAN I USE THIS PIZZA CHUTNEY ON? To be honest, its great on any and everything. Yesterday I mixed some of this in my SPINACH KHICHDI  , few days back I toasted bagel with cream cheese and then slathered this chutney all over – so good! 
Yesterday only I also had this with homemade pizza (which I made for lunch) and was just so good! 
HOW LONG WILL IT STAY GOOD? Since there is good amount of EVOO (extra virgin olive oil) in here, it stays good for a week easily in refrigerator kept in airtight container. Use it on everything , it just makes everything taste better.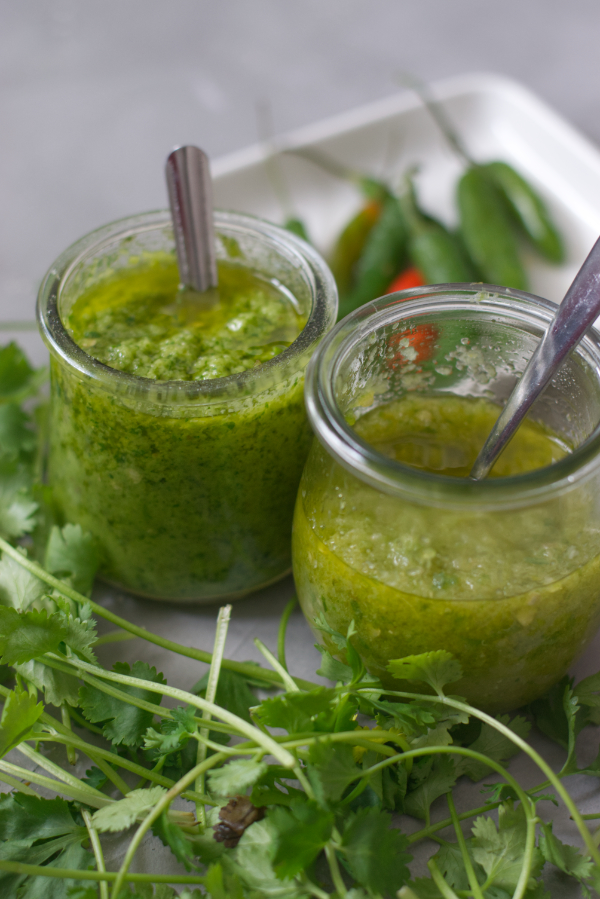 In the picture above as you will notice the one in the jar in front is the one WITHOUT CILANTRO and the one in the back is WITH CILANTRO.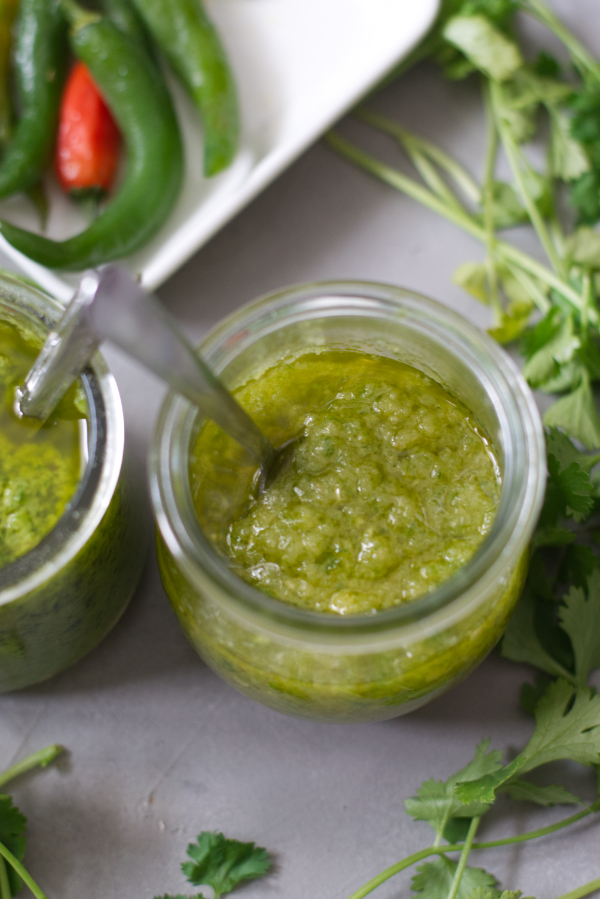 Just few ingredients – you can use fresh garlic cloves or even garlic paste (whichever you have on hand) , good quality Extra Virgin Olive Oil, salt and spicy chilies ( this time I used seranos. I have previously also used 1 habanero along with few seranos successfully. Habanero does make this chutney super spicy!)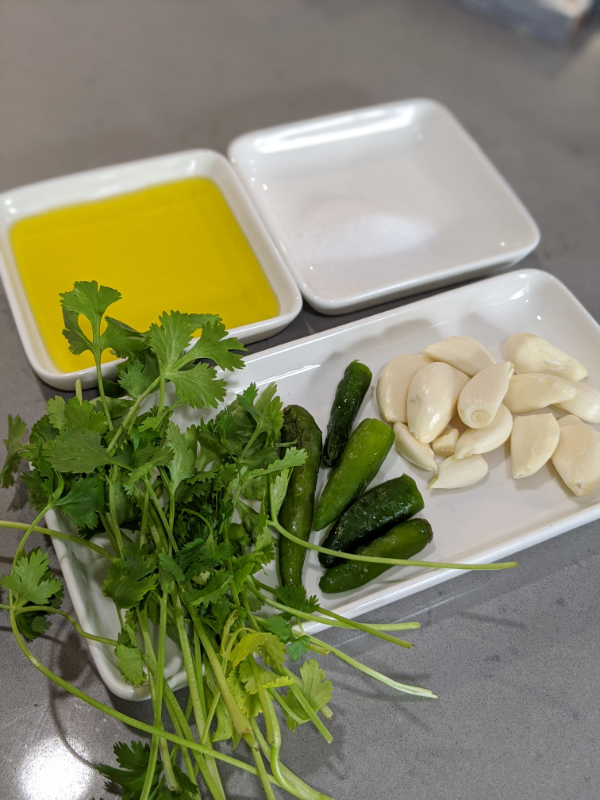 When making a small-ish amount, I love using my favorite wet grinder by Revel. I have been using it for the last 10 years and absolutely love it to make small amounts of chutneys, for quickly grinding garlic, herbs etc!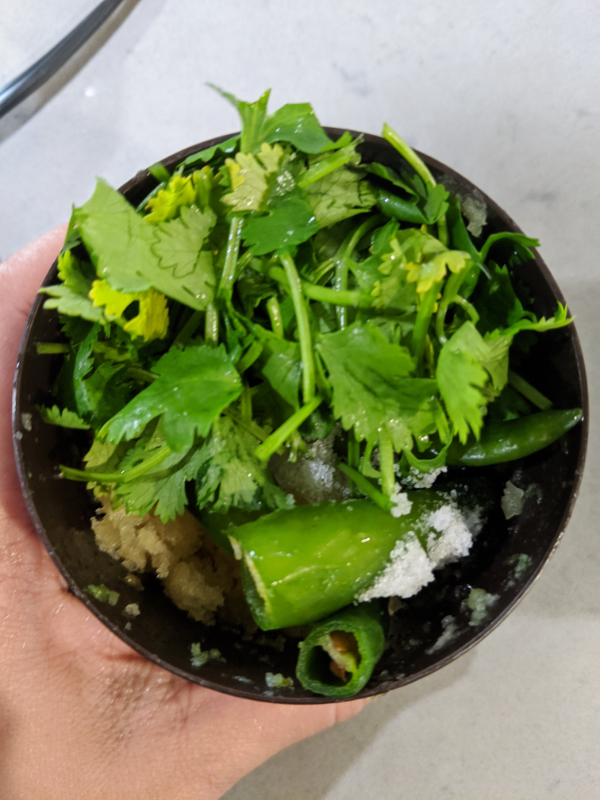 So go ahead & give this a try! If you make these or any other recipe from our blog, do tag us by using#naivecookcooks on Instagram.
If  you enjoyed this recipe, don't forget to FOLLOW me on  INSTAGRAM ||FACEBOOK||PINTEREST ||TWITTER ||GOOGLE+ || BLOGLOVIN || YouTube
I have a SHOP PAGE on AMAZON STOREFRONT where you can find tons of items from KITCHEN, FOOD ITEMS, KIDS/BABY TO HOME STUFF I absolutely love and use on regular basis! Hope you check it out and find it useful 🙂
Spicy Pizza Chutney
Ingredients
20-24 big garlic cloves ( Around 4 Tbsp garlic paste)
6-7 seranos (or any other spicy chili as per taste)
Salt to taste
¼ cup Extra Virgin Olive Oil and more as needed
2 big handful cilantro (OPTIONAL)
Instructions
In a blender, add garlic cloves ( paste) along with chilies. Blend . You might need to add ½ - 1 tbsp of oil to make the blender run smooth. Make sure not to add any water. Blend until you get a coarsely smooth consistency.
Transfer it to a bowl and add salt and Extra virgin Olive oil. Mix and taste. If it's not spicy enough you can blend more spicy green chilies and add to it.
Add more oil if if it seems dry. Refer to the picture in the blog post, you should be able to see little oil floating on top.
Serve with pizza ( that's what we always eat it with!), eat by topping on top of pizza slices or take on side and dip your pizza slices into it.
Keep stored in fridge for up to a week or so easily.
Notes
Ami says :
For cilantro version, just add cilantro while blending and proceed the same way!