Spicy Arrabbiata Sauce made even more healthier by serving over my favorite Lentil Pasta! Super quick & easy this Healthy Spicy Arrabbiata Lentil Pasta is extremely flavorful!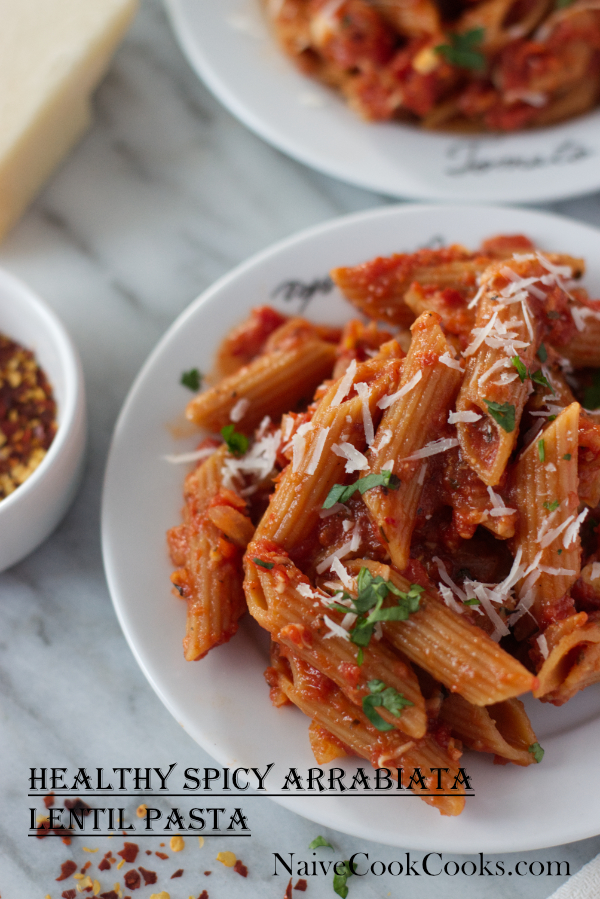 When we are craving pasta but I still want to keep things on the healthier side, I always always go for SPICY ARRABBIATA SAUCE and lately we have been hooked on Barilla's Lentil pasta ( NOT SPONSORED IN ANY WAY. WE BOTH JUST LOVE THIS PASTA!) . If you have been following me for sometime, you might know that ronak is a picky taste-tester and after hating almost all the healthy chickpea, lentil pastas, this is the only one he loved and to my surprise he liked it so much that somedays when working late nights, he even made himself a bowl of this lentil pasta!! So you know this pasta is good since it's Ronak approved!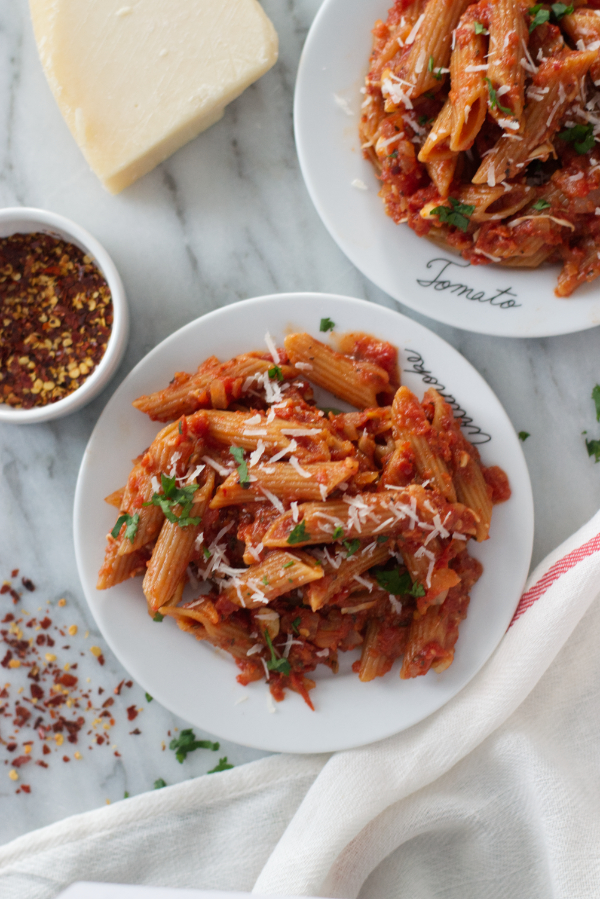 Funny story – While we were on our trip to Rome ( I think we were there for a week), this was the ONLY SAUCE pasta I would order every single night! We had this small Italian restaurant near our hotel and he made the best spicy arrabbiata sauce pasta!! I mean so good!
WHY CALLED ARRABBIATA ? Arrabbiata means angry sauce which is true as this spicy sauce is made with tomatoes, garlic, spicy chili flakes in olive oil. Seriously delish and way healthier pasta sauce than any regular sauces.
WHAT IF I DON'T WANT TO SERVE IT WITH LENTIL PASTA? No worries at all! Just serve it with any of your favorite brand pasta! I absolutely love it with regular penne or spaghetti but when trying to eat healthier ( LOW CARB MORE PROTEIN), I serve it with our favorite LENTIL PASTA.
CAN I ADD VEGGIES/ MEAT TO MY SAUCE? Yes totally! You can add any kind of veggies ( either cook them along with oil, chili flakes, garlic and onions or cook separately and add to sauce later) or protein of choice.
CAN THIS SAUCE BE FROZEN? Yes! It's one of my favorite kind of sauces to prepare and freeze to have on hand at all times.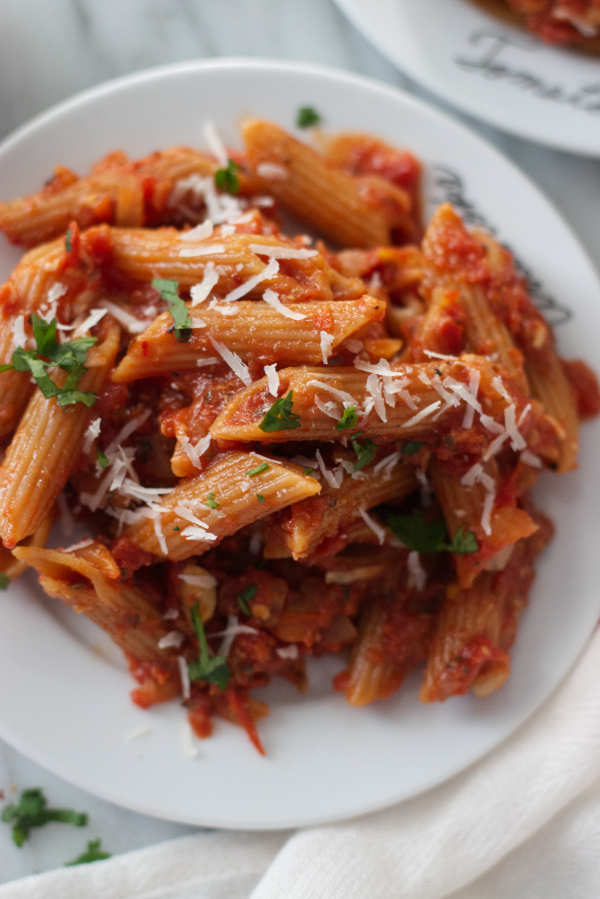 So go ahead & give this a try! If you make these or any other recipe from our blog, do tag us by using #naivecookcooks on Instagram.
If  you enjoyed this recipe, don't forget to FOLLOW me on  INSTAGRAM ||FACEBOOK||PINTEREST ||TWITTER ||GOOGLE+ || BLOGLOVIN || YouTube
I have a SHOP PAGE on AMAZON STOREFRONT where you can find tons of items from KITCHEN, FOOD ITEMS, KIDS/BABY TO HOME STUFF I absolutely love and use on regular basis! Hope you check it out and find it useful 🙂
Healthy Spicy Arrabbiata Lentil Pasta
Ingredients
2 Tbsp Olive oil
7-8 garlic cloves, chopped fine
(1/2-3/4) cup onion, finely chopped
Chili flakes ( as per taste, for a spicy arrabbiata sauce start with 2 tsp chili flakes and add more as needed)
Finely chopped tomatoes in a can ( I am loving Pomi brand finely chopped tomatoes), 26.46 oz or 750 gms ( Or you use any brand you like) ( If using fresh finely chopped tomatoes, it will take double the time to cook the sauce)
Salt to taste
2 tsp black pepper
2 tsp basil powder
¼ tsp oregano
Pinch rosemary
1-2 tsp sugar
¾ cup shredded parmesan cheese
Bunch of fresh basil leaves, finely chopped (if available)
Barilla Red Lentil Pasta or pasta of choice (8 oz)
Instructions
Cook pasta as per package directions. Once cooked, save ½ cup pasta water. Strain pasta and add few tsp of olive oil and stir so pasta doesn't clump up while sitting.
In a deep heavy bottom pan, add 2 tbsp olive oil. Once hot, add garlic and chili flakes. Cook for few minutes and then add onions. Saute until translucent. Add tomatoes along with spices - salt, black pepper, basil powder,oregano, rosemary, fresh basil leaves and sugar. Mix and simmer the sauce for 7-10 minutes. If the sauce feels thick, add that saved pasta water.
Taste and adjust if need to.
Add ½ cup parmesan and mix. Add pasta and mix again until sauce coats the pasta.
Serve with more parmesan on top.
Also in

INSTAGRAM STORY HIGHLIGHTS

, you can find a

STEP BY STEP VIDEO

of how to make this pasta sauce!
More delicious PASTA RECIPES – >