Store bought pitas make a delicious base for this taco pizza – PITA TACO PIZZA. Creamy perfectly spiced black beans, mexican shredded cheese and tons of shredded lettuce and pico de gallo topped atop crispy pita and drizzled with ranch sauce. So so good!!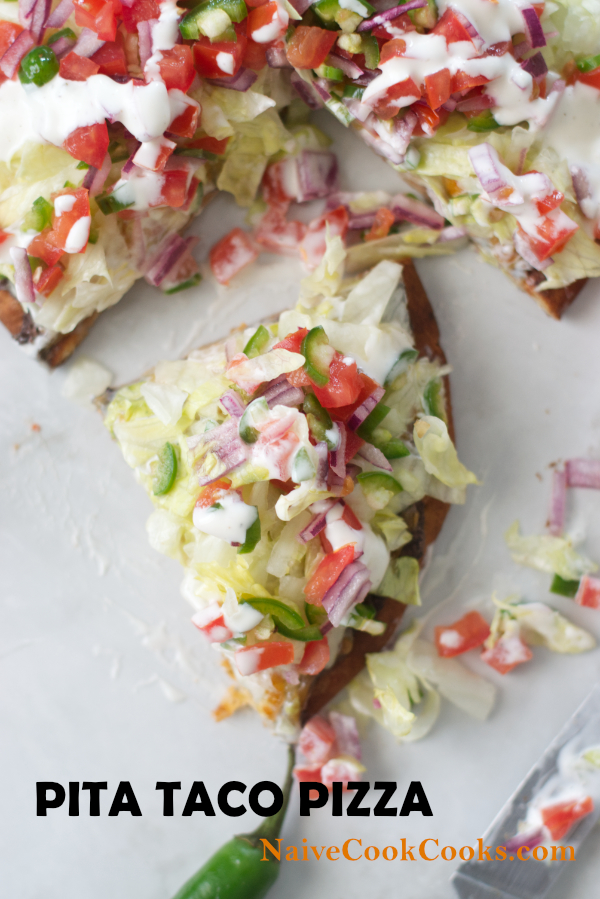 We love Mexican food around here so I am always trying to find new recipes, new ways to cook and use up protein rich beans. I have always enjoyed California Pizza Kitchen's Tostada Pizza and having been making it at home for a long time as well with homemade pizza crust. BUT then my aunt told me that she made it on pita and I had to try it!! And guys it tastes way way better on crispy pita base and not to forget it's super convenient as it's semi-homemade. Great for even weekdays because all you need to do is crisp up your pitas in oven and while that's happening, get your beans and toppings ready. Then pile up with beans and cheese, bake it up little bit more until cheese is melted and then add loads of lettuce and pico de gallo. Bliss in your mouth!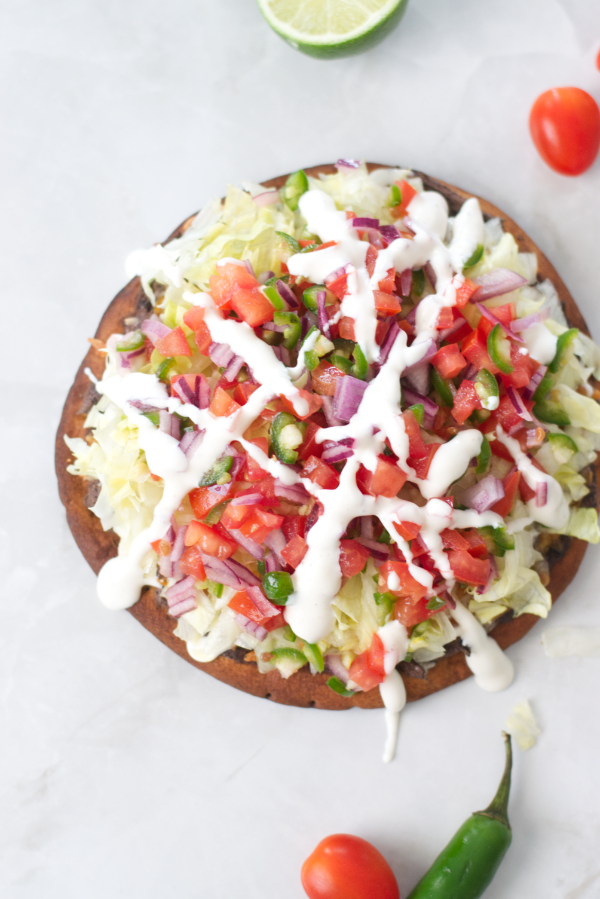 Salt, tangy and spicy pico de gallo makes it so flavorful and DO NOT SKIMP ON CHEESE as it protects pizza from tasting dry from beans. But in all it's a winner recipe at our place. I have already made it twice in a week and already dreaming about it again!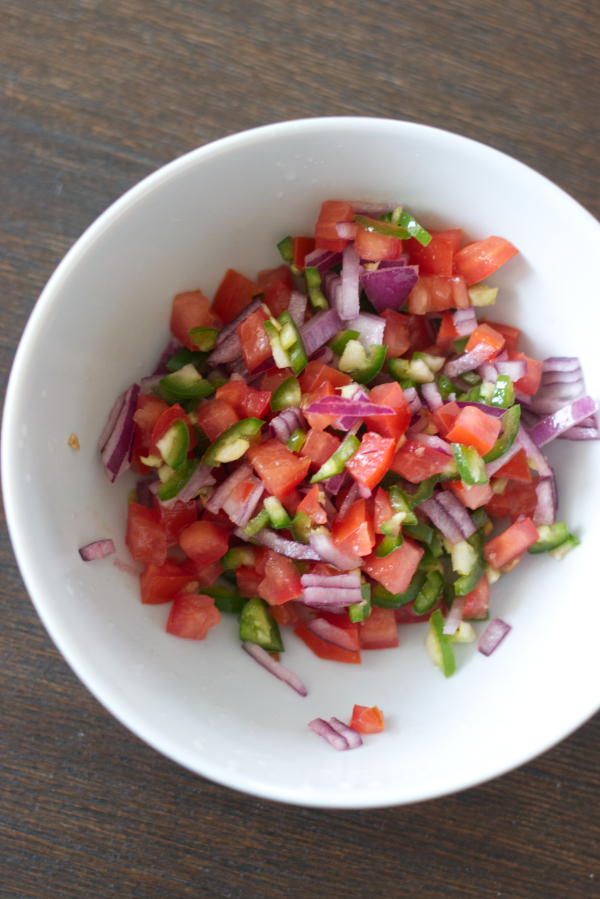 This recipe is even more amazing since during times like these, when we are all getting exhausted of cooking and craving eating out, it makes for a seriously simple, quick but flavor packed meal! Give it at try, I am sure you are going to love it as much as we did!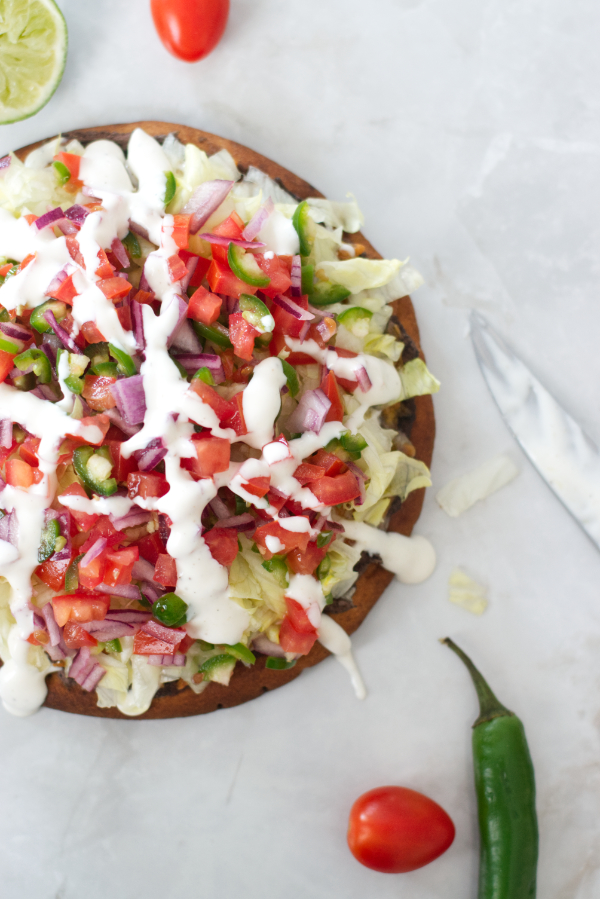 Pita Taco Pizza
Ingredients
Spiced Black Beans :
You can use store bought can of black bean or make your own.
2 can black beans or 1 cup uncooked black beans
Salt to taste
Red chili powder to taste
1-1.5 tsp cumin powder
Pico de gallo:
2 roma tomatoes, finely chopped
¼th of large red onion, finely chopped
1-2 serrano, chopped fine (use as much or as little depending on how spicy you like)
Salt and lime juice to taste
Freshly chopped cilantro (optional, I had none so I skipped)
Store bought Pitas
Shredded Mexican cheese
Ranch sauce
Shredded Lettuce
Instructions
Spiced Black Beans:
If using store bought - Strain black beans in a strainer and clean under running water. Place them back to a pot and add ¼ cup water, salt, red chili powder and cumin powder. Cook for few minutes on medium heat and mash them using hand potato masher or hand blender. You want an almost smooth but little chunky paste. Taste and adjust seasonings if need to. You should have a creamy consistency black beans. Keep aside.
Pico De Gallo:
Add chopped tomatoes, onion, cilantro if using, serranos along with salt and lime juice in a bowl. Mix and taste.
Assembly :
Bake pitas in a preheated 350F oven for 5-7 minutes. Take them out and let it cool on a cooling rack. This will make the pitas crispy.
Then top each crisped up pita with few tbsps of black beans and generous amount of shredded Mexican pizza. Bake again for few minutes until cheese if melted. Make sure to check so it doesn't burn.
Once done, place it on baking rack and top with good amount of ranch sauce and soread it all over. Then top with generous amount of shredded lettuce and pico de gallo. Cut in pieces and enjoy!
Notes
Ami says :
You might end up with extra black bean which you can store in an airtight container in fridge.