Homemade Thick (Crispy Bottom) Pan Pizza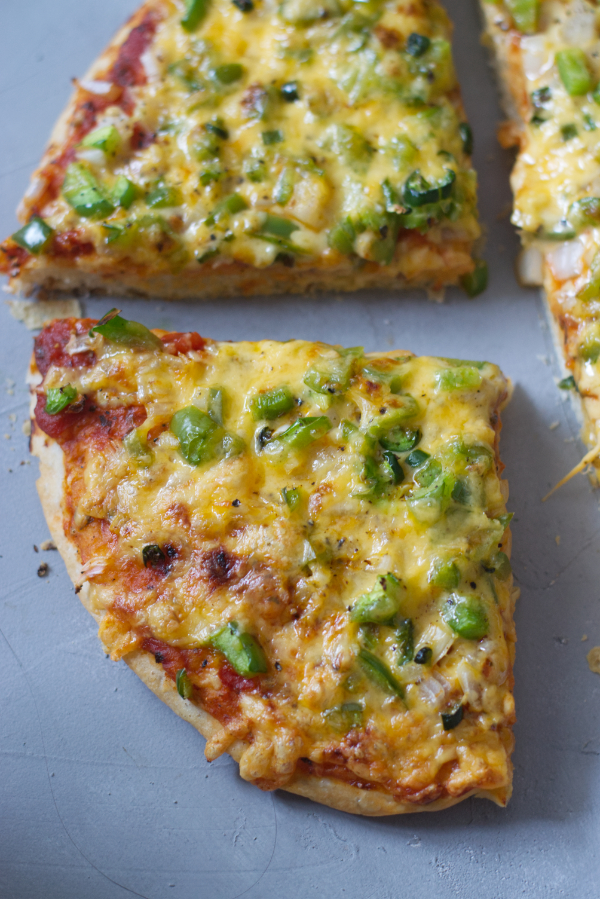 Cuisine:
Italian (Indian inspired)
PIZZA CRUST:
2 cups warm water
1 tbsp salt
1 tbsp sugar
1 tbsp ¼ tsp active yeast
4.5 cups all purpose flour (1 pound 4.3 oz / 576 gms)
1.5 tsp carom seeds (ajwain)
1.5 tsp cumin seeds (jeera)
6 Tbsp oil
Mix dry ingredients - add all purpose flour, carom seeds and cumin seeds to a bowl and stir. To it add oil and mix using hands so oil is nicely mixed with the dry flour. A way to see if you have enough oil is after mixing oil with flour, take some flour in closed fist and release, it should stay in your fist without disintegrating.
In another small bowl, add warm water. To it add salt, sugar and active yeast. Stir and leave it in a warm draft free area for 10 minutes.
After 10 minutes, you will see bubbles on surface which means yeast is active.
Add this yeast water to the dry mix and start mixing. The dough is going to be sticky so add little bit of flour to help you knead. MAKE SURE TO ADD NOT TOO MUCH FLOUR.
Keep kneading it into a smooth dough ball, divide into 2 balls.
Take a piece of parchement paper that's going to fit on your baking tray. Spread flour and start rolling the dough ball into a ⅓-1/4 " thick pizza crust.
Transfer this pizza crust along with parchment paper onto pizza baking pan. Spread oil all over the crust and let it sit to rise fpr 4-5 years inside your TURNED OFF oven.
Bake in a 350 F preheated oven for 12 minutes.
Now if you are planning to make pizza another day, let the crusts cool completely then tightly wrap them in 1-2 layers of plastic wrap and store in fridge. If you think you might want to store pizza crusts for longer, then place them in freezer.
Whenever ready to bake pizzas, apply sauce - shredded cheese- toppings of choice - more shredded cheese and bake for 15-20 mins at 350F and broil for 2-3 mins.
Recipe by
Naive Cook Cooks
at https://www.naivecookcooks.com/homemade-thick-crispy-bottom-pan-pizza/