Creamy, delicious, restaurant style Thai Iced Tea made in the comforts of your home in flat 15 minutes!!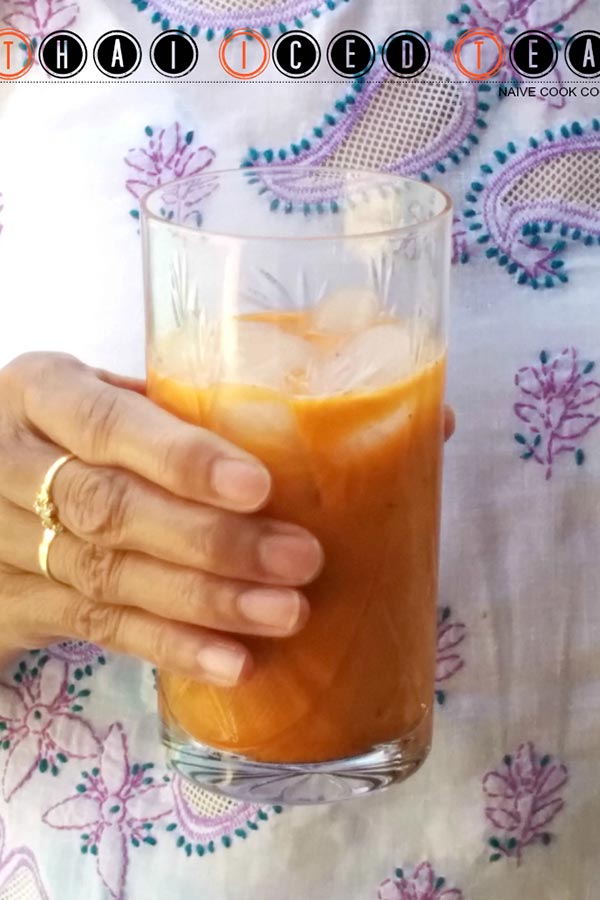 Do you always order Thai iced tea in Thai restaurants? I don't know about you but for someone like me that's a must. But lately I have been having kind of bad luck with Thai teas: overly sweetened, not that strong or too week tasting Thai teas have been greeting me lately in restaurants. For some time, I have been thinking of learning how to make this at home so I can have it anytime I want! No waiting for Thai restaurant trip to get Thai Iced tea.
Finally I have found the right kind of thai tea mix and it tastes just like my favorite restaurant version. I am telling you, this is the one! Panthai Thai Tea Mix gives you the exact same kind of delicious Thai Tea you are used to getting in restaurants but much cheaper and at any time you get the craving.
Now since I have already perfected the art of making this tea (yes, I like to use fancy words sometimes and feel as if I have achieved a major hurdle in life!!), I want to learn making my favorite Thai curries and that authentic Thai fried rice now. Nothing better than having a bowl of hot and spicy Thai food along with chilled glass of Thai Iced Tea.
 My mom visiting from India loved it so so much that she got herself a giant Thai Tea mix bag as well so she can have it back home. I used her as my hand model for this tea here!
This tea, you need to order it asap or get it from your nearby Asian store!
Thai Iced Tea
Delicious creamy Thai Iced Tea in fifteen minutes right at home! Tastes exactly and way better than restaurant version!
Ingredients
2 cups water
2 Tbsp Thai Tea Mix ( I used Panthai Thai Tea Mix and strongly recommend to use the same!)
2-4 Tbsp sugar or as per taste
Ice cubes
Half & half, milk any fat content or heavy cream (Pick your choice of cream. I made using half & half and it tasted just like the amazing restaurant kind)
Instructions
In a pot, bring water to a boil. Once boiling, add thai tea mix and sugar and let it simmer on slow for good 3-5 minutes. Take it off heat and cover. Let it sit for another 5 minutes. Now strain it discarding the tea leaves.
At this point, you can cover and keep it in refrigerator to be used in a day or two.
For serving, Fill a glass halfway with ice cubes. Add strained tea concentrate about ¾th of the glass. Fill with your choice of cream. Enjoy!
More Summer Coolin' Drink Recipes: