Welcome fall with this comforting healthy Ancho Three Bean Chili recipe!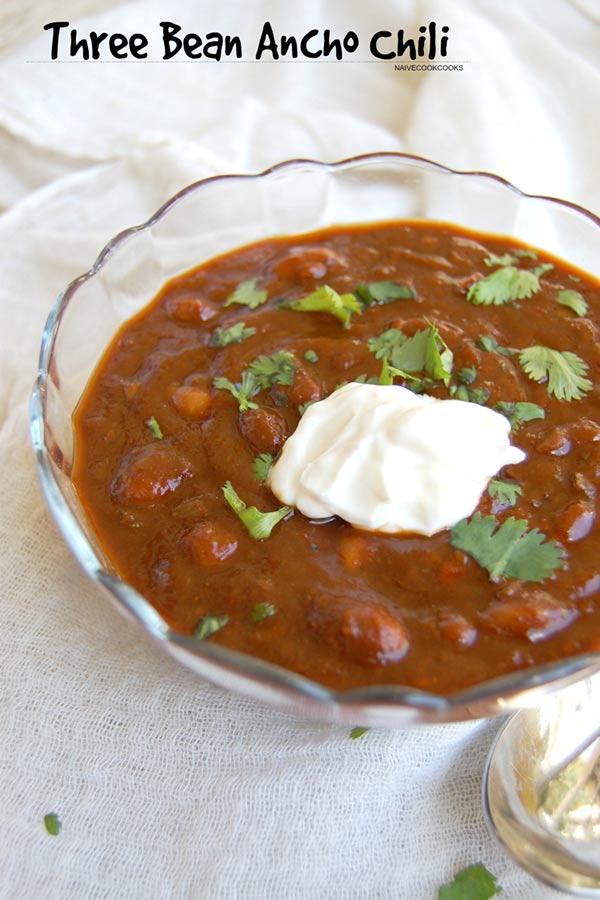 Guys this chili!
Monday calls for comforting meals which requires minimum doing on our part. This chili is every cooks dream.
Super easy to make yet everyone will think you slaved yourself all day in the kitchen! And the flavors?!! Shut the front door!
Combination of ancho, new mexico and chipotle chili gives it such a warm, earthy flavour that you won't look for any other chili recipe ever!!

 A perfect football day meal, it requires almost minimum efforts on your part so you can enjoy game with your family and indulge in a super delicious and comforting food as well (not to mention healthy too).
 Before leaving to see Jerry's parents, I made this and it was a delicious meal we enjoyed together. August and september have been crazy busy here with lots of stuff happening. I am looking forward to enjoying fall and wearing cold weather clothes! Do you feel the same too? I always get excited at the thought of things I could do with changing weather!
Did I tell you that it freezes so well and perfect for hectic weeknight dinner too!
Ancho Three Bean Chili
Welcome fall with this comforting healthy 3 bean ancho chili recipe!
Ingredients
¼ cup pinto beans, dry
¼ cup chickpeas, dry
¼ cup red kidney beans, dry
1 ancho chili, dried
1 new mexico chili, dried
1.5 cups water
⅓ whole chipotle chili in adobo sauce plus 2-3 tsp sauce from adobo sauce can
3 garlic cloves, chopped
1 tsp olive oil
⅓ cup red onion, chopped
½ tsp cumin seeds
1 tsp oregano
½ tsp soy sauce
1 can diced tomatoes, 14.5 oz
Salt to taste
Instructions
Soak all three beans overnight if possible. Before cooking, boil all three beans together either in pressure cooker or in a pot. Keep it aside.
In a pot, bring 1.5 cups water to boil. Add both ancho and new mexico chilies and let it soften by boiling on medium heat for good 10-15 minutes. Add more water if it starts to get dry. Once done grind it to a fine paste.
In a big pot, add oil. Once hot, to it add garlic cloves and onion. Saute for few minutes until fragrant. Add cumin seeds, oregano, soy sauce to it. Stir and add the chili paste to it. Let it cook for few minutes. Add half of the boiled beans along with their water. Remaining half of the beans, grind them coarsely. Add them to the pot as well. Stir it around and add the tomatoes as well. Add salt as per taste. Cover and let it cook on low for an hour. Keep stirring in between to prevent sticking and getting burnt. Add more water if it starts to get dry. Cook for total of 1-1.5 hours until creamy and all the flavors get married well together. Adjust seasoning if desired. Serve with sour cream or yogurt or cheddar cheese and corn bread.
More Easy Meal Recipe: