Your favorite childhood breakfast got a makeover!! Fancy sweet potato pie mini pop tarts with cranberry sauce! Breakfast can't get better!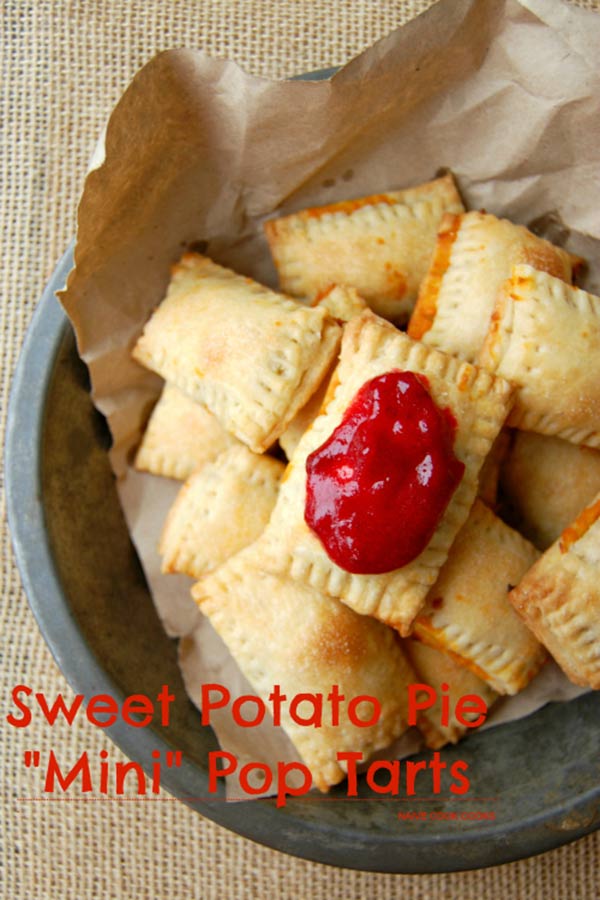 These mini pop tarts lasted 2 days at my place with me the only one eating them at a dangerous amount !
SERIOUS.They served me as my breakfast,snack, after lunch, snack, after dinner and may be a few here and there. These are the best thing to happen to me in a while. I know it sounds so cheesy but seriously look at them! Long time back I tried a super healthy version of pop tarts and it was just plain horrible. Taste was awful and so was the filling with chia seeds and what not. Don't get me wrong I love healthy food but sometimes it's better to leave classics like these untouched from the health food domain. These are meant to be cherished, with every bite reminding us of our childhood.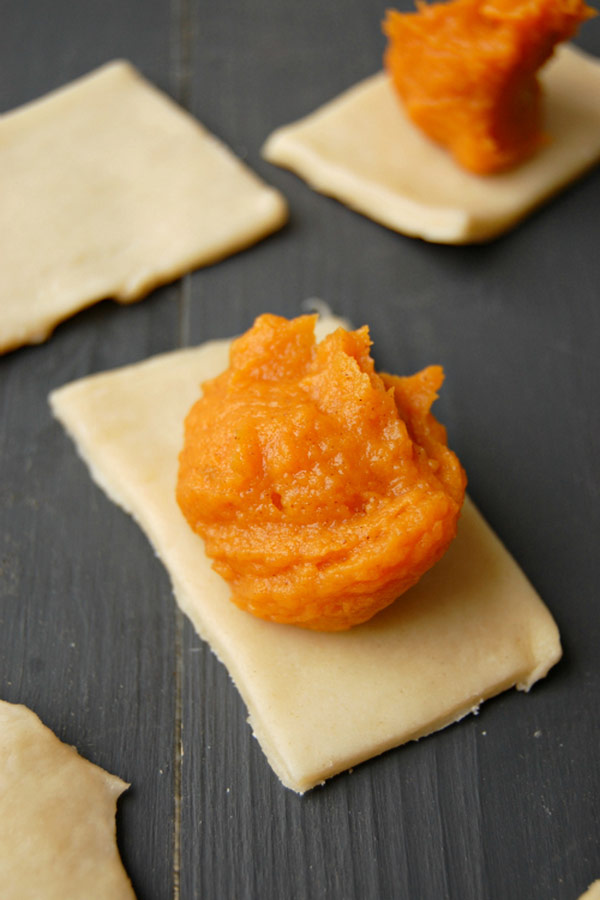 Finally I figured out that plain dough used for classics like these works like a charm here and then it's upto you how you want to customize the filling. Since we are only (hold your breath!) 20 days away from Thanksgiving dinner, these are perfect for this time! You might wonder why am I posting this now and not like 5 days before thanksgiving! In my defense, I will insist you to practice them atleast once so you can get the dough right (which is anyways hard to mess up!) and get the filling to your liking and yes, oven settings. I have over time realised that different ovens behave differently (got way too many pizza getting under cooked or over cooked stories up my sleeve!!) so it's better to get ahead in your game for thanksgiving dinner! Even if you are not planning thanksgiving dinner, you can take them to your host's place and trust me, they will love you for these!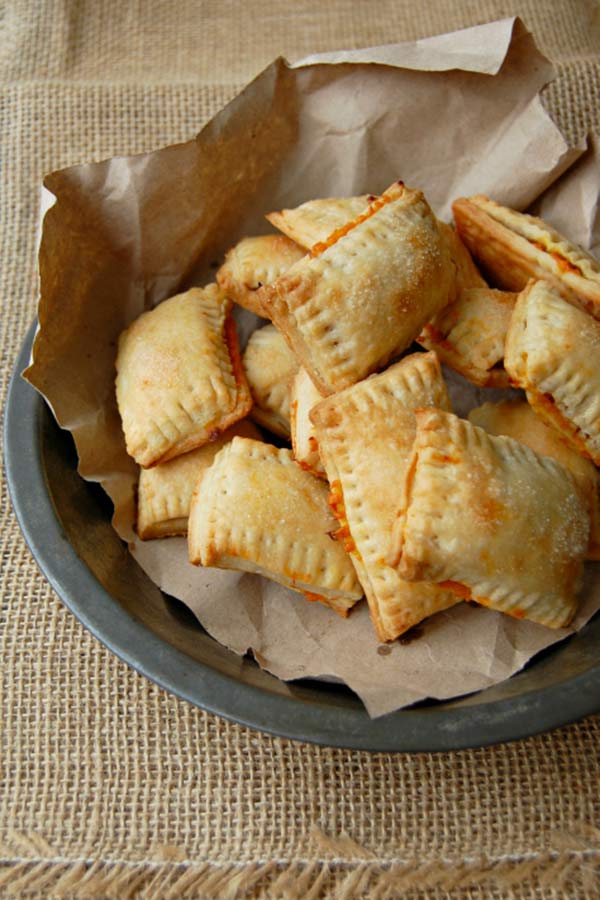 The crust is so amazing and the filling and when covered with this cranberry sauce, I think it just steals my favorite dessert/breakfast spot at the moment. At this moment since I cook at a crazy rate and soon I might be found pouring all my love on some other food! But until then, these are the best pop tarts ever!
I like them in mini size as you can eat 3-4 but you are still eating equivalent to one giant pop tart!! So much for self control. On other note, they get soft over time when kept in an airtight container. But hey no worries. Just pop them in a toaster or preheated oven and they are good as new!
On well another note, I am trying to learn how to make animated gif's. It's so funny and kind of annoying too when you can't get the timing right. But finally I did get it and here's a sample! Animated gif images remind me of Harry potter movies where you see pictures moving in a newspaper. I was so so impressed when I saw that for the first time! #oldengoldendays
When serving these pop tarts, serve them along cranberry sauce but do make sure that everyone puts it as it seriously gives a huge boost up in the flavor department.

Homemade Sweet Potato Pie Mini Pop Tarts
Your favorite childhood breakfast got a makeover!! Fancy sweet potato pie filled mini pop tarts with cranberry sauce! Breakfast can't get better!
Ingredients
Crust
2.5 cups all purpose flour
1 tbsp sugar
¾ tsp salt
10 tbsp chilled unsalted butter, cut in small pieces or grated on a grater
⅓ cup solid vegetable shortening, cut into pieces
6 tbsp ice water
Filling
2 large sweet potato, boiled, peeled and pureed
6 Tbsp sugar
2 tsp cinnamon powder
¼ tsp nutmeg
Cranberry Sauce
½ cup fresh cranberries
⅓ cup water
⅙ cup sugar
⅛ tsp nutmeg
½ tsp cinnamon powder
Instructions
For Crust
Stir flour, sugar and salt together in a bowl using spatula.
Add butter and shortening and using a pastry cutter or simply your fingers work it together, until it resembles a coarse meal.
Add 6 tbsp iced water and mix until moist clumps form. Add more water by tsps if desired and until the dough gathers into a ball.
Divide the dough into half. Flatten each piece and wrap in a plastic wrap.
Refrigerate for 1-2 hours. (At this point, dough can be prepared 2 days ahead. Keep chilled. Let it soften to room temp before rolling out)
For filling
In a bowl, mix all the ingredients together until a smooth paste forms. Taste and adjust if needed.
For Sauce
In a pot, add all the ingredients and bring it to a boil. Lower the heat and let it simmer for 5-7 minutes or until it starts to thicken. Puree. Keep aside.
Assembling
Roll out the dough and cut in 4*2 inch rectangles. Place a dollop of filling in the center of half of those rectangles. Using a spoon flatten the filling a bit and place the other rectangle on top. Using a fork, seal the edges.
Transfer them on to a lined baking sheet and bake at 375F for 20 minutes or until they are golden brown.
Notes
You might end up with some extra dough. You can always wrap it tightly with a plastic and store in refrigerator and use later for pies or tarts.
More Dessert Recipes: