Give your nachos a lift and try these Sweet Dessert Nachos! Cinnamon sugar "baked" tortilla chips, homemade chocolate sauce and fresh fruits make this one of a kind dessert!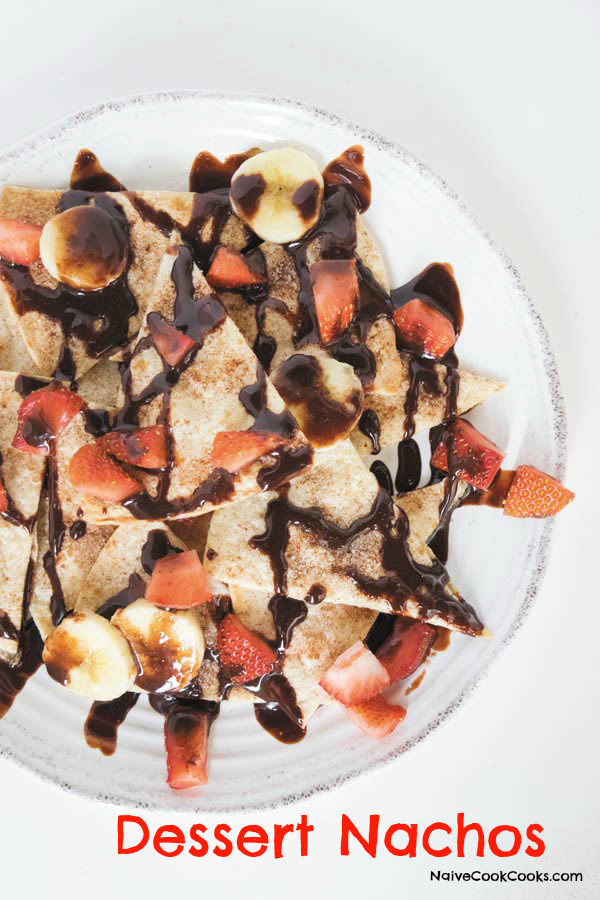 Today let's talk about nachos friends but not just regular cheese loaded nachos, though let me be honest I love them to death. Our movie nights always always involve nachos – for me loads of cheese topped on crispy tortilla chips & pickled jalapenos! But a girl needs her dessert and for me that means after dinner unless I eat dessert, I don't feel full. Do you face the same problem?! So one day when I had nothing to eat for dessert, I made these dessert nachos and since then they have been my favorite!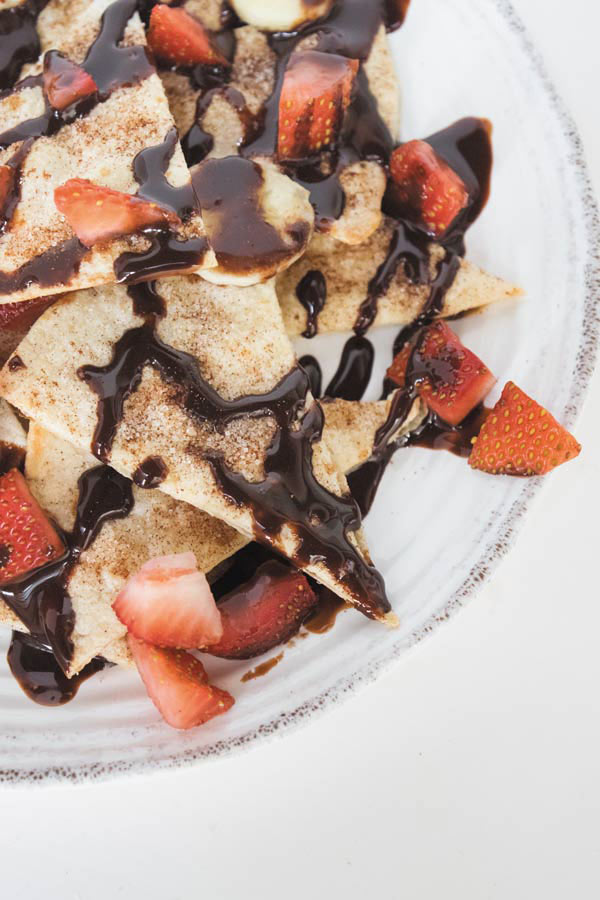 I switch fruits based on season and my favorite is mango or banana-strawberry combo. And I bake my tortilla chips instead of frying and that gives me the freedom to eat a lot more! So making these is really simple – all you need to do is butter your tortillas, cut them in triangles, place on a baking sheet and generously sprinkle cinnamon sugar all over them. Then once baked and crispy, you place them on a plate, drizzle them with your homemade chocolate sauce ( you can totally use store bought chocolate sauce or even nutella will taste great here) and loads and loads of fruit. I would also suggest you serve them with some chilled whipped cream. Divine!
So it's not too late, you can still do after dinner dessert or if you are like me dessert for dinner!
Follow along for a lot more delicious treats and life happenings on INSTAGRAM ||FACEBOOK||PINTEREST ||TWITTER ||GOOGLE+ || BLOGLOVIN || YouTube

Easy Baked Dessert Nachos
Ingredients
Cinnamon Sugar Tortillas :
2 large soft tortillas
Melted butter for brushing on tortillas
2 tbsp granulated sugar
1 tbsp cinnamon powder
Homemade Chocolate Sauce:
½ cup milk
¾ cup white powder sugar
½ cup cocoa powder
1 tsp vanilla extract
For serving :
Fresh fruits such as strawberries, bananas, blueberries, mangoes.
Whipped cream
Instructions
Pre heat oven to 350F.
Brush both the sides of each tortilla with melted butter. Cut the buttered tortillas into triangles. Place them on a parchment paper lined baking sheet without overlapping.
In another bowl, mix sugar and cinnamon. Sprinkle the tortilla chips with this cinnamon sugar generously.
Bake for 11-12 minutes. Once you take them out, let them cool. They will get crispy as they cool down.
Meanwhile chop your fruits and make chocolate sauce.
For making chocolate sauce add all the ingredients except vanilla in a put and bring it to a boil.Cook it for 3-5 minutes until thick. Stir in vanilla and let the sauce cool down. It will thicken up as it cools down.
Now once ready to eat, place cinnamon sugar chips in a plate, drizzle with chocolate sauce and add chopped fruits, more chocolate sauce and whipped cream! Enjoy.
Some more recipes to make you hungry ->>