Creamy Crispy Baked Potato Skins stuffed with avocados, jalapenos & potatoes makes for a healthy yet totally guilt free game day treat!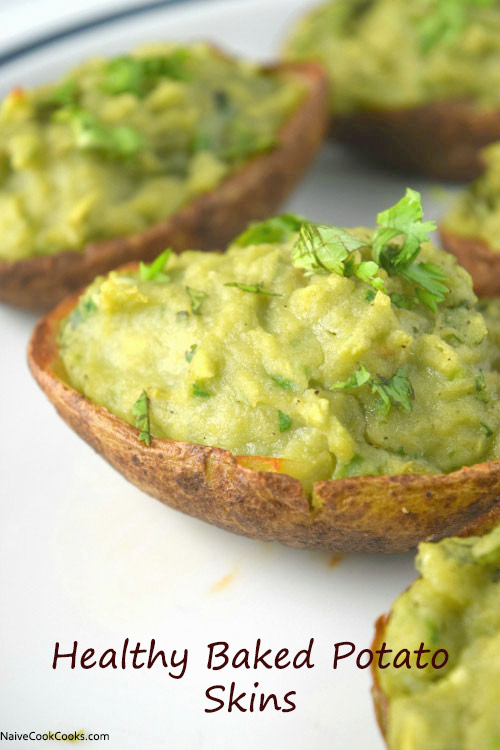 These potato skins!
To be honest, I have never before enjoyed eating baked potatoes so much or should I say I never really liked eating baked potatoes. I always felt that they were always sort of under seasoned and under flavored for my taste buds. But things have changed since we started making these and I say we because well Jerry gave idea for these & from there I went ahead using what I thought will go best with avocados & potatoes & here we have the BEST CRISPY HEALTHY BAKED POTATO SKINS ever! I mean it.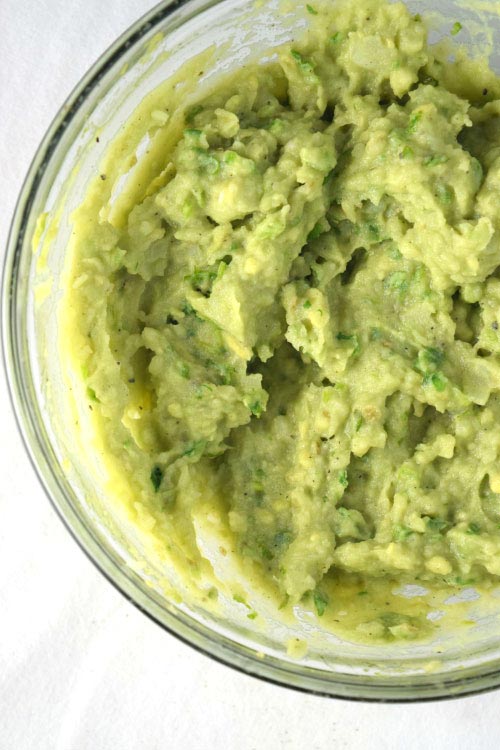 These are everything my potato loving heart desires. They are spicy (hello, jalapenos!), creamy (mashed avocados!!) & packed with lots of flavor from garlic, cilantro, spices. No more boring salt, pepper and sour cream baked potatoes! I never really liked you. But these I can eat almost every day if given a choice and never get bored. If you want little indulgence, you can always add some shredded cheese but for us they are perfect without cheese. I feel that there is so much flavor that not really much space left for cheese.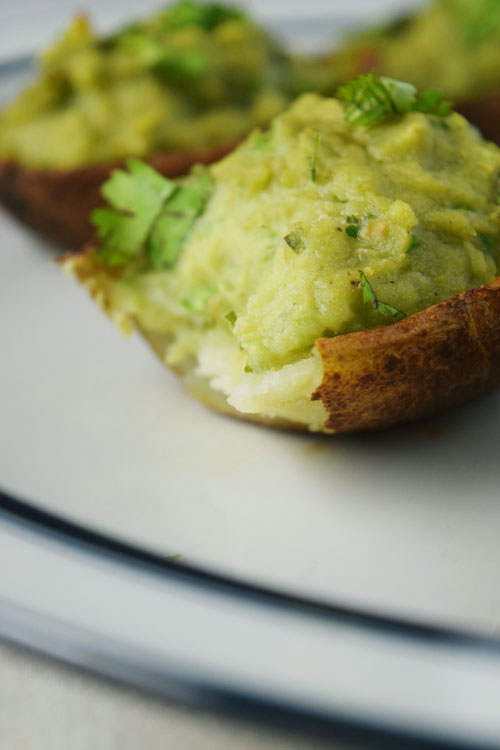 A bite of these and you will be in potato heaven. So so good, after boiling the potatoes, cutting in half and scooping out the flesh they are baked so the edges get all golden brown n crispy and then they are stuffed with avocado-potato-jalapeno mixture and again baked until its all hot & crispy! And they are so easy to make! I feel these will reinvent game day eats cause you won't feel guilty even after eating a bunch of these because well let's be honest what is there not to love and avocados make everything healthy *almost* !!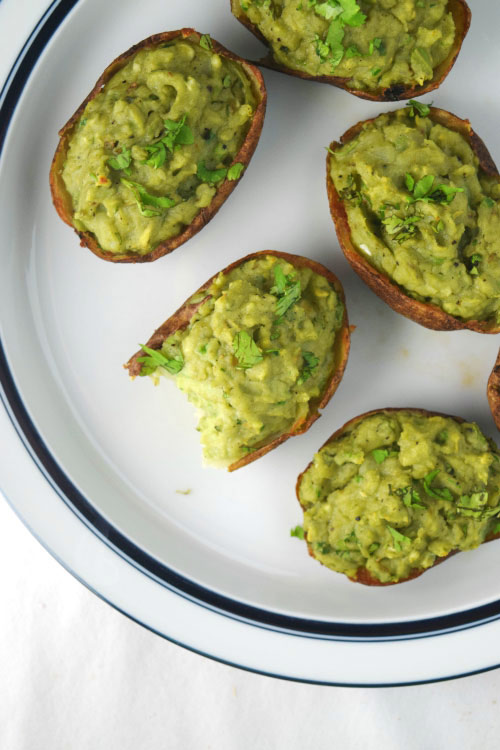 Lately we are enjoying them for our breakfasts as they are really filling and a nice change from usual avocado toast! You need these in your life!
Help in spreading the word!
Follow along for a lot more delicious treats and life happenings on INSTAGRAM || FACEBOOK ||PINTEREST ||TWITTER ||GOOGLE+

Healthy Baked Potato Skins
Crispy Healthy Baked Potato Skins for the wins!!
Ingredients
4 medium potatoes, boiled
1 avocado
½ jalapeno or as per taste
3 garlic cloves
Salt & Black Pepper to taste
1 tbsp milk (I used 2%)
1-2 tsp lime juice
1 tbsp finely chopped cilantro plus extra for garnishing
Instructions
Boil potatoes.
Let them cool and cut them in half lengthwise.
Scoop out the flesh making sure not to break the shell.
Preheat oven to 350F and spray a baking sheet with some oil. Lay the hollowed potato skins on the baking tray with edges facing the sheet and spray a bit more. Bake for around 5-8 mins until edges are all crispy.Keep them aside.
Meanwhile, in a bowl add 1 avocado, little more than half of the scooped out potato (the rest of the boiled potato mixture you can use later), jalapeno very finely minced, garlic very finely mined, cilantro, salt, black pepper, milk & lime juice and using a fork mash everything together until you get a smooth mixture. Taste and adjust seasonings as per your taste.
Fill the crispy potato shells with this filling and bake for another 12-15 minutes until heated through.
Enjoy with sour cream or plain!
More Delicious Recipes: