No Bake, Just 4 Ingredients Chocolate Peanut Butter Cups are easy back to school treats! Make them ahead & keep stored in refrigerator!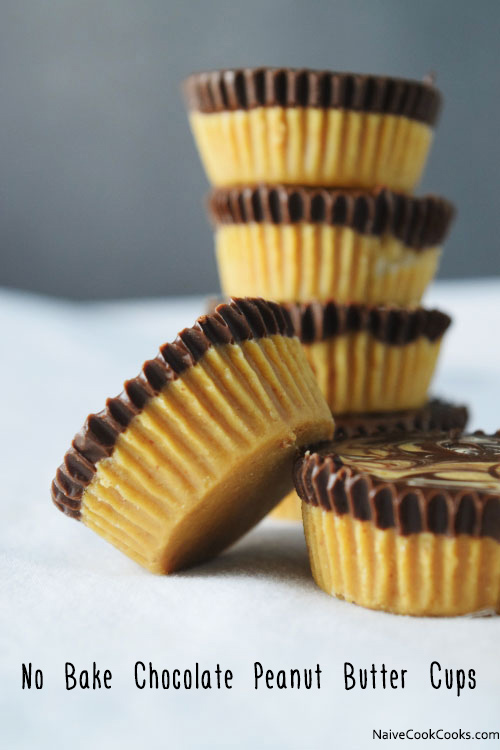 Only 3 weeks before school starts!
I know how kids feel about it. Growing up, I never really enjoyed going to school. But I know some kids who wait eagerly for the summer to end and to get back to school routine. But I wasn't one of them. As summer end would come closer, I would start to feel itchy and would wish that summer would never end. Last month always used to be somewhat stressful with getting stuff ready for school, buying school stationary, getting a haircut, making sure if I had enough dresses for school (we had a dress code which we were required to follow and I feel it used to make the task of getting ready for school way easier as there was no wondering over which clothes should I wear or not as it was a set standard dress and having few sets of those was more than enough).
Growing up, I wish I had these treats as it would have had made the task of going through each day much easier. But no worries as I finally made them and they only need 4 INGREDIENTS!! So you know I will keep my fridge stocked up with these all the time. I mean how much simpler can it get. Just 4 simple ingredients : peanut butter, chocolate, graham crackers & butter makes the most delicious bite size NO Bake Chocolate Peanut Butter Cups and they require only an hour of your time and then you can have a good amount of them stored in your refrigerator all the time. Sounds awesome already?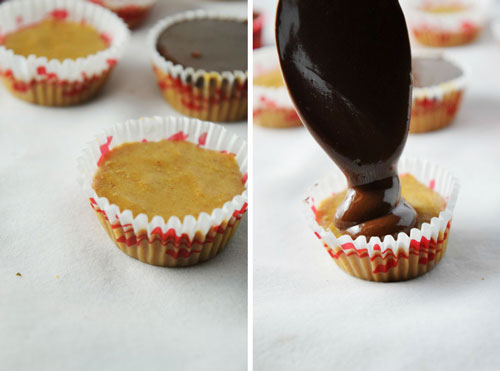 You can also play around with your favorite peanut butter flavor.Here I went with my current favorite white chocolate peanut butter but basically any of your favorite peanut butter will work great here! I like making them in small bite size mini muffin cups but you can even make them in silicone ice cube trays and simply pop one out when craving hits!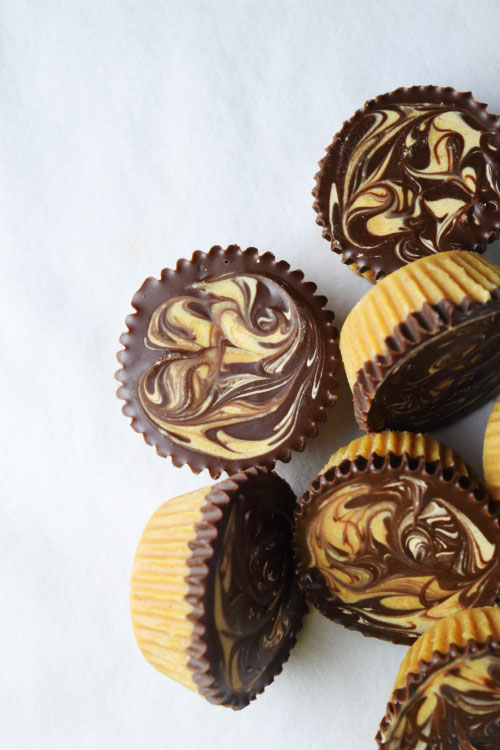 They are an amazing after school/work treats as there are no funny ingredients inside and its like eating something little indulging & mostly healthy at the same time!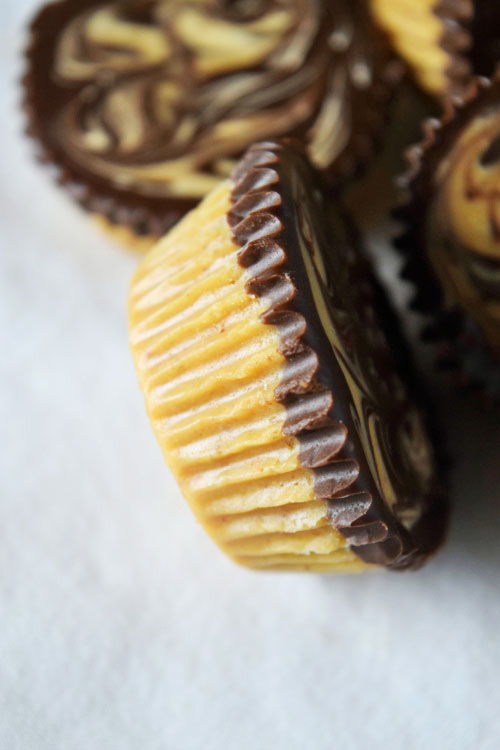 You know you want these.
Help in spreading the word!
Follow along for a lot more delicious treats and life happenings on INSTAGRAM || FACEBOOK ||PINTEREST ||TWITTER ||GOOGLE+

No Bake Chocolate Peanut Butter Cups
Ingredients
Bottom Layer
1 cup powdered graham crackers
4 tbsp melted unsalted butter
5 tbsp your favorite peanut butter ( I used white chocolate peanut butter from PB&Co.)
Top layer
½ cup semi sweet chocolate chips
3-4 tbsp your favorite peanut butter (I used white chocolate peanut butter)
For pattern
Few tbsp melted peanut butter
Instructions
In the food processor, add powdered graham crackers, melted butter & peanut butter and mix until it's all mixed evenly. Fill half of the muffin cups if using with this mix and even them out using a spoon. Chill in refrigerator till you prepare your top layer.
Bring water to boil in a pot. Place a clean bowl on top of the pot with simmering water and add chocolate chips in there. Start to move it around with a spatula and you will chocolate will start to melt in few minutes. Add peanut butter, starting with 3 tbsps and you can add more if you want more intense peanut butter flavor. Mix it all until all the chocolate & peanut butter is melted.
Remove the bowl from top of the pot and fill the remaining half of the muffin cups with this chocolate mix.
Now quickly melt some peanut butter in microwave. Add few drops of melted peanut butter on top of one muffin at a time and using a toothpick or knife, make swirls around. Repeat with the rest and pop them in refrigerator until chilled for 2-4 hours. Store in an air tight container in the refrigerator!
Some more recipe ideas?
https://www.naivecookcooks.com/lemon-bar-muffin/