Dangerously Crispy Nacho Chicken Wings that are baked & have all the goodness of Nachos & Fried Wings!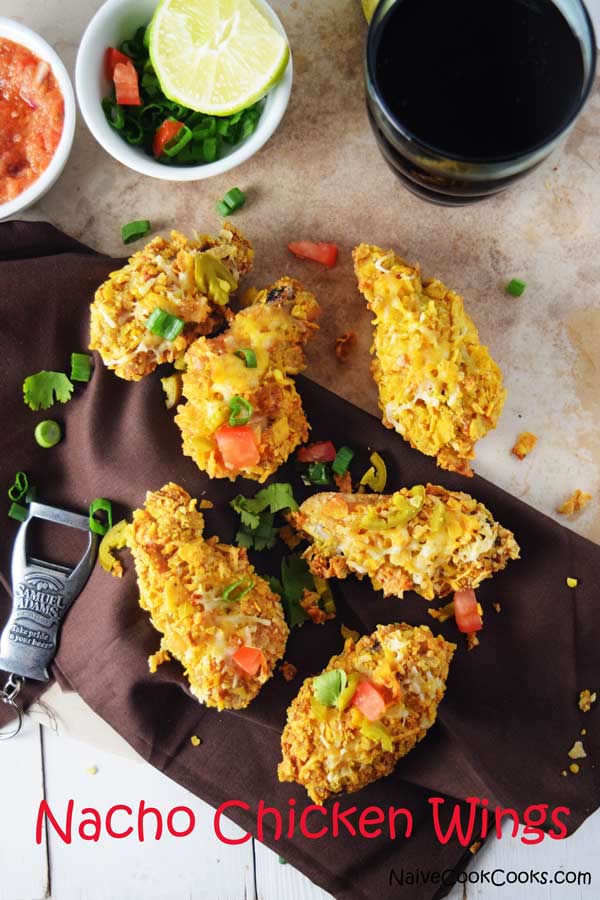 Are you excited about Superbowl? Even if you are not excited about the big game, you MUST or SHOULD be atleast excited about all the food! I have been hearing our friends make plans for the super bowl  and I have been having a hard time deciding what I want to cook for game day! Few days back I baked these
and first of all these chicken wings taste as if they are fried! Always a good thing in my book and then as if that was not enough, we drench them with cheese and all the nacho fixings.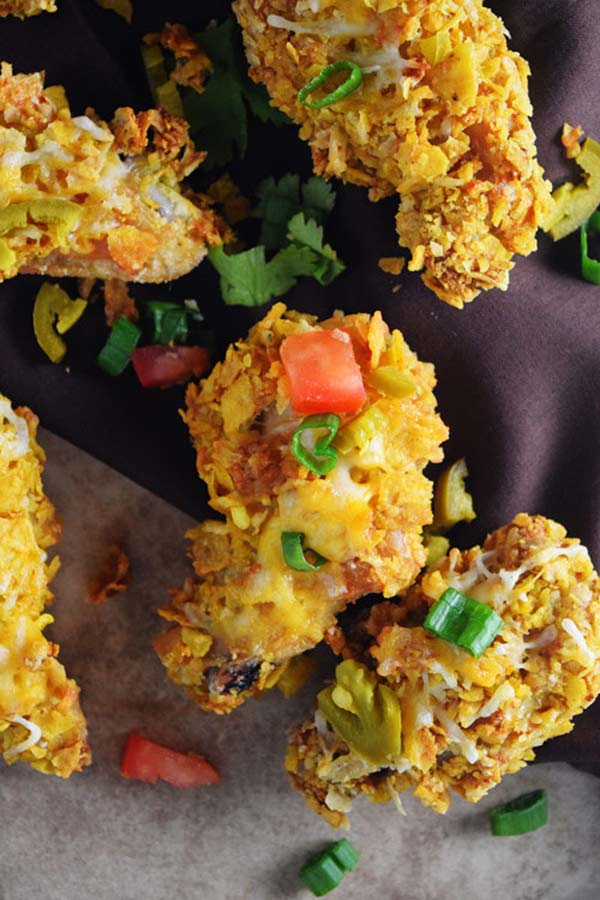 I am almost 99% sure that I want to take these but then I am thinking of this dip and I think I might make both instead!What are you planning for this weekend? Even if your weekend plans include watching game or not, these Nacho Chicken Wings should be on your menu!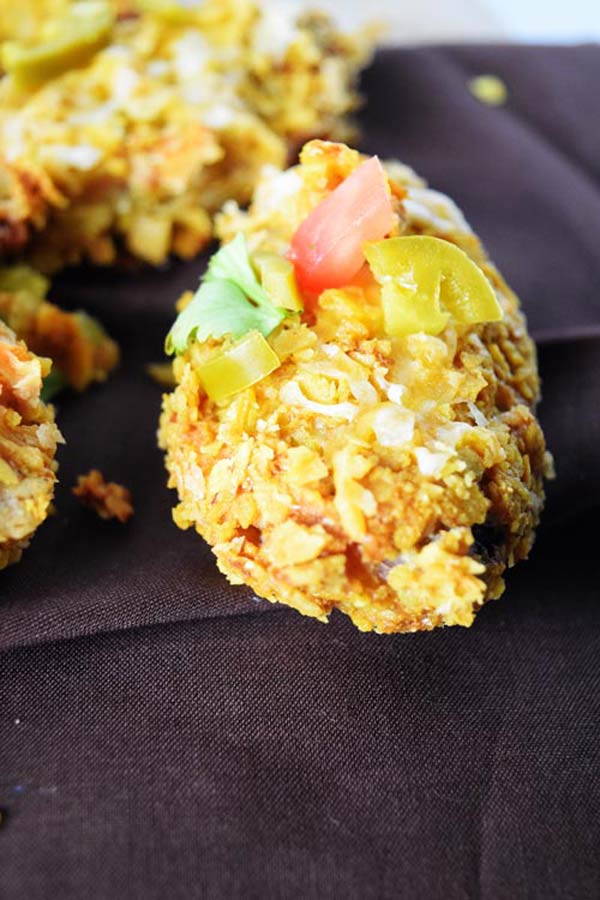 Follow along for a lot more delicious treats and life happenings on INSTAGRAM || FACEBOOK||PINTEREST ||TWITTER ||GOOGLE+

Nacho Chicken Wings
Ingredients
2 pounds chicken wings, cleaned
6 tbsp all purpose flour
2.5 tbsp baking powder
1 egg
Few tbsps of your favorite hot sauce
Salt & black pepper to taste
2 cups corn tortilla chips, crushed
Few tbsp of oil
1 cup shredded cheddar cheese
Extra's : Tomato Salsa, Picked jalapenos, olives, cilantro, green onion, tomato
Instructions
In a bowl, transfer all the cleaned chicken wings.
In another small bowl, mix flour and baking powder. Using a spoon add all the flour mix to the wings.
Using tongs, move the wings around slowly but carefully so each and every wing gets coated with flour mix.
Now use either a roasting pan with a rack or adjust an oven safe rack on top of a lined baking sheet. I like lining up the baking sheet or the roasting pan so it's much easier to clean.
Using tongs or hands, Adjust all the flour coated chicken wings on top of the rack and let them chill in refrigerator for 10 -15 mins.
Meanwhile break egg in a shallow bowl and add salt, pepper and hot sauce to it. Stir until evenly mixed.
In another plate, keep the crushed tortilla chips.
Now take flour coated wings one at a time, drench them in egg mix and then in crushed tortilla chips. Make sure they are nicely coated with tortilla chips. Keep them on the baking rack.
Preheat oven to 420F.Drizzle the wings with 1 tbsp olive oil .Bake for good 30-40 minutes until golden and crispy.
Flip the wings and again drizzle with remaining 1 tbsp olive oil. Bake for another 30 minutes or so until golden crispy.
Add shredded cheese generously on top of the wings and bake for another 5-7 minutes or until cheese is melted. Serve with lots of salsa for dipping and sprinkle chopped tomato, jalapeno pieces, cilantro, green onion on top!
Grab a cold beer & enjoy!

Some more Game Day recipes ->>
https://www.naivecookcooks.com/baked-skinny-buffalo-chicken-wings/