This delicious ONE POT Green Split Peas & Barley Soup is perfect to throw together in no time for a quick & healthy weeknight dinner or even lunch. Serve with grilled cheese or crackers for a satisfying meal!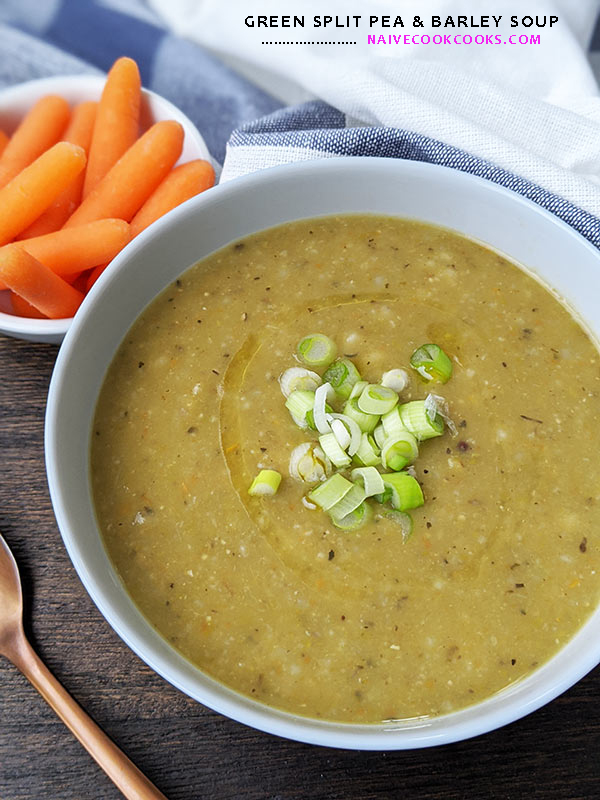 I think my attitude does rewards me sometimes. Yesterday you might remember me foraging through cookbooks after my several food related mishaps. I always encounter this and I suppose you must be used to this too. When I start going through recipes, I most of the time dwell away from my motive. I get lost in the sea of luring pictures and stories. Sometimes hours go by and then suddenly I come back to my senses. Every time I see someone creating something new or a beautiful food presentation, I fell in love with it more.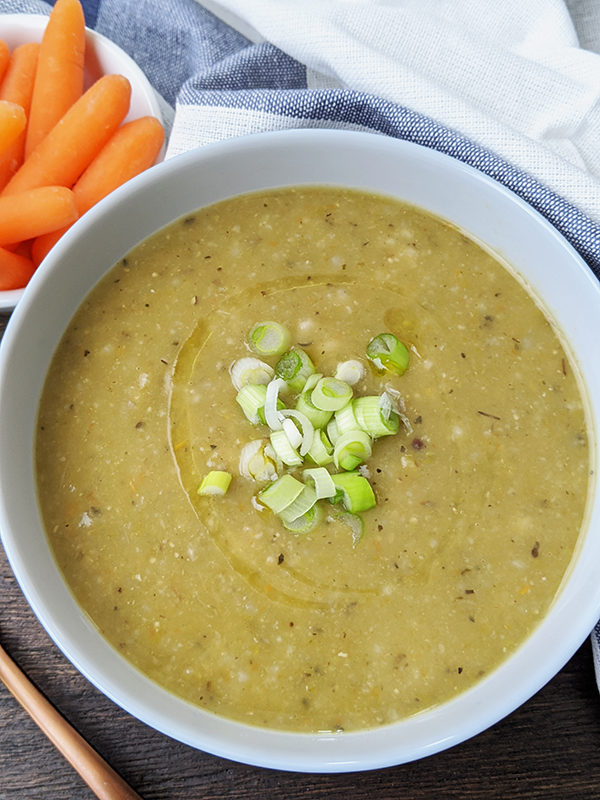 Speaking of food, soups have always lured me in some way or other. The piping hot steam, garlic flavored croutons swimming along with a medley of other vegetables have always been my favorite. I have always liked soups with a bit of texture especially the Indo-Chinese take on hot and sour vegetable soup or one of my other favorite creamy tomato soup with grilled cheese croutons. On the other hand, I have always maintained a safe distance from the creamier versions. I won't lie saying that I don't enjoy them. I certainly do. But the fact that they are most of the time made creamy using cream scares me. So recently when I heard of barley and green split pea soup from Jerry, I started looking for it. The best part when I found the recipe was that there was no cream but the texture boasted of being creamy.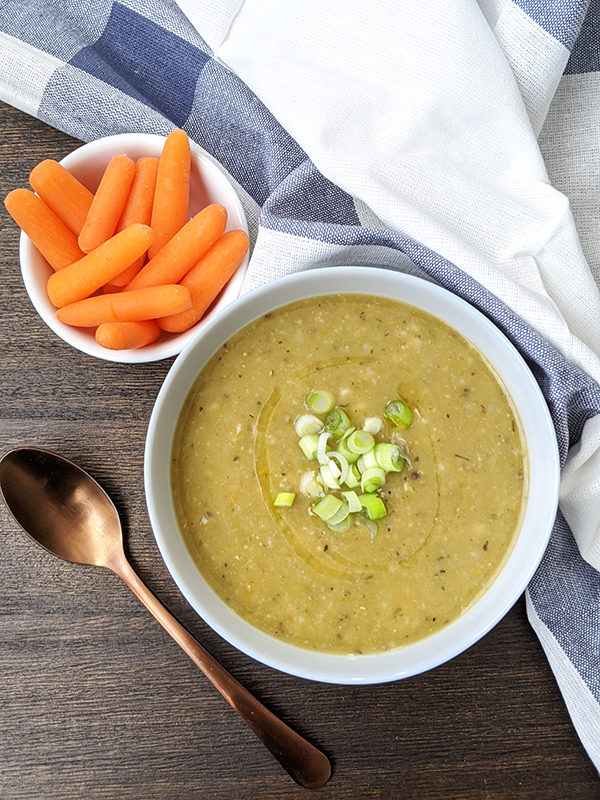 After I was done cooking I realized the creamy texture is thanks to barley and green split peas. I am already in love with this soup as it is full of nutrients. Very very simple to make for those days when you don't really feel like cooking and you certainly don't want to be standing in the kitchen and watching a dish taking it's own sweet time.
We enjoyed it with garlic Parmesan panitini's and next time we had it with grilled cheese sandwiches. Yum(!).
Hope you enjoy this soup.
Post photos updated on 20 Feb 2020

Barley and Green Split Pea Soup
Ingredients
½ cup dried green split peas, sorted and rinsed
⅛ cup pearl barley
3 cups water
1-2 bay leaves dry
Salt to taste
2 tsps soy sauce
1 tsp dry oregano
3 cloves garlic, minced
¼ tsp rosemary
1 tsp ground cumin powder
1 med carrot, cleaned and diced
½ small onion, chopped
Green onion for garnishing
Instructions
COOKING IN A POT ->>
In a large pot, combine peas, water, barley, bay leaves, salt, soy sauce, oregano, garlic, rosemary and cumin. Bring it to a boil and cover and let it simmer at low for 25-30 minutes.
Keep stirring in between to make sure it doesn't stick to surface.
Add carrots and onions. Cover and simmer for another 30 minutes till vegetables get tender. Check periodically, add water if needed. Discard bay leaves and turn it into a fine paste in food processor.
Put it back in the pot. Taste and adjust salt. Heat it up and serve garnished with green onions and black pepper. If you feel consistency too thick, then add water and boil nicely. Adjust seasonings.
FOR COOKING IN PRESSURE COOKER >> Add all the above ingredients except water into a pressure cooker and after stirring, add 2 cups water in pressure cooker. Pressure cook for 3 - 4 whistles. Let it cool, remove lid and using a hand blender slightly puree as per your taste. Taste and adjust seasonings.
Notes
Recipe adapted from Journal interactive.
More Soup Recipes: