These melt in mouth caraway biscuits ( Surati Jeera biscuits) as they are usually called around here are so good on their own or to have along with chai or coffee.
A perfect treat for those rushed mornings where if you can grab a few of these along with a cup of chai, believe me you are gonna be full until lunchtime.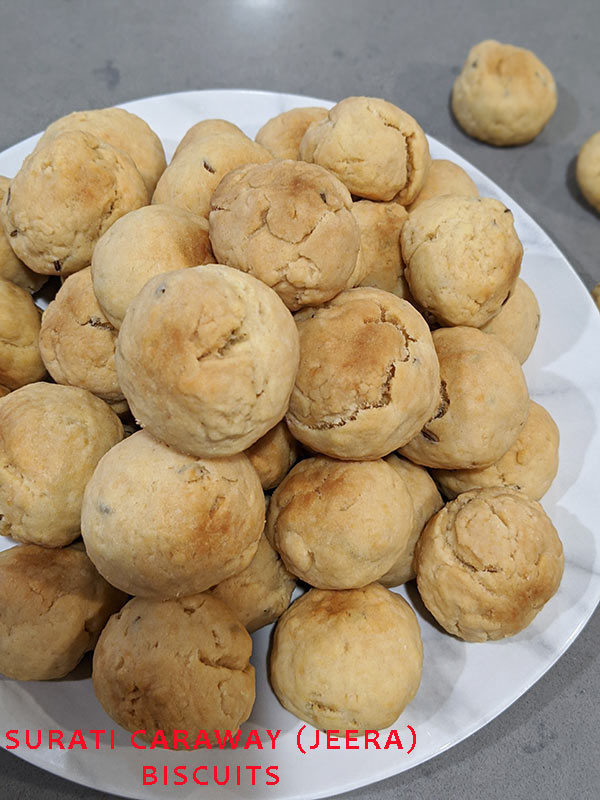 We are in 2020 already?! This is my first post of 2020 and I am feeling really pumped to be getting back to work. I have so much to share with you guys . So these biscuits as they are called around here, I learnt upon getting married to Ronak. I never had anything like this before in North India where I come from but realised that they are a staple part of Gujarati breakfast. We both are not into much into eating biscuits for breakfast but his parents love these and so does my parents who enjoy these with their evening chai.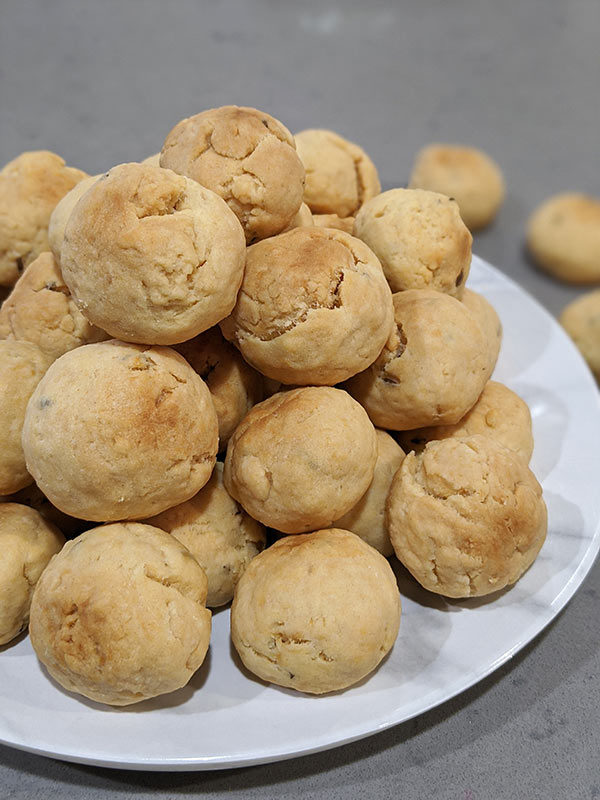 I made them after long so made sure to perfect them before posting and let me tell you, this batch turned out to be perfect. I mean perfect like everything from salt to butter to caraway seeds are in right proportion and they melt in your mouth. So delish!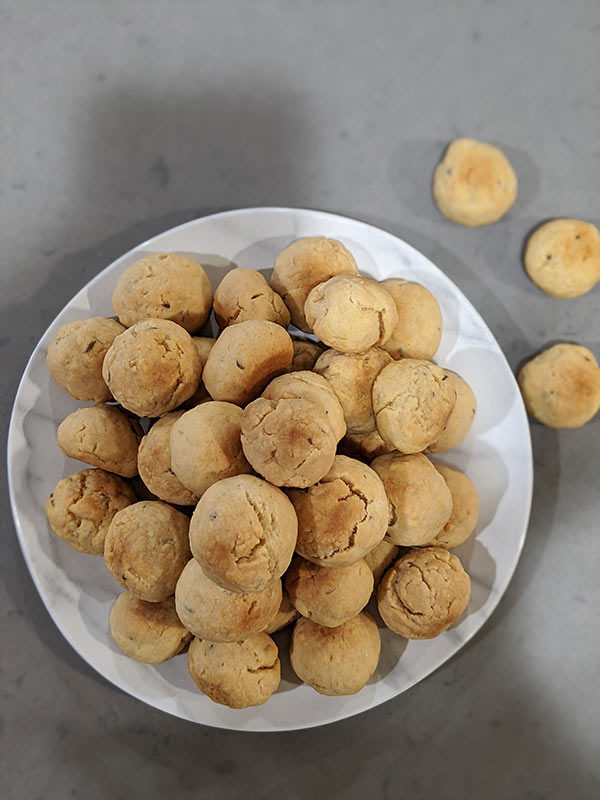 These bite size cookies stay good for upto a month in an airtight container at room temperature. I even made a big batch to send home to my dad with my mom who is visiting. He will enjoy these with his chai.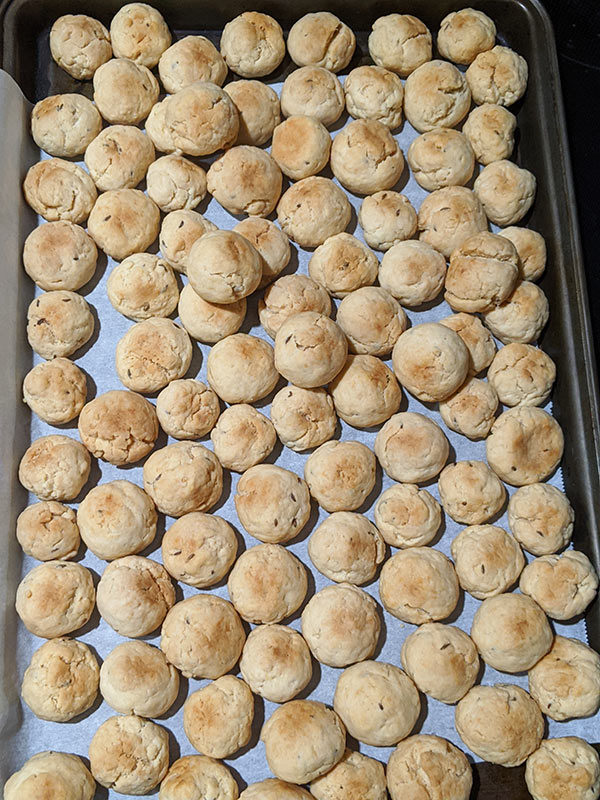 Just flour, yogurt, sugar, caraway seeds, oil , milk ans salt to make these. Go make them, store a big batch for having with chai/coffee.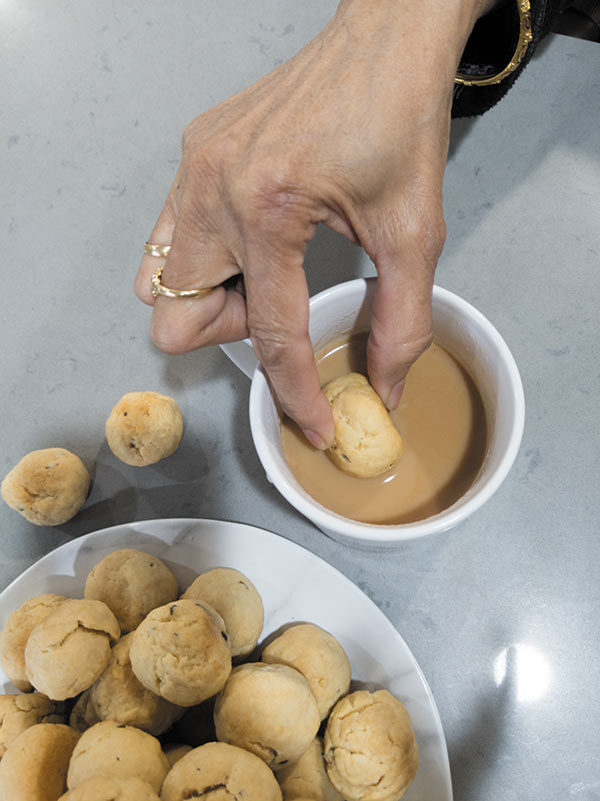 Surati Jeera (Caraway) Biscuits
These melt in mouth caraway biscuits ( Surati Jeera biscuits) as they are usually called around here are so good on their own or to have along with chai or coffee.
Serves:
Depending on size yields a lot
Ingredients
Self Rising Flour 6 cups
Yogurt 7 teaspoon
Sugar 6 teaspoon
Caraway seeds (3.5 - 4) teaspoon
Butter, unsalted at room temperature 2.75 sticks
Oil ( I used olive oil ) 7 ounces
Milk ( 1 cup + 2 tbsp) (I used whole milk)
Salt to taste
Instructions
In a large bowl, mix flour, yogurt, sugar,caraway seeds, butter,oil and milk. Then taste little raw dough and add 1-2 tsp salt. You don't need much salt as self rising flour already got salt in it.
Knead it into a soft dough and cover. Let it rise for an hour or so.
When ready, preheat oven to 300F.
Roll dough into tennis size balls and place them on a parchment paper lined baking sheet.
This makes a big batch so I was able to fit them on 2 giant baking sheets.
When first baking sheet is ready with balls, place them in hot oevn for 15 minutes. Rotate the baking tray after 15 minutes and let it bake for another 15 minutes.
Now after this 15 minutes, Take the baking tray out and flip the dough balls. Be careful as they will be extremely hot. Place them in hot oven for another 15 minutes. You will notice at this stage the bottom is golden and they are getting color all over.
Rotate them for the final time after the 15 minute mark and let them bake for the last 15 minutes.
Now take them out and if you have more trays of raw dough place those one by one in the oven and do the 15min bake - 15 min rotate - flip and 15 min bake - 15 min rotate technique. Once all the dough balls have gone thorough this 1 hour cycle of baking at 300F, turn oven temperature down to 200 F. You can place all the dough balls together in a baking sheet and let them bake for 6 hours at 200F.
This is what makes them super light and crunchy.
Once all done, place them on counter and let them cool completely. Then once completely cooled, place in airtight containers.