Barley and Green Split Pea Soup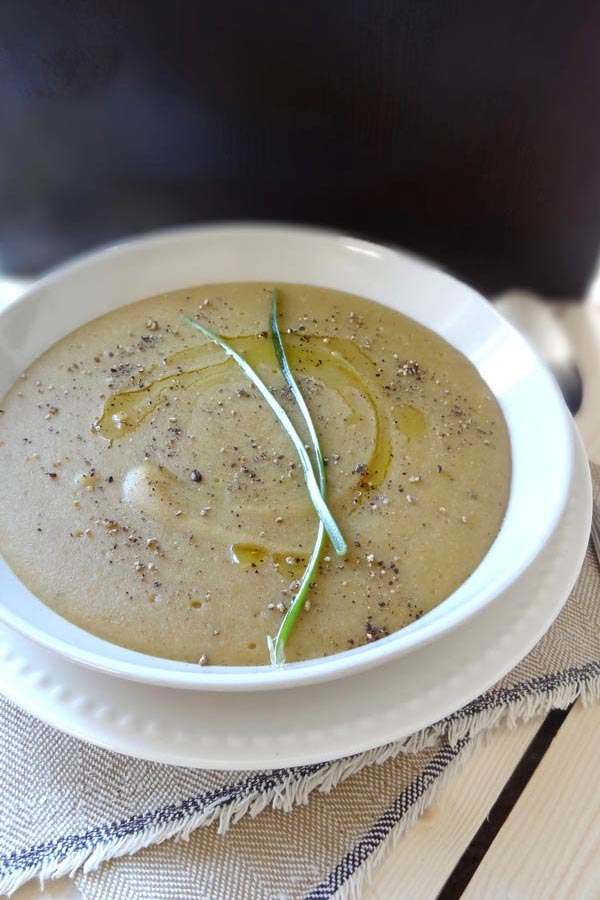 ½ cup dried green split peas, sorted and rinsed
⅛ cup pearl barley
3 cups water
1-2 bay leaves dry
Salt to taste
2 tsps soy sauce
1 tsp dry oregano
3 cloves garlic, minced
¼ tsp rosemary
1 tsp ground cumin powder
1 med carrot, cleaned and diced
½ small onion, chopped
Green onion for garnishing
COOKING IN A POT ->>
In a large pot, combine peas, water, barley, bay leaves, salt, soy sauce, oregano, garlic, rosemary and cumin. Bring it to a boil and cover and let it simmer at low for 25-30 minutes.
Keep stirring in between to make sure it doesn't stick to surface.
Add carrots and onions. Cover and simmer for another 30 minutes till vegetables get tender. Check periodically, add water if needed. Discard bay leaves and turn it into a fine paste in food processor.
Put it back in the pot. Taste and adjust salt. Heat it up and serve garnished with green onions and black pepper. If you feel consistency too thick, then add water and boil nicely. Adjust seasonings.
FOR COOKING IN PRESSURE COOKER >> Add all the above ingredients except water into a pressure cooker and after stirring, add 2 cups water in pressure cooker. Pressure cook for 3 - 4 whistles. Let it cool, remove lid and using a hand blender slightly puree as per your taste. Taste and adjust seasonings.
Recipe adapted from Journal interactive.
Recipe by
Naive Cook Cooks
at https://www.naivecookcooks.com/green-split-pea-and-barley-soup/