Best homemade from-scratch burger buns! Super soft with a light crisp crust.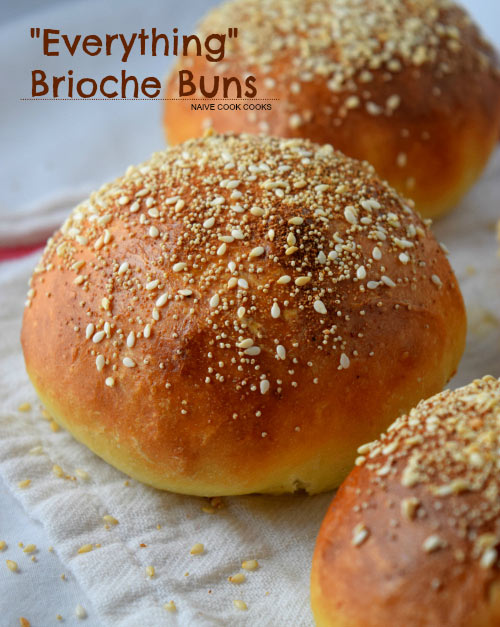 BEST BURGER BUNS in the town.
Getting ready for a night out with friends? Or just ordering in and relaxing with your favorite tv shows? Well if you are in some cooking mood, I suggest you make these!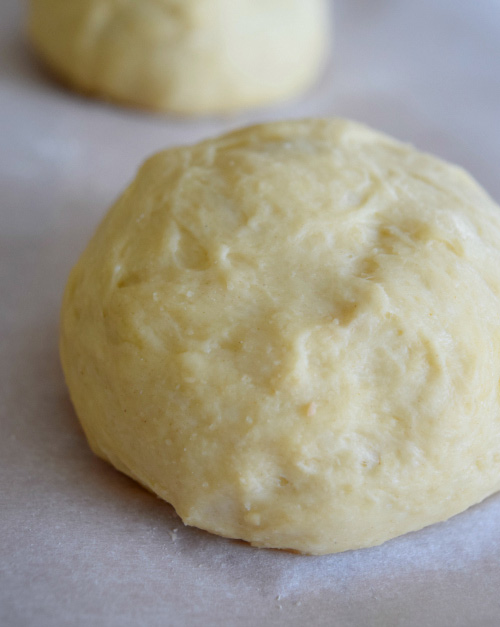 I know us food bloggers are sometimes blamed for exaggerating the stuff we make or create and declaring it the best ever. But, you guys! These homemade burger buns are the BOMB! I mean you must know by now that I love making from scratch burger buns for burger nights whenever I possibly can. For long time I was hooked on these spiced burger buns and seriously they are a charm to make and they taste way better than any store bought version.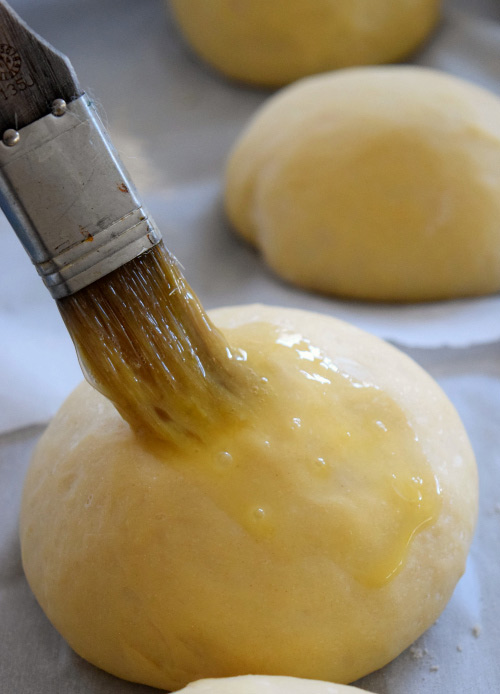 But now I have moved on. Not that I won't be making those but at least until I find another favorite recipe, I am hooked up on these brioche buns. Soft tender buns with a light crisp exterior and sprinkled with "everything" topping of sesame seeds, poppy seeds and garlic powder, these are our favorite burger buns for burger night!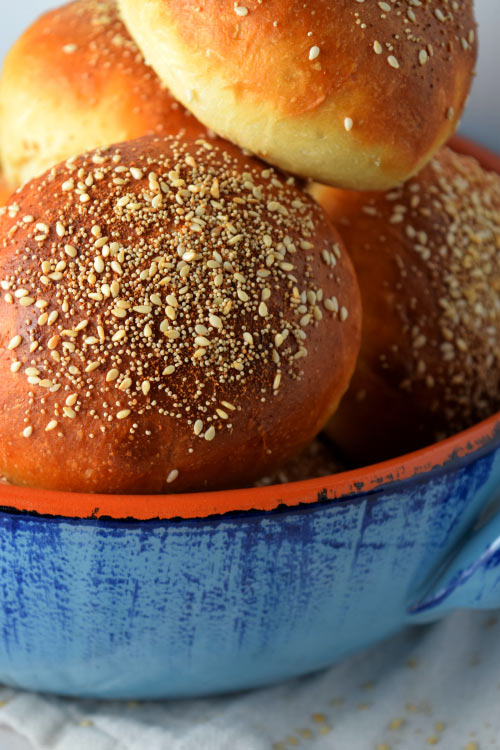 These are so easy to make and they taste amazing even plain, just toasted and smothered with butter.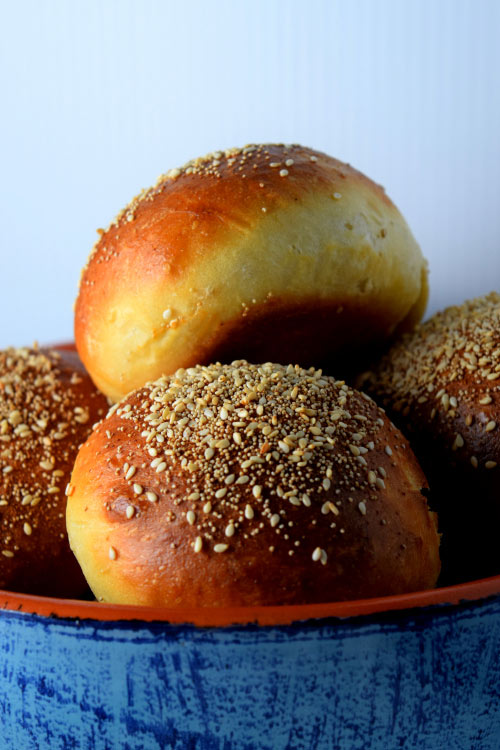 We had them with these beet & been burger patty which I posted a day ago. Btw I heard some of you saying that you are not sure how beet will taste in burger patty, so let me tell you that you can't taste beet at all in these patties?!! I know, what a relief right? Only the color tells you that there is something red in these patties otherwise they taste super flavorful with lots of texture and juicy (if that's acceptable to say in case of veggie burgers!)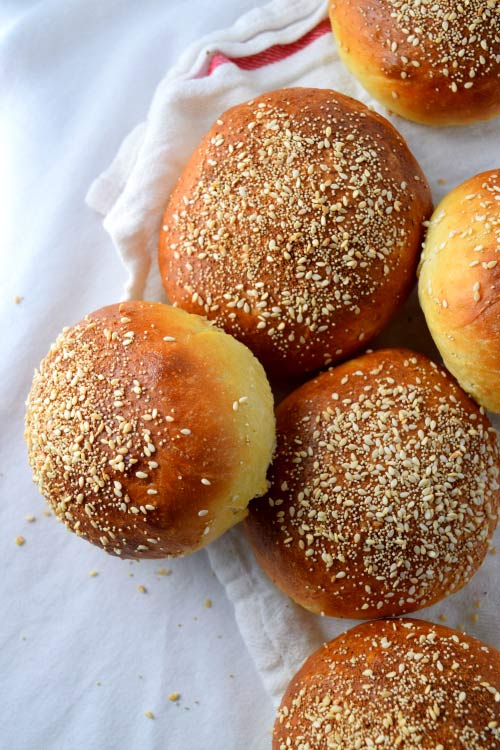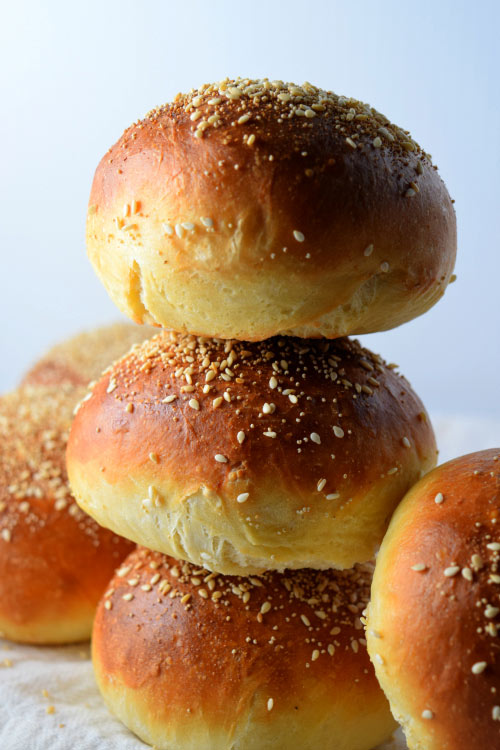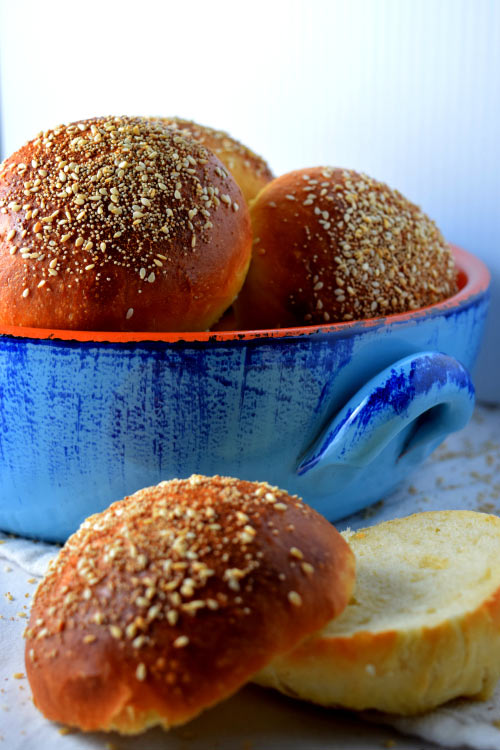 I suggest you make these this weekend for a delicious weeknight dinner or enjoy a gourmet weekend dinner with these buns, beet & bean burger patties and may I suggest some of this delicious pineapple-oreo milkshake and this 5-ingredient chocolate creme brulee to finish things off!
Happy weekend! xoxo
Everything Brioche Burger Buns
Best homemade from-scratch burger buns! Super soft with a light crisp crust.
Ingredients
3 tablespoons warm milk
2 teaspoons active dry yeast
2 ½ tablespoons sugar
2 large eggs
3 cups bread flour
⅓ cup all-purpose flour
1 ½ teaspoons salt
2 ½ tablespoons unsalted butter, softened
1 large egg
2 tbsp sesame seeds
2 tbsp poppy seeds
2 tsp garlic powder
Instructions
In a glass measuring cup, combine 1 cup warm water, milk, yeast and sugar. Let stand until foamy, about 5 minutes. Meanwhile, beat 2 eggs in a bowl.
In a large bowl, whisk flours with salt. Add butter and rub into flour between your fingers, making crumbs. Using a dough scraper, stir in yeast mixture and beaten egg until a dough forms. Scrape dough onto clean, unfloured counter and knead, scooping dough up, slapping it on counter and turning it, until smooth and elastic, 8 to 10 minutes.
Shape dough into a ball and return it to bowl. Cover bowl with plastic wrap and let rise in a warm place until doubled in bulk, 1 to 2 hours. I like keeping mine in a preheated 200F oven. MAKE SURE YOU TURN THE OVEN OFF BEFORE PUTTING THE DOUGH IN IT.
Line a baking sheet with parchment paper. Using dough scraper, divide dough into 8 equal parts. Gently roll each into a ball and arrange 2 to 3 inches apart on baking sheet. Cover loosely with a clean kitchen towel and let buns rise in a warm place for 1 to 2 hours.
Set a large shallow pan of water on oven floor. Preheat oven to 400 degrees with rack in center. Beat 1 egg with 1 tablespoon water and brush some on top of buns.
Mix sesame seed, poppy seed and garlic powder in a bowl and sprinkle on top of the buns.
Bake, turning sheet halfway through baking, until tops are golden brown, about 15 minutes. Transfer to a rack to cool completely.
Notes
Once completely cooled, you can store these buns in a ziplock bag.
Recipe adapted from Cooking.Nytimes.com/light-brioche-buns
Here is are so Burger Recipes:
https://www.naivecookcooks.com/black-bean-burgers-franks-hot-sauce-flavored/