Veggie Burger gone wild! Packed with black beans, chickpeas, roasted beets, oats and brown rice and tons of flavor, this is one veggie burger that won't disappoint!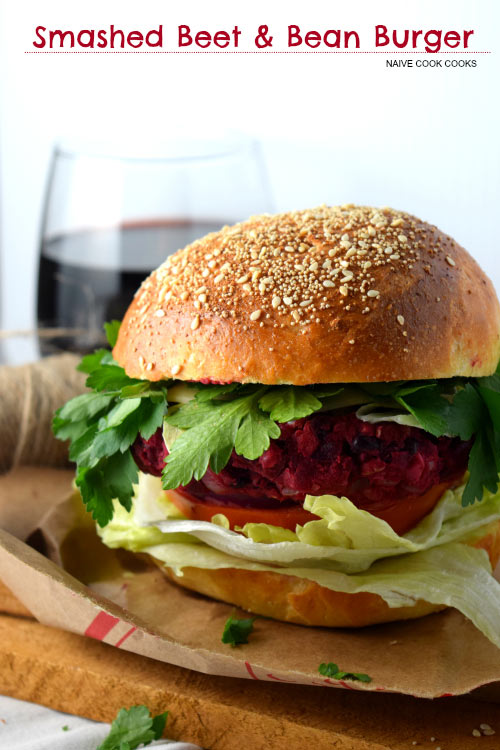 We love veggie burgers around here. Almost every other week I get cravings for veggie burger and I try to create different versions of veggie burgers like this black bean burger which is still one of my favorite versions. Since the time I posted this black bean burger recipe, I have developed few new recipes with lots of trials and errors using lots of online resources.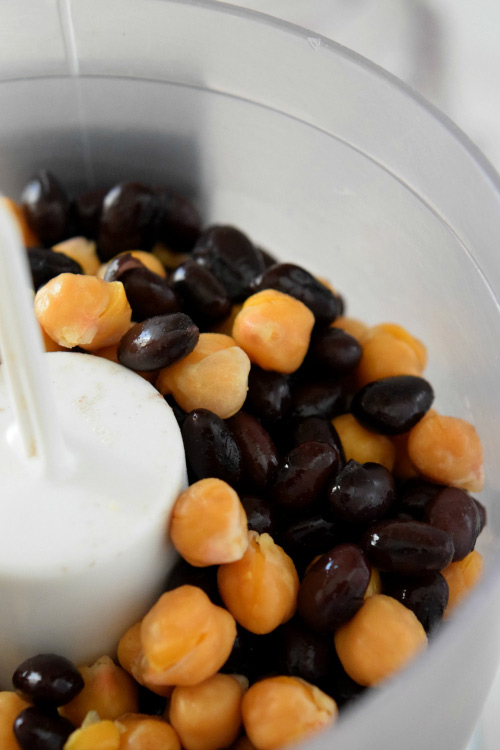 Some time back I found a beet burger recipe in "the kitchn" which was inspired by Ohio based cafe named Northstar cafe. Since then I have made it quite a few times but now after lots of trials and failures, I feel I have managed to develop a perfect recipe that fits our taste buds perfectly. Packed with black beans, chickpeas, brown rice, oats and roasted beets, this is one delicious juicy veggie burger patty and nothing like any regular dry veggie burger patties which we are greated by at way too many places.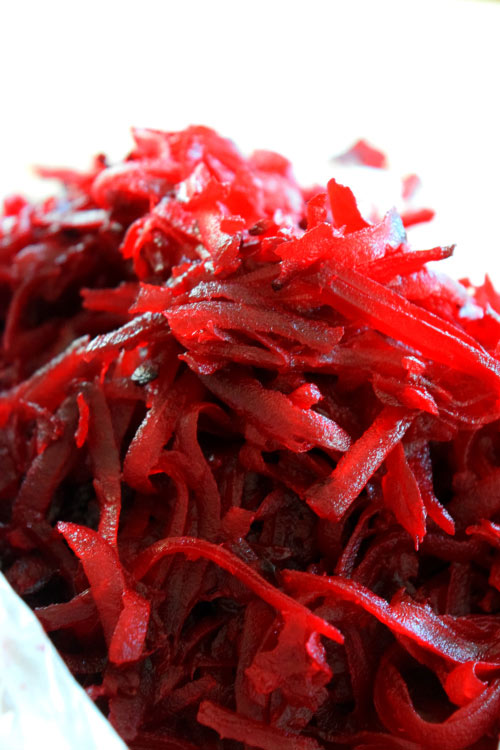 I like making patties in advance and while cooking, I stuff these with some colby jack cheese which gives them such a delicious cheesy soft character. And you seriously need to use tons of fresh jalapenos or green chilies to give that much needed kick that takes them over to top!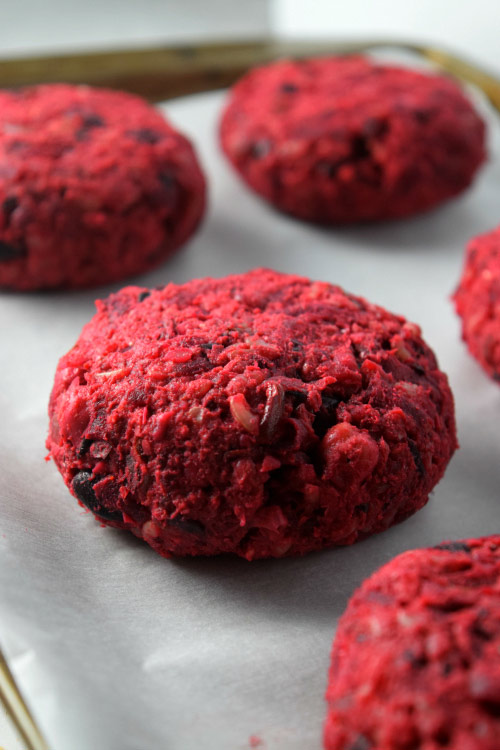 Ohh and if possible, I suggest you go the extra mile and make from scratch burger buns like these spiced burger buns or these everything brioche burger buns which I will be posting tomorrow! These are seriously so soft with a nice crusty top and super soft interior.  They totally give those store bought buns a run for their money! So keep an eye for these, recipe coming tomorrow!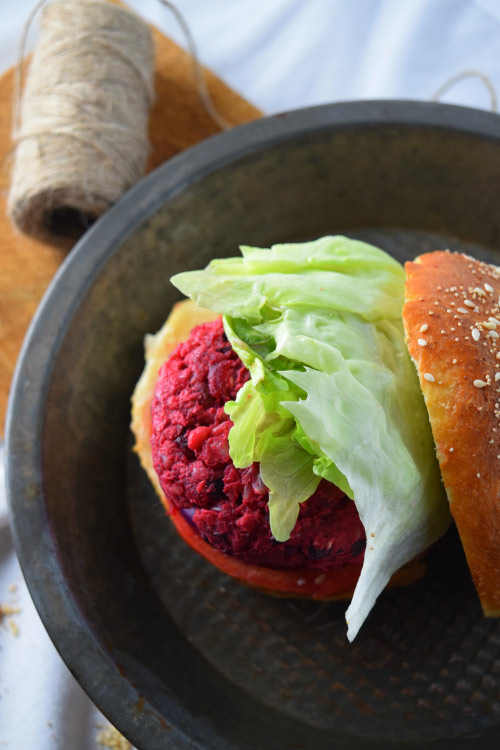 Apart from this delicious bun, what makes these veggie burgers one of a kind  is use of fresh jalapenos or green chilies . Remember to top your burger patty with some freshly chopped jalapenos or green chilies as they just make this whole experience MOUTH WATERING GOOD!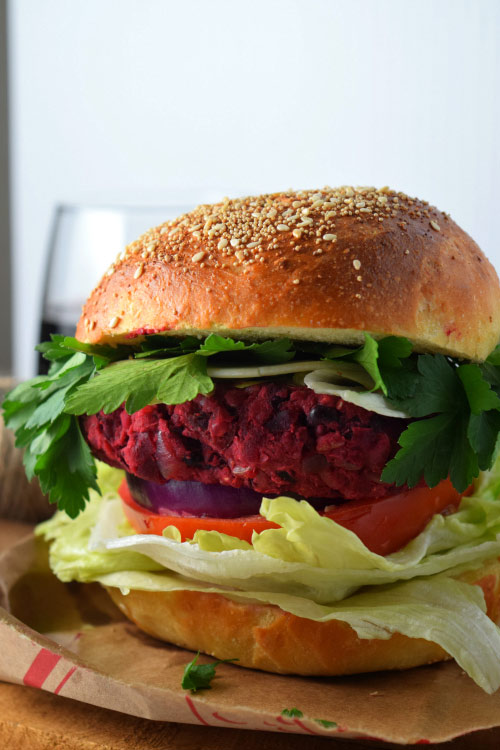 I served them with fresh baked potato fries like these and it was a meal I can live off for days!
So, what are you waiting for?!
On another note, we are only 2 days away from weekend!! Yay, how does that make you feel? I am already feeling the burn and so waiting for the weekend to be here! Make sure you try these and let me know in the comments below!!
Follow me along for more mouth watering adventure on Instagram, Pinterest or Facebook!!
Smashed Beet & Bean Burger
Ingredients
½ cup brown rice, uncooked and cooked as per directions
1.25 cups boiled chickpeas
1 cup black bean boiled
2 tsp olive oil
¾ cup finely chopped onion
3-4 garlic cloves, chopped fine
2 tbsp apple cider vinegar
¼ cup oats grinded to flour form ( use any kind of oats - rolled or quick cooking)
3 medium size beets, roasted and grated
1 tbsp olive oil
1.5 tbsp paprika
5 tbsp brown mustard but I suggest start with 2 tbsp and proceed upon tasting and adjust according to your preference
1 tsp cumin powder
1 tsp coriander powder
2 tsp thyme powder
salt to taste
Fresh jalapenos, red onion, tomatoes, greens, mayo, mustard for serving
Instructions
Preheat oven to 400F. Cut the beet tops and cut them in half. Place them in aluminium foil and on a baking sheet and bake for good 55-60 minutes until soft to touch. Let them cool. Once cool, peel and grate on a box grater. Squeeze out all the juice ( you can save the beet juice for later use if you want) and add the grated beets to a big bowl.
Add all of your chickpeas and black bean to a food processor and process only until coarse. Make sure you don't over process them!
Add this coarse black bean- chickpea mix to the bowl. To it add the cooked rice.
In a skillet, add 2 tsp olive oil. Add chopped onions and cook them on medium high heat. Once they start to get brown, add garlic. Saute for about 30 seconds and add apple cider vinegar. Cook until vinegar it all absorbed and add this onion mix to the bowl. Add the remaining spices along with oat flour to the bowl. Mix it all up nicely using your hands and taste. Keep tasting and adjusting the spices according to your taste and it's very important for them to be properly seasoned!
Just before serving, roll them in patties and stuff with some shredded cheese. Cook on a hot skillet with little olive oil. Once they get nice and crispy on one side, flip and repeat. Serve on your favorite bun with greens, fresh onions, tomatoes, jalapenos, cheese slice (I used provolone cheese slice) and serve along with potato fries.
More Burger Recipes:
https://www.naivecookcooks.com/black-bean-burgers-franks-hot-sauce-flavored/
https://www.naivecookcooks.com/spiced-burger-buns/