Perfect winter comfort food : Indian Cheese stuffed flatbread served with spicy yogurt.
This used to be my go to comfort food growing up. Especially in winters, my mother would make us fresh hot cheese stuffed paranthas (name for Indian flatbread) and serve with spiced yogurt. 
Now almost 8000 miles away from my mother, I no longer have the luxury to enjoy her hand made food and the only time in a year I see her, I always make sure to make her cook all of my favorite food. This recipes is full of memories. Just writing this I am feeling an emptiness in my heart and I wish I can just go and see her in a moments notice. Wish life was that simple!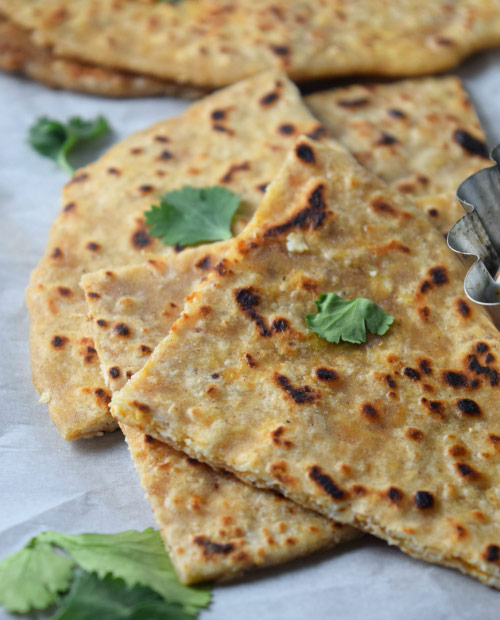 But seriously apart from all the crazy senti talk I just did with you, who else is freezing like me?! I am freezing my butt off here and only few days ago I was complaining to Jerry saying how it never actually got freezing cold here this time! Well looks like my prayers have been answered and I am DYING. I have been sitting all day by my small heater as well central heater is just not hot enough for me! I get seriously cold and yes yes lots of wine does help too! Don't know why am I telling you but seriously it does. Hehe!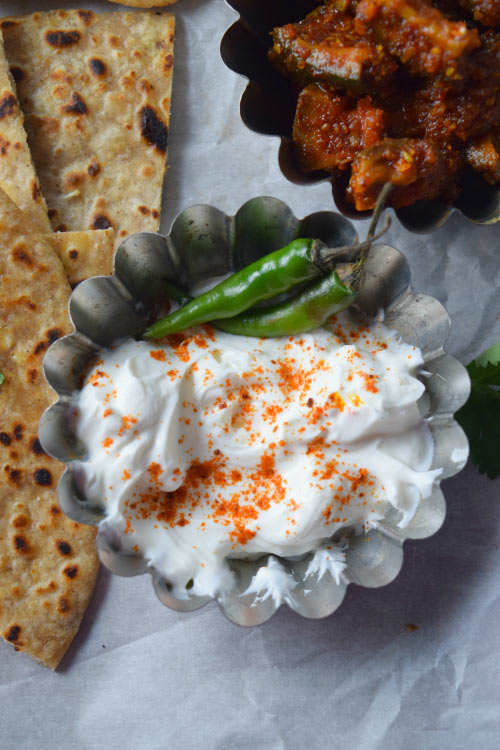 Well these paranthas are both of our favorite so it seemed fitting to have something comforting on a cold dreary day like today. These are super simple to make and even if you have no experience with Indian flatbreads, I insist you to try these. These are really easy to put together and filling and healthy too.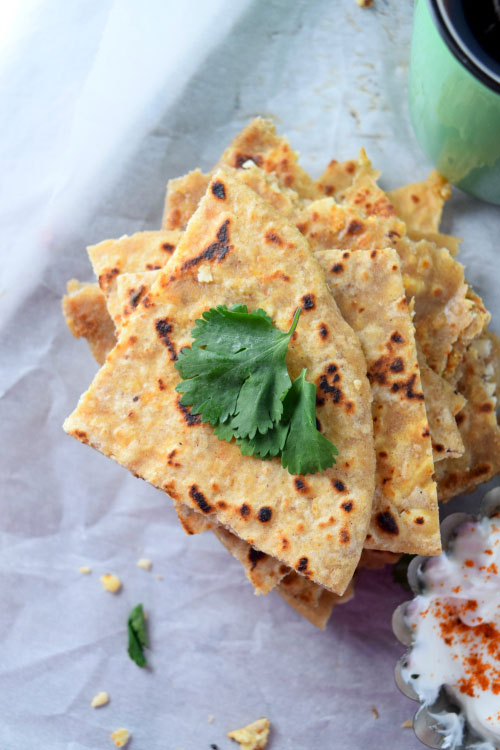 ohh and did I tell you that leftobvers taste great for next day breakfast?! Served with your favorite yogurt and chai, these Cheese flat breads will make for a great start to your day.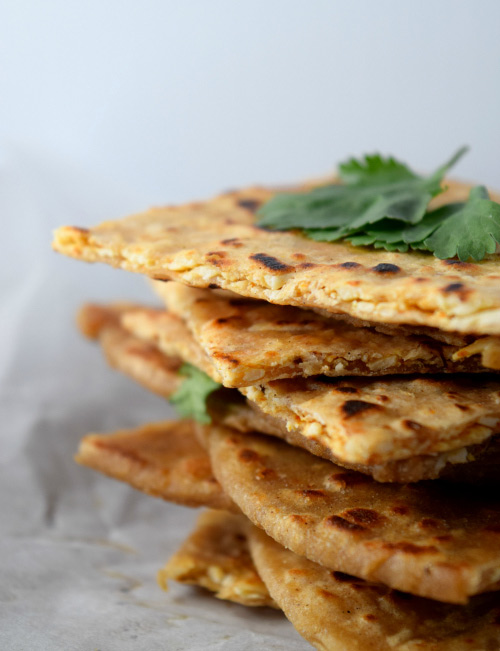 Paneer Parantha (Indian Cheese Stuffed Flatbread)
Perfect winter comfort food : Indian Cheese stuffed flatbread served with spicy yogurt.
Ingredients
1.5 cups whole wheat flour
1.5 tsp salt
¾ cup + 2 tbsp water
8 oz paneer (Indian cheese), shredded
Salt to taste
2.5 tsp amchoor (mango powder or khatai) or dried pomegranate powder
1-1.5 tsp red chili powder
2-3 green chilies, chopped (optional)
Oil or ghee for cooking
Greek yogurt or thick plain yogurt or sour cream for serving
Instructions
In a bowl, add whole wheat flour, salt and water. Knead it into a smooth dough. Keep it aside.
In another bowl, add shredded cheese, mango powder, salt and red chili powder and green chilies if using. Mix it all together nicely.
Divide dough into 6 equal size balls.
Roll one ball at a time into a small circle. Place around 2 tbsp or less filling in the center and bring it all together to seal the filling inside the dough. Using your hands flatten it a bit and then sprinkle it with flour on both the sides. Roll to a medium-thin thickness.
Keep it aside and repeat with the remaining ones.
Now heat a flat pan. Transfer one parantha and let it cook for 1 minute. Flip and coat the top side with little olive oil or ghee. Flip and coat the other side. Press lightly and flip. Make sure it gets cooked on both sides. Transfer it to a paper towel and cook remaining ones.
Serve with yogurt with salt and red chili and hot tea.
More Indian Flatbread Recipes:
https://www.naivecookcooks.com/gobi-parantha/