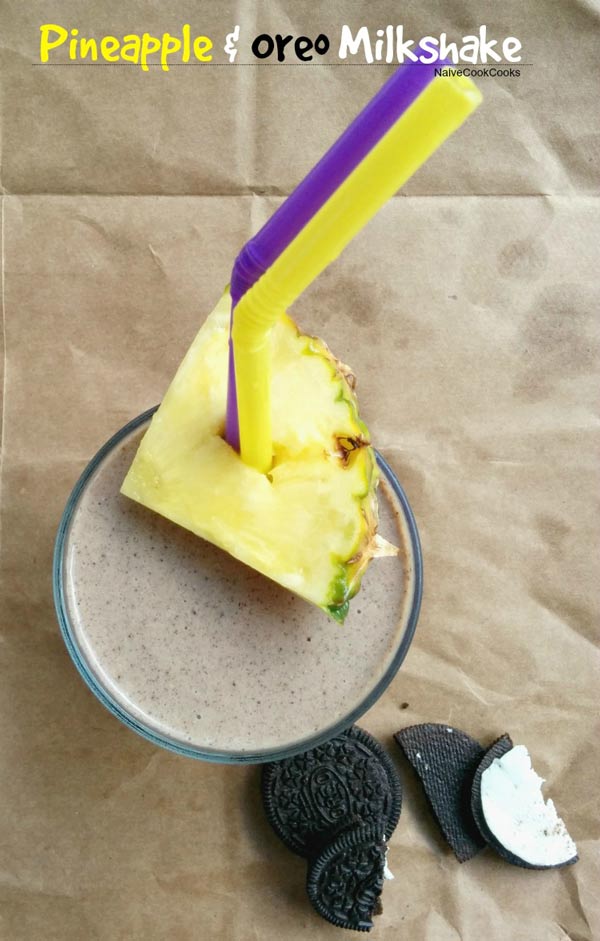 Fresh pineapple and dreamy oreos turned into a perfect summer treat! Who said milkshakes were boring?!
Oreos.
I have a weakness for dark chocolatey oreos so much so that lately we try not to buy them. At all.
Yes and we try very hard.
I know how sad it sounds but the truth of the matter is that they last for a day or two at max at our place and they are my perfect before sleep companion with a glass of chilled milk. I know what you all are thinking. You have been in my shoes!
So, onto this crazy good milk shake. This was out of the blue. Few days back for dinner, yes you heard me right, for dinner I made strawberry-oreo milkshake inspired from my strawberry-oreo ice cream. It was an instant satisfaction. I decided to make it again for you guys but then I saw this fresh pineapple sitting and I couldn't stop myself from trying this weird combo. And glad I am!!
It tasted much much better than strawberry-oreo milkshake (Mind it: fresh strawberries and oreo milkshake was a total hit at my place!) with flavor profile being high up there. It is a perfect summer drink being a well balanced mix of indulgence and healthy.
Perfect for your 4th of July barbeque. I have noticed it goes really well with spicy foods as it complements it very well. But if you are like me, you won't wait till 4th of July. Perfect evening snack or dessert treat.
Pineapple Oreo Milkshake
Ingredients
1 cup fresh pineapple, chopped
½ cup almond milk or any fat content milk
3 scoops of plain vanilla ice cream or cookies&cream ice cream
4-5 ice cubes
3 Oreo cookies
Instructions
Blend it all in a high speed blender until smooth. I have been loving my blendtec and it yields a super smooth milkshake.
More Summer Drink Recipes: