Everything Brioche Burger Buns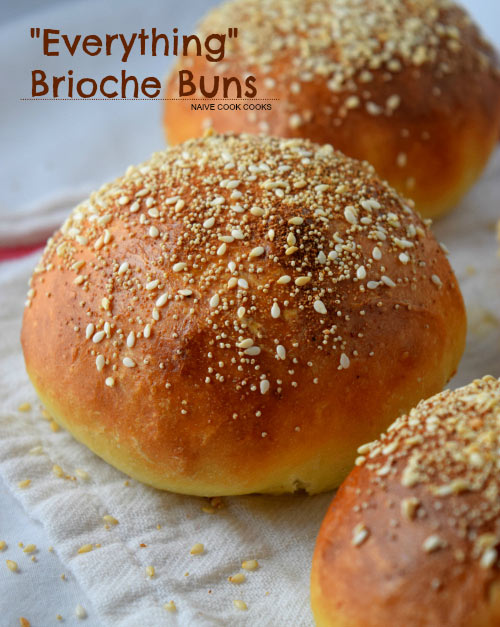 3 tablespoons warm milk
2 teaspoons active dry yeast
2 ½ tablespoons sugar
2 large eggs
3 cups bread flour
⅓ cup all-purpose flour
1 ½ teaspoons salt
2 ½ tablespoons unsalted butter, softened
1 large egg
2 tbsp sesame seeds
2 tbsp poppy seeds
2 tsp garlic powder
In a glass measuring cup, combine 1 cup warm water, milk, yeast and sugar. Let stand until foamy, about 5 minutes. Meanwhile, beat 2 eggs in a bowl.
In a large bowl, whisk flours with salt. Add butter and rub into flour between your fingers, making crumbs. Using a dough scraper, stir in yeast mixture and beaten egg until a dough forms. Scrape dough onto clean, unfloured counter and knead, scooping dough up, slapping it on counter and turning it, until smooth and elastic, 8 to 10 minutes.
Shape dough into a ball and return it to bowl. Cover bowl with plastic wrap and let rise in a warm place until doubled in bulk, 1 to 2 hours. I like keeping mine in a preheated 200F oven. MAKE SURE YOU TURN THE OVEN OFF BEFORE PUTTING THE DOUGH IN IT.
Line a baking sheet with parchment paper. Using dough scraper, divide dough into 8 equal parts. Gently roll each into a ball and arrange 2 to 3 inches apart on baking sheet. Cover loosely with a clean kitchen towel and let buns rise in a warm place for 1 to 2 hours.
Set a large shallow pan of water on oven floor. Preheat oven to 400 degrees with rack in center. Beat 1 egg with 1 tablespoon water and brush some on top of buns.
Mix sesame seed, poppy seed and garlic powder in a bowl and sprinkle on top of the buns.
Bake, turning sheet halfway through baking, until tops are golden brown, about 15 minutes. Transfer to a rack to cool completely.
Once completely cooled, you can store these buns in a ziplock bag.
Recipe adapted from Cooking.Nytimes.com/light-brioche-buns
Recipe by
Naive Cook Cooks
at https://www.naivecookcooks.com/everything-brioche-burger-buns/