My all time favorite – most used kitchen tools! These make my life easier and cooking so much fun!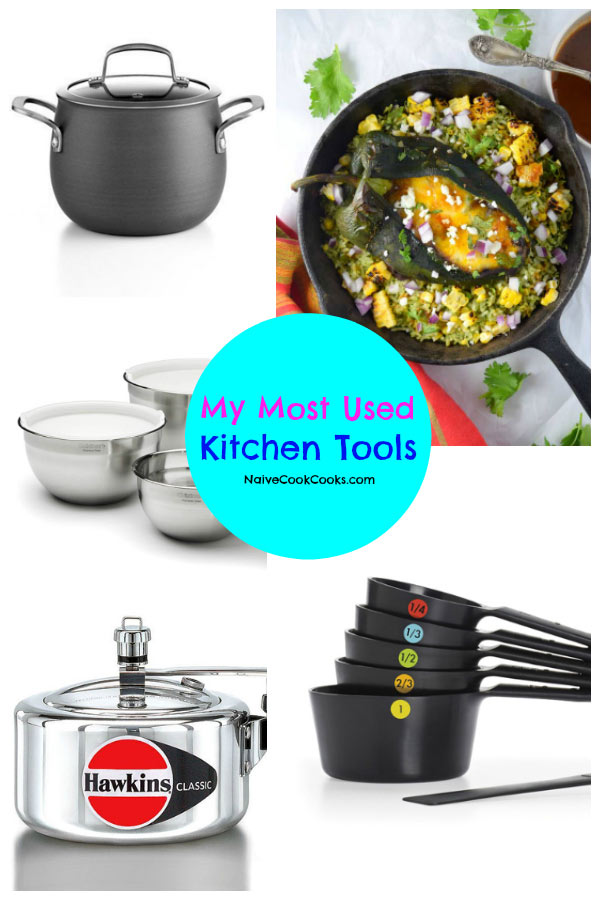 Weekend friends & I thought why not take a break from usual recipes and share with you all what tools I use all the time in my kitchen and when I say all the time, I mean ALL THE TIME! I love love cooking and there are days that instead of sitting in front of computer, I wish I could instead spend hours cooking our favorite meals and desserts! I have a big sweet tooth and that's one reason I have so many DESSERT recipes here.
So without much ado jumping on to my most favorite tools used in kitchen!The most important tool in every cooks kitchen -Knives but sadly the ones I use are no longer available anywhere but just for the sake of it, I use SHARP IMAGE knives and absolutely love them! I see Amazon selling them in a set 2-3 but I can't seem to find them in whole set like the one I own. They are really sharp and I did cut my finger once, so if you plan on buying those be EXTRA careful while using!
A.  Most Used Pan
This PAN .This is my everyday pan which I use for making curries, lentils, vegetable stir fries and even cooking chicken. It uses very little oil (a BONUS!) and cooks evenly. I can't say enough good things about this pan. A MUST in every cook's kitchen.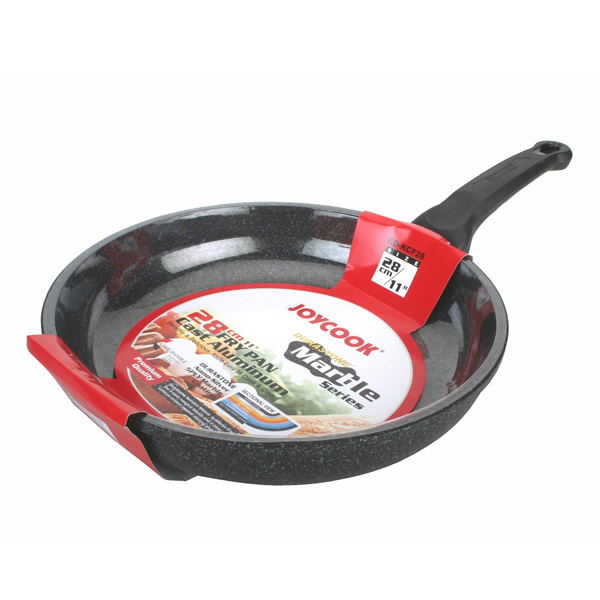 Find it HERE ->> Ceramic Marble Coated Cast Aluminium Fry Pan
B. Cast Iron Skillet
This skillet is another of my favorite. I used it mostly when I am cooking something which I know I will need to put in oven. It's heavy, super sturdy but worth it's money. I use it for making frittatas and my favorite stuffed peppers.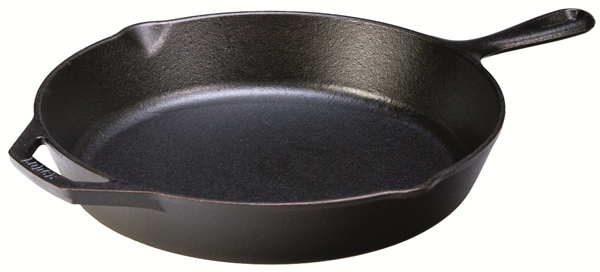 Find it HERE ->> CAST IRON SKILLET
C. Everyday Pressure Cooker
I can't imagine my life without one of these! I grew up watching my mom use it every single day and now whenever I am making lentils, soups and even hard cuts of meat, I use my all time favorite cooker. It makes cooking so much faster!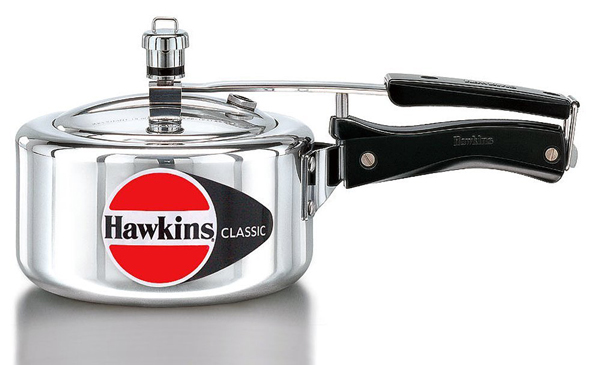 Find it HERE ->> PRESSURE COOKER
D. Stainless Steel pot
This is a recent addition but I love it for boiling pasta, making gravy based meals and even soups. The size is perfect for a family of 2 and they are super cute! The quality is really good & a glass lid prevents splattering.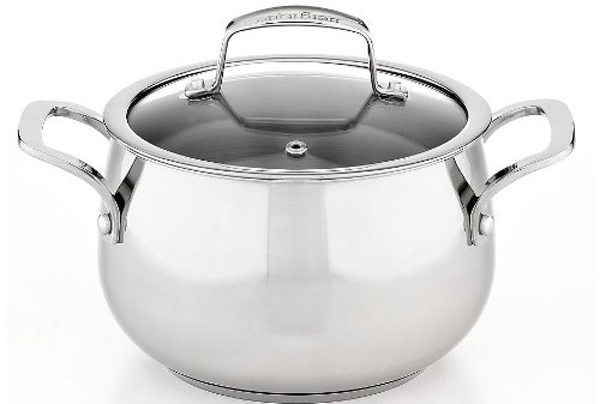 Find it HERE ->> Stainless Steel Pot
E. BELGIQUE 11 PIECE SET
This monster of a set is super awesome when you are starting out and looking for something much more affordable than buying indivisual pieces. The steel is very good for the price and I love that they comes with lids. As you might have sensed by know, I love pots with lids. I hate cleaning up when sauces splatter! I bought this when I started cooking and I love this! There is also a pot with steamer basket in it!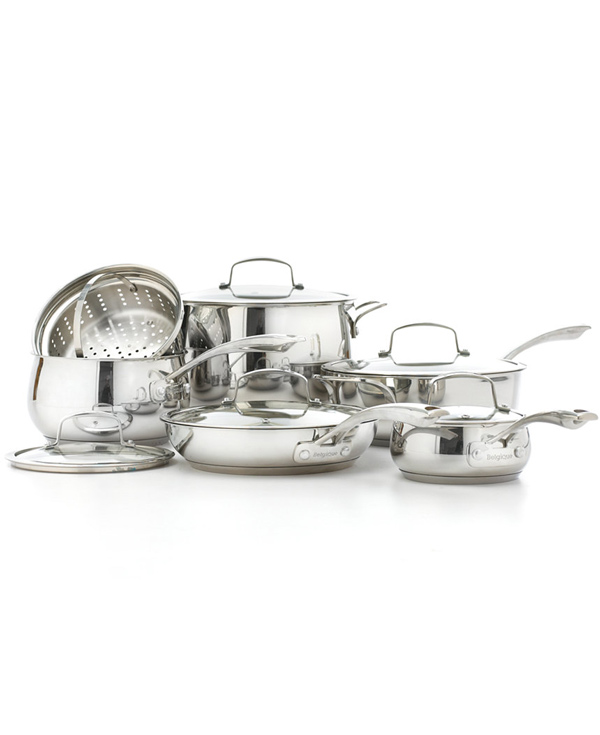 Find it HERE ->> BELGIQUE 11 PIECE SET
F. Belgique Hard Anodized  Soup Pot
This is similar to the stainless steel soup pot but I love the looks of it and its so much fun cooking in it! If you are looking to add in a really good quality pot to your collection, this is a must to consider!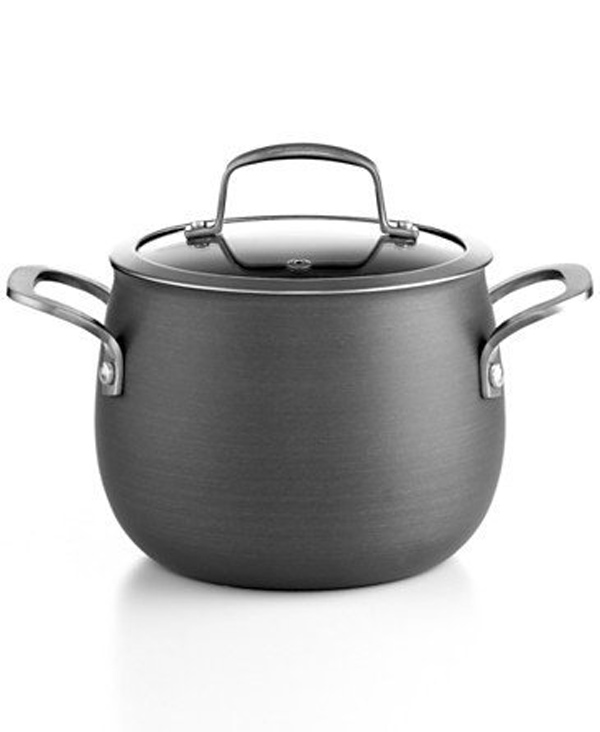 Find it HERE ->> BELGIQUE HARD ANODIZED SOUP POT
G.Crepe Pan
Now this is one pan I use it for many other purposes than just for cooking crepes! I use it to make crepes (yes!), dosas, cooking eggs (it takes just a drop of oil!), paranthas and chapatis!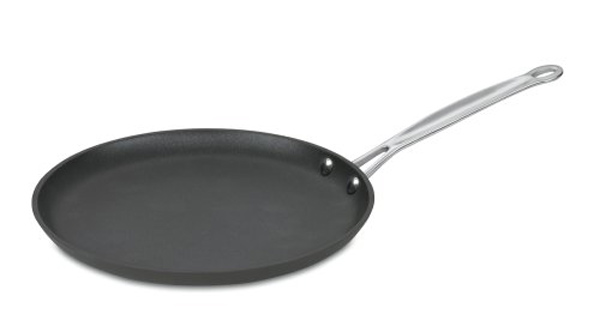 Find it HERE ->> CREPE PAN
H. Glass Mixing Bowls
I got a set of these different sized mixing bowls sometime back and I use atleast one of them every single day. I use them when baking for mixing batters, for mixing salads and even sometimes for storing. I really use them a lot so I these are worth every single penny.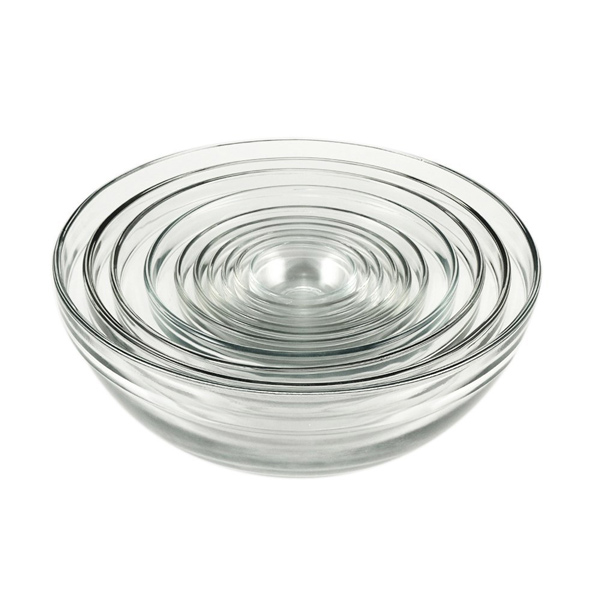 Find it HERE ->> GLASS MIXING BOWLS
I. Measuring Cups
If you love cooking and mostly if you are someone who likes to record the amount of ingredients used while cooking or a food blogger like myself, these are a MUST. I can simply not imagine my life without them! No this might sound to be over the top but I remember when last time I was visiting home in India and I decided to make doughnuts but without measuring cups it was a nightmare!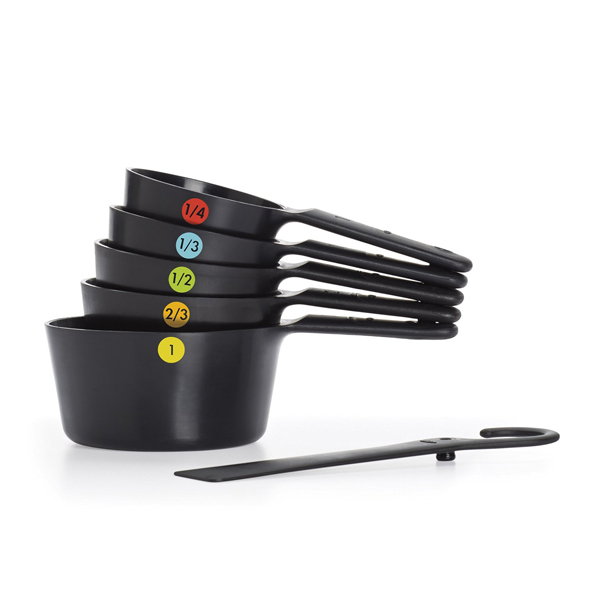 Find these HERE ->> MEASURING CUPS
J. Stainless Steel Mixing Bowls
Ok so you might think why two kinds?! Well in all honesty I use both these kinds almost every single day. I love glass ones when shooting for blog pictures while these stainless steel ones are a favorite of mine too since they are really light in weight & easy to clean without any fear of them breaking!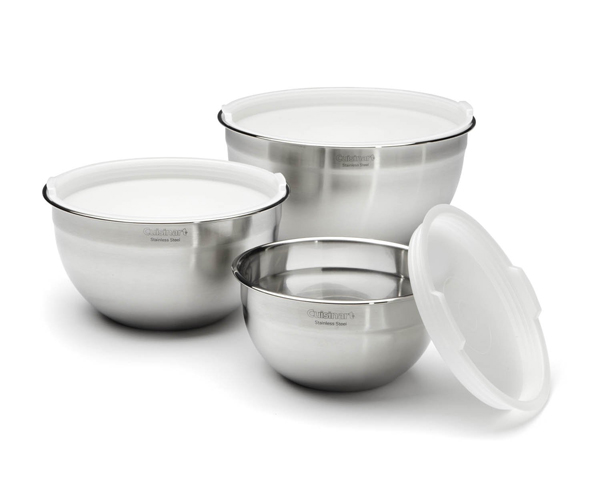 Find these HERE ->> STAINLESS STEEL MIXING BOWLS
This is all folks – mostly all of my most used kitchen tools! Would love to know what else you use or what else would you like to know about my kitchen tools!
** Some of these links may be affiliate links.
Follow along for a lot more delicious treats and life happenings on INSTAGRAM ||FACEBOOK||PINTEREST ||TWITTER ||GOOGLE+ || BLOGLOVIN || YouTube
We also have a STORE where you can shop all these items and many more of my favorite things! Go check it out!!