These Tortilla Bowls are filled with fresh homemade refried beans, taco seasoned rice, chipotle salsa, spicy ranch & fresh veggies! Perfect healthy and delicious meal ready in under an hour!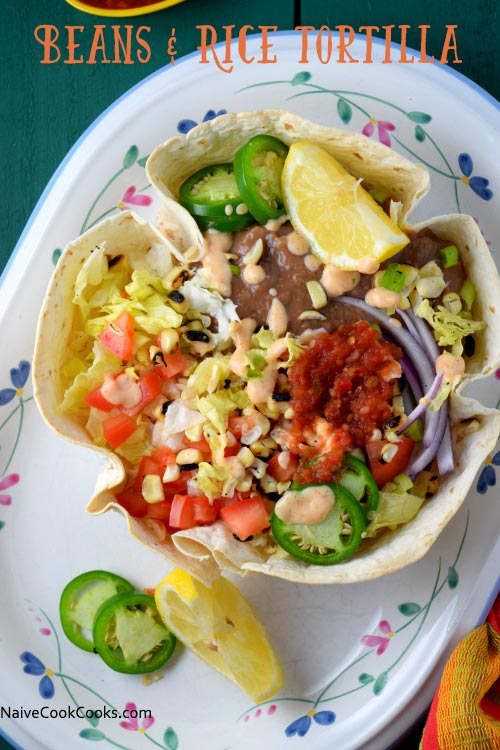 Happy Monday you all! How was your day today? I as usual stressed about tons of pending things I have to still finish and as usual that ended up with me drinking crazy amounts of coffee. What is it with stress & coffee? I feel so relaxed as soon as caffeine hits in. I mean seriously. And so does these bowls these days. To be honest, I had something else stored in for today's post but well after having it today again in the morning, it seemed not at all worth posting. Jerry couldn't even finish it. I think I will leave that recipe for another round of testing.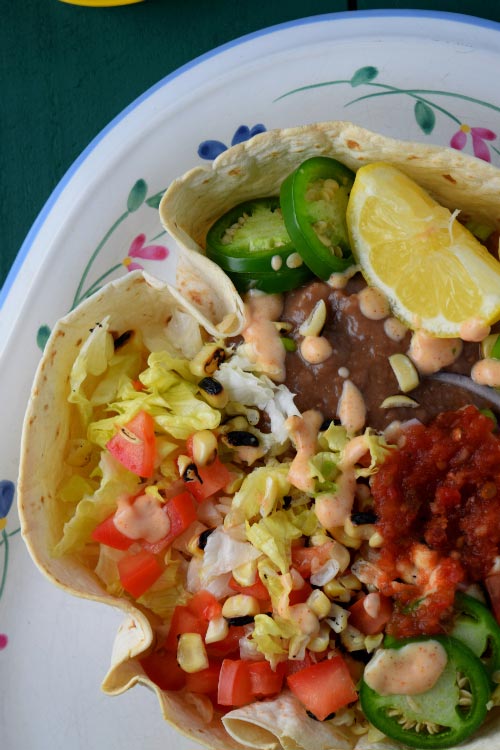 So I decided to post something we have been enjoying lately for our dinner and since Cinco De mayo is only few days away, it seemed a perfect fit to post this today. Be Warned though : It's a Mind-Blowing-FLAVOR-PACKED-RECIPE. There is so much going on here that it was hard for me to stop just at one bowl. Ohh and these bowls. Don't even get me started. How do you feel about corn tortillas vs flour tortillas when it comes to tacos, enchiladas? I have realised that I am in & out flour tortilla girl and don't even get me started on the healthy multi grain tortillas.
I sort of Hate them. Yes there I said it. I cam to know about them a while back and since target and walmart started carrying them, I thought why not give them a try. I will say that I do like Mission's artisan tortillas but the one that says multigrain, I just can't swallow it. It's better not to eat tortillas at all if given a choice to eat multi grain tortillas or not to eat at all.What are your thoughts about their artisan tortillas? Don't worry I will still love you if you say you like those *multigrain* tortillas. Promise.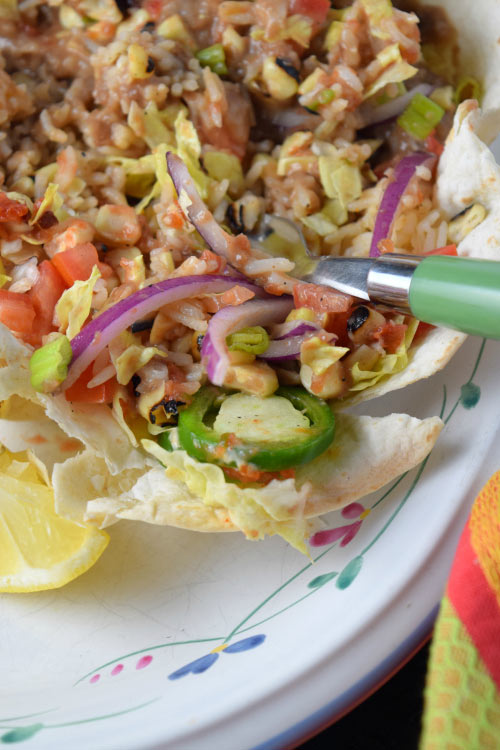 So as you might have guessed here you bake flour tortillas (My all time favorite) for like 12-15 minutes in a 350F oven . For getting a bowl shape, simply spray a medium sized oven safe bowl with little olive oil and lay one tortilla and bake until it turns crispy and once you take it out and let it cool, you will see it will stay in the bowl shape. Then meanwhile, you cook rice, beans, chop veggies and make spicy ranch & salsa. I know it's lot of ingredients but promise it takes around an hour only to get everything together.
Just finishing the last bowl!
Help in spreading the word!
Follow along for lot more delicious treats and life happenings on INSTAGRAM || FACEBOOK || PINTEREST 

Beans & Rice Tortilla Bowls
Ingredients
Taco Rice
1 cup basmati or any long grain rice
Salt to taste
½ tsp red chili powder
½ tsp cumin powder
½ tsp taco bell seasoning
1 tsp olive oil
Refried beans
1 cup dry pinto beans
Salt to taste
1-2 tsp red chili powder
1 tsp cumin powder
1-2 tsp taco bell seasoning
1 tsp olive oil
Spicy Ranch
¼ cup low fat mayo
¼ cup milk ( I used 2% fat )
1 tsp ranch seasoning
¼ tsp taco bell seasoning
Chipotle Salsa
1 can chopped tomatoes
1 fresh roma tomato
2-3 green onions
1 jalapeno
4 garlic cloves
2 chipotle peppers in adobo sauce plus 1 tsp adobo sauce
Salt to taste
Lime or lemon juice to taste
Additional
2-3 flour tortillas, shaped into bowls in oven (Simple spray a round oven safe bowl with oil and lay a flour tortilla into it and shape it into a bowl so it covers it. Bake at 350F for good 12-15 mins until crispy.Let it cool and then use for assembling)
2 corns, roasted and kernels removed
1-2 jalapenos, chopped
¼ cup red onion, chopped
1 cup lettuce, chopped
Cilantro leaves for garnishing
1-2 tomatoes, chopped
Instructions
Taco Rice
In a strainer, add rice and rinse under water. Once water becomes clear, transfer rice along with the rest of the ingredients to a pot. To it add 2-3 cups water and bring it to a boil. Taste for the seasonings. If needed, add whatever seasoning you feel is needed more. Cover and simmer on med-low until rice if fully cooked. Keep an eye. If it feels like rice is still uncooked but there is no water left, add little bit water and stir it around. On the other hand if it looks like rice is cooked but you still have water left, simply strain. Once fully cooked, keep it aside.
Refried Beans
Wash beans and add them to a pressure cooker. Add around 4-5 cups water and pinch of salt. Close the lid and cook it on med-high for good 30 minutes. Let it cool and open the lid. It should be done, if still undone add some water and cook more. Now using a hand blender, blend until almost smooth. To it add the rest of ingredients and ½ cup water if really thick. Cook on low and taste. Once it's the desired consistency, turn off the gas and keep it aside.
Spicy Ranch
Mix all the ingredients in a bowl and mix until smooth. Taste and adjust.
Chipotle Salsa (Recipe adapted from What'sGabyCooking)
Add all the ingredients in a food processor and process until its all grinded up with some coarse texture still there.
Taste and adjust.
Prepare corn by dehusking and roasting on top of the stove flame. Once cool, using a knife take out the roasted kernels.
Assembly
Simply add rice, beans, all sorts of veggies and then sauce & salsa on top and serve. Mix before eating and enjoy!
Notes
You can even make beans, rice, sauce & salsa ahead of time and just warm the rice and beans before serving.
You can even roast some chicken with taco seasoning or chipotle seasoning and add it, making it more filling.
More Mexican Food Recipes: