Fresh & light skillet cooked cajun fish tacos with spicy chipotle salsa, simple crunchy slaw & jalapeno-cilantro yogurt make for an ideal flavor packed meal!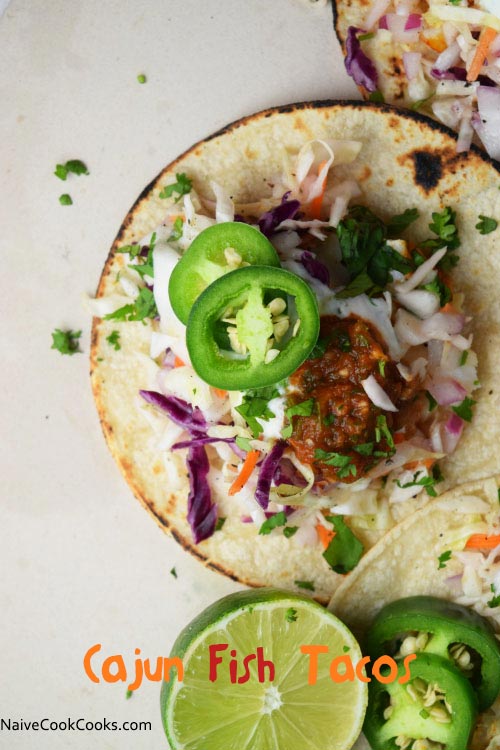 Hello hump day tacos!
Can you believe that it's already first day of July? Where is all the time going so fast? It just started to get warm summery recently and here we are already in the first day of July! CAN'T. BELIEVE.IT.
And this means that I have so many things I want to do before summer ends like going out for a picnic, reading summer novels laying down in the grass, enjoying snow cones (this year we haven't even started to eat these yet!), wear long dresses, spend enough time with my mom before she leaves for India, try out tons of summer food (A.MUST!!) and so on.
Talking about summer food, these tacos are some serious summer flavor powerhouse! They come together really quickly like in under 30 mins or so, they are cool & crisp just how summer is intended to be and they are light & healthy. The cool flavors from yogurt dip along with the sharp-spicy flavors from salsa compliment each other beautifully giving this dish a restaurant like appeal. You marinate the fish and forget about it. Around dinner time, thrown fish on the skillet while you make the sauces & the slaw. See told you, Easy peasy!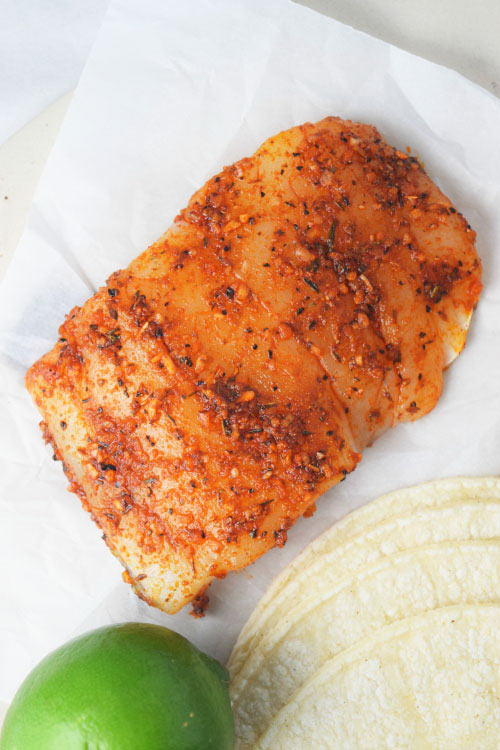 If you love good fish tacos, these are for you! I mean the FLAVORS! Lately I have so much summer food on my mind which I want to make here but then I scribble it on papers and end up losing them! You guys do that too or am I the only crazy one?! Ohh and movies! I feel usually summer is the time when some of the best movies are released and finally I watched Age of Adaline and I am dying to watch jurassic world next! Regarding OITNB, I am still not able to get the hang of it and feel so disconnected but I might give it another try this weekend and CHEF. Basically I missed this movie when it was released (I know how can I???) but it's so good! I have been playing it in the background while cooking.
These Cajun Fish tacos With Chipotle Salsa : You should be making them like TODAY.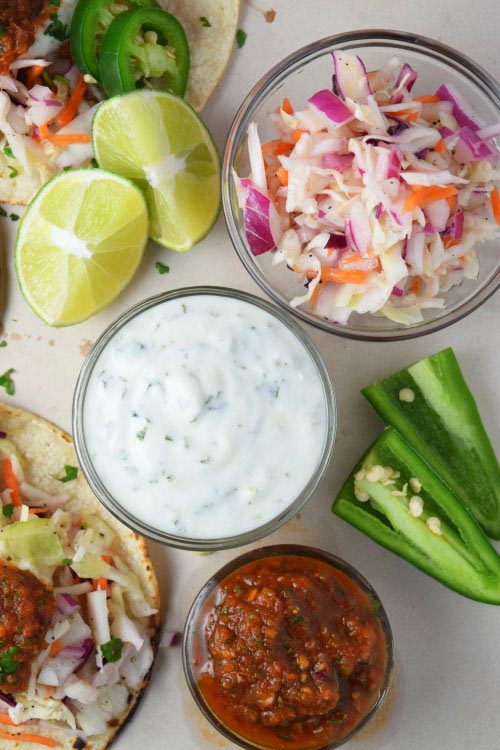 I was sent samples of fish by the kind people at SIZZLEFISH. It's my favorite fish and it comes in indivisual portions which makes it super easy to control your portion sizes and stay healthy.You can order it online and it's delivered right at your doorsteps!
Help in spreading the word!
Follow along for a lot more delicious treats and life happenings on INSTAGRAM || FACEBOOK || PINTEREST || TWITTER ||GOOGLE+
Cajun Fish Tacos With Chipotle Salsa
Ingredients
Fish marinade
4 good quality white fish fillets (I used Haddock which was kindly provided to me by the amazing people at SIZZLEFISH)
5 tbsp chipotle seasoning
2 tbsp olive oil
Salt to taste
2 tsp spicy paprika powder
2 tsp garlic powder
Chipotle Salsa
2 fresh tomatoes, chopped
2 chipotle peppers in adobo sauce
2 tbsp chopped fresh cilantro
4 garlic cloves
1 jalapeno
Salt to taste
Lime juice to taste
Cilantro-jalapeno Yogurt
½ cup low fat yogurt, plain
¼ cup finely chopped cilantro
1 finely chopped jalapeno or as per your taste
Salt to taste
Lime juice to taste
Coleslaw
Pre chopped coleslaw mix or you can chop your own (You can use green cabbage, purple cabbage, carrots) (Around 4 cups)
1 red onion, thinly sliced
1 jalapeno sliced thinly
2-3 tbsp apple cider vinegar or to taste
3 tbsp honey or maple syrup or sweetener of your choice (adjust as per your taste)
Salt & Black pepper to taste
12 White corn tortillas, cooked directly on gas using tongs until charred slightly on both the sides.
Instructions
Marinate the fish by mixing all the spices in a bowl. Wash the fish under running water and then rub the spice mix all over the fish. Transfer it to a ziplock or glass container and cover and refrigerate for 2-4 hours.
When you are ready to eat, start like half an hour before. Take out the fish and throw it on a hot skillet at medium-low heat and let it cook for 4-6 minutes and then flip. Cook until it turns white and as you touch you see flakes which start to fall apart.Keep it aside.
Meanwhile prepare the sauces & slaw.
In a bowl throw all the slaw ingredients and stir around and taste. Adjust seasoning as per taste. Keep it aside.
For chipotle salsa, add all the ingredients in a food processor and process until almost smooth but little bit chunky. Taste & adjust and keep aside.
In a bowl, add all the ingredients of cilantro yogurt and mix. Taste & adjust and keep aside.
Using tongs, one tortilla at a time, cook it on direct flame on the stove until it starts to get charred on both the sides.
For assembling, layer a dollop of cilantro-jalapeno yogurt on each tortilla. Place some small cooked fish pieces and then add on the slaw, cilantro yogurt, chipotle salsa and fresh jalapenos.
EAT.
May I suggest:
https://www.naivecookcooks.com/parmesan-crusted-tilapia/
https://www.naivecookcooks.com/lemon-bar-muffin/