These delicious Whole Wheat Carrot Apple Muffins are perfect to be enjoyed with a cup of coffee while on your way to work! Make a batch today & grab these for your weekday morning rush!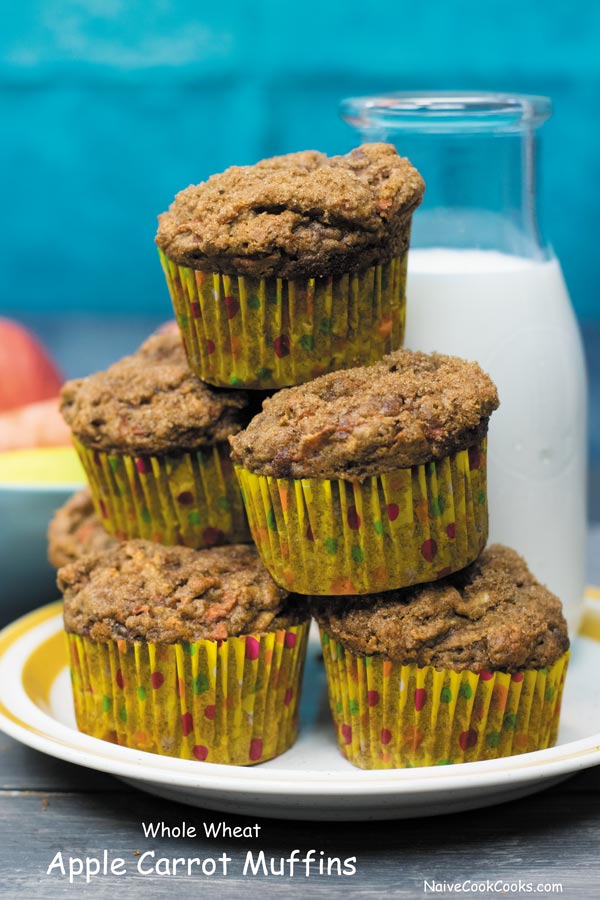 Something Life Changing happened over the weekend friends. For me as you might have figured by now, food is a big deal and during the weekend I was able to perfect another version of my all time favorite breakfast food -> MUFFINS. Now I am already crazy about my whole wheat blueberry muffins ( have you tried those yet?) but now these are my new breakfast bff's !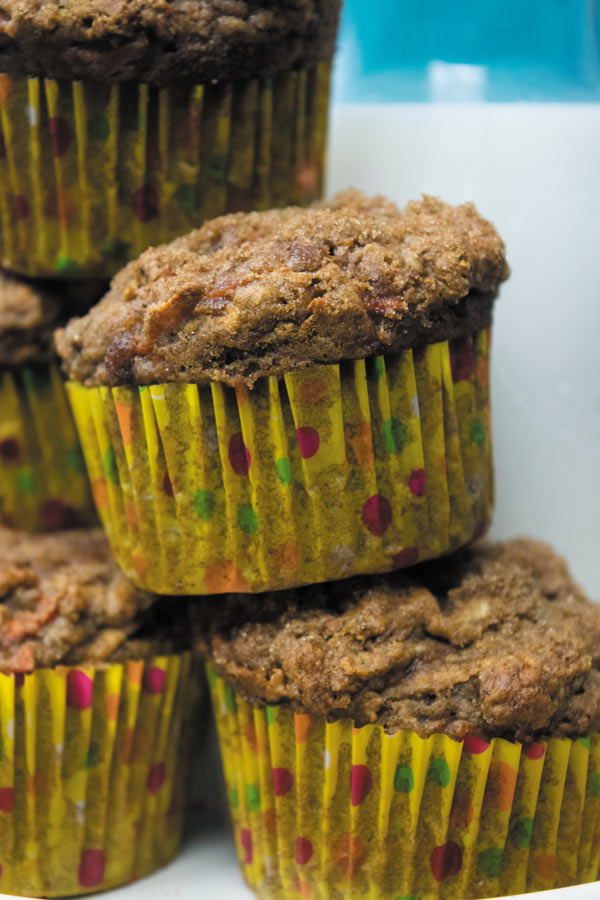 Presenting WHOLE WHEAT, NO BUTTER, NO EGGS, SUPER MOIST, packed with lots of good-for-you ingredients, freshly grated CARROTS & APPLES and BANANA puree MUFFINS. These muffins – everyone will go crazy for them. They are everything a good muffin should. What they are not is – not overloaded with sugar (there is still sugar but in reasonable amounts!), no butter (replaced by apple sauce and some oil), no all purpose flour (replaced by fiber filled whole wheat flour) and all real ingredients!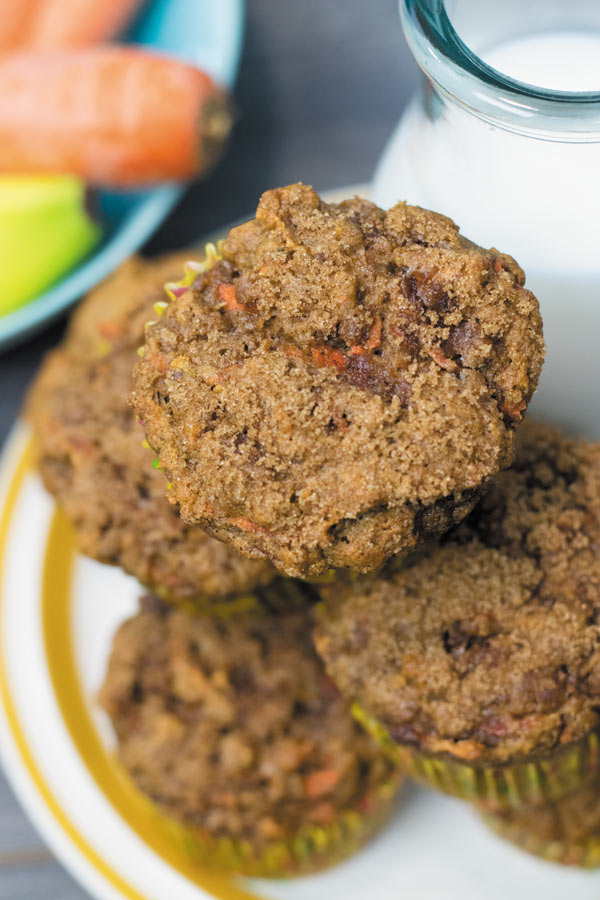 These muffins take start to finish just under an hour and while watching lots & lots of Bones ( that show!), I baked 2 batches and once completely cooled, I placed them in ziplock bags and in fridge ready to grab & go every morning!
Do you guys get food prepared on weekends to make life on weekdays or you do everything as & when you need it? Lately I have been trying to make more food over the weekends and freezing the extras so even if we get no time to cook, we always have home cooked meals on hand. And it's bean a life saver too. Few days back when I realised it was already past 9 pm, frozen homemade black bean chili and quick 30 min fresh cornbread made a yummy dinner!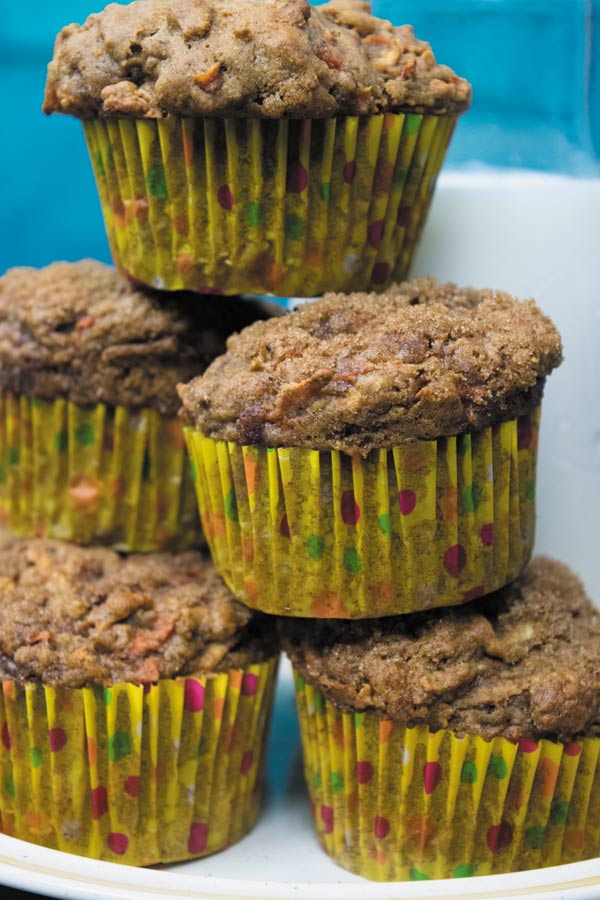 Hope you all had a great Easter! Did you guys cook for a large gathering or kept it quite and small?!
Follow along for a lot more delicious treats and life happenings on INSTAGRAM ||FACEBOOK||PINTEREST ||TWITTER ||GOOGLE+ || BLOGLOVIN || YouTube
Whole Wheat Carrot Apple Muffins
Ingredients
1 cups whole wheat flour ( atta)
1 tsp baking soda
2 tsp baking powder
1.5 tsp cinnamon powder
¾ tsp ginger powder
¼ tsp salt
8-10 tbsp banana puree ( I used 1 large over ripe banana)
6 tbsp dark brown sugar
3.5 tbsp oil
4 tbsp apple sauce
1 tsp vanilla extract
1 cups shredded carrots
½ cups shredded apples
Toppings :
4 tbsp brown sugar
1 tsp cinnamon powder
Instructions
Pre heat oven to 425F.
Place cupcake liners in a muffin pan and grease all the liners with little oil.
In a bowl,mix all the dry ingredients-whole wheat flour, baking soda, baking powder, cinnamon powder,ginger powder and salt. Mix and keep it aside.
Now in another bowl, mix banana puree along with brown sugar, oil, apple sauce, vanilla, carrots and apples. Mix and add dry ingredients mix to the wet ingredients mix.Fold gently until everything is mixed properly.
Fill up the cupcake liners with the batter. Fill them upto the brim. Bake at 425F for 5 mins, bring the temperature down to 350F and bake for another 18 mins or until a toothpick comes out clean.
Let them cool for 5 mins in pan, pull them out on cooling rack and cool them completely.
Some more delicious BREAKFAST recipes ->>
https://www.naivecookcooks.com/kale-hashbrowns-pistachio-pesto-breakfast-pizza/