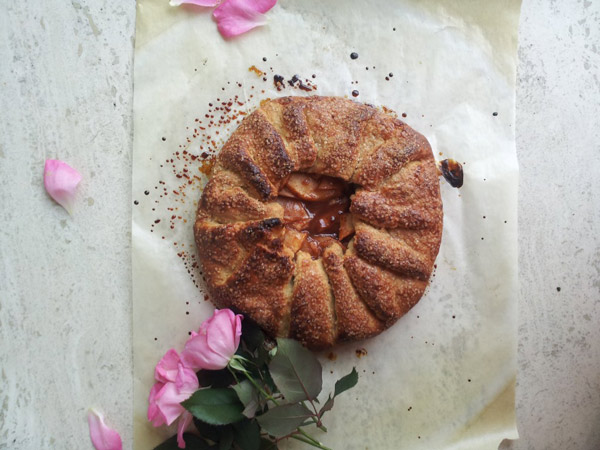 Last month when we went apple picking, I had big plans. I was planning to make use of all those apples
to make apple butter, apple pie, apple crostata or galette, apple doughnuts and this cake. Whole month spent in packing, the apples were pushed aside and the easiest use I could put them to, was for juicing. I was on a juice kick and apples helped make the green juices taste way better. Time passed by and I finished 10 pounds of apple but never made a thing from that  list.
Recently when my computer went lifeless, I realised that all our photos of apple picking adventure no longer exist and than I was filled with sudden sense of guilt as ages ago I promised you guys to share the trip details. So here I am, without any photos but yes with a winter worthy dessert whcih will make your home smell like an apple farm, in a good way.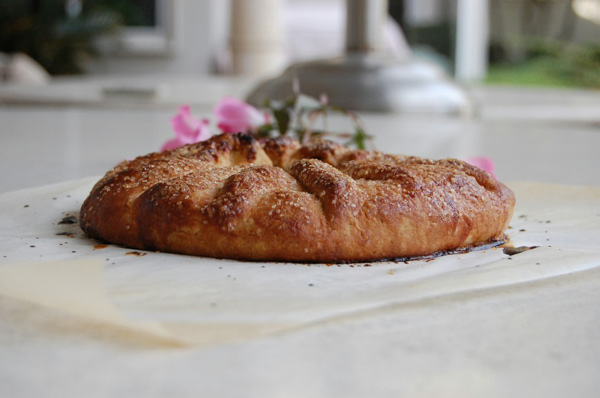 Making crostata or galette is one of favorite task. It takes my mind to a peaceful zone. I love the act of making dough with cubes of frozen butter, breaking them into crumbs with fingertips and the way it all comes together.  The best thing about these type of desserts is that whatever kind of fruits you have on hand, chop, mix them with some lemon juice and sugar. Let it macerate, fill them up in a buttery dough layer and bake and you are sure to be greeted by something delicious.
Delicious Rustic Apple Galette
Ingredients
Filling
2 gala apples, peeled, cored and sliced in thin rounds.
¼ cup brown sugar
1 tsp unbleached all purpose flour
2 tsp lemon juice
½ tsp cinnamon
In a bowl, mix sugar, flour, lemon juice and cinnamon. Put apple slices in the mix and coat them gently with the sugar mix with hands. Let it sit.
¾ cup unbleached all purpose flour
½ cup whole wheat flour
2 Tbsp. brown sugar
½ tsp. sea salt
4 oz. / 1 stick cold unsalted butter, cut in cubes
2 tsp. lemon juice
2 Tbsp. yogurt
3-5 Tbsp. ice water (Start with 3T and proceed tsp at a time if too dry)
1 egg
2-3 T turbinado sugar (optional)
Instructions
Filling
In a bowl, mix sugar, flour, lemon juice and cinnamon. Put apple slices in the mix and coat them gently with the sugar mix with hands. Let it sit.
Assembley
In a bowl, combine both flours, salt and sugar and stir to mix.Now acting quickly, add the cold butter and mix it with the flour with the help of a pastry cutter or your fingertips until it resembles small pea size pieces. In a separate bowl, mix lemon juice, yogurt and ice water and mix it. Add it to the flour butter mix and mix it all with hands until just combined. DO NOT OVER MIX. Wrap the dough in plastic wrap and refrigerate for up to an hour.
Once the dough is ready to bake, preheat oven to 400F. On a well floured surface, roll the dough to a 12" circle. Transfer it to a parchment lined baking sheet. Place apple mix in the center and roughly fold the border towards the center. Break egg in a separate bowl and add a tsp of cold water. Mix it together and brush it on the outer edges of dough using a brush or hands. Sprinkle turbinado sugar for extra crunch, if using.
Bake for 50 - 55 minutes depending on the oven type.
Let it cool a little before serving or if you are like me, proceed.
Notes
You can play around with different fruits or vegetables. Considering its almost winter in this part of the world, I would suggest may be a combination of pumpkin/squash with brie, spicy potato filling or pear with apples and so many more.
More Dessert Recipes: