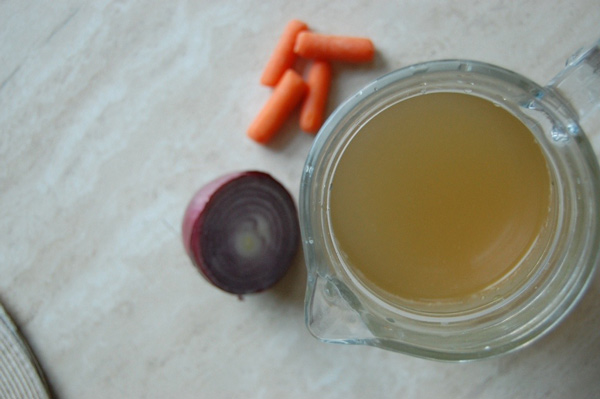 I am typing this post, while sipping my coffee and sitting in New Orleans airport waiting for my connecting flight home. We are going home to see Jerry's parents. This recipe is such that I want you to have it as soon as possible and I want you to make it in your kitchens. I want to let you know that it is one of the easiest and best homemade vegetable stocks.
Vegetable stock is one of the simplest thing to prepare, yet most of us end up buying it from supermarket shelves. You must be wondering why I am selling you stock recipe since already we have dozens of them. I used to feel the same way until I discovered this simple way of making homemade stock. I have always been hesitant to buy those super salty stocks found in cans or cartons. I have gone through that path of saving up the trimmings of vegetables over the week and freezing them for later use in making stocks and every time I ended up throwing those trimmings as I never ever used them for stock. There have been times when I avoided certain recipes just because they demanded stock.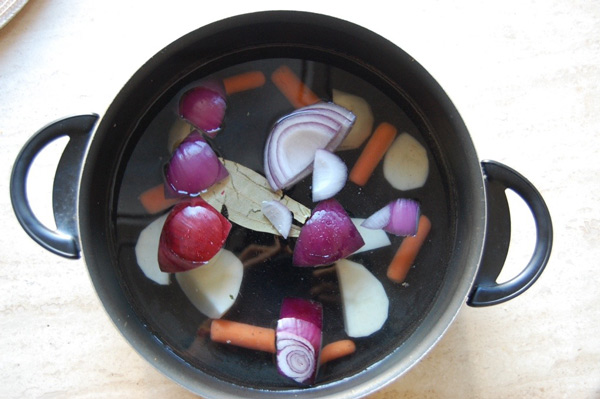 I know there are organic fresh stocks available now but if you can have your own stock with few simple ingredients lying around, why would you want to use store bought? Just throw all the ingredients together in a pot of water and let it simmer for almost an hour. You have the best stock ready and you can even customize it to your taste buds.
I made butternut squash & green peas risotto yesterday with this stock and it tasted almost like the one I had long time back in a famous restaurant chain named 'Brio's'. I had been wanting to recreate their sweet potato risotto for quite a sometime now and with this stock I was able to achieve that. Stocks play an important role in risotto dishes and I was so happy to find that my homemade stock stood the test. Risotto recipe coming up next.

How to Make Vegetable Stock
Ingredients
9 cups water
1 potato, peeled if not organic and cut in big pieces
7 small bite size carrots or 1 big carrot cut in big pieces
½ red onion, peeled and chopped in big pieces
1 bay leaf
½ tsp salt
Instructions
Throw all the ingredients in a pot and bring it to boil. Lower the heat and simmer it for around 50 mins to an hour. Let it cool and strain. Discard all the vegetables. It can be covered and refrigerated for up to 3 days.
More How To Recipes:
https://www.naivecookcooks.com/how-to-make-bread-crumbs/