Make bakery style cinnamon rolls at home with this easy Quick 60 Mins Cinnamon Rolls recipe. From scratch cinnamon rolls at home in no time!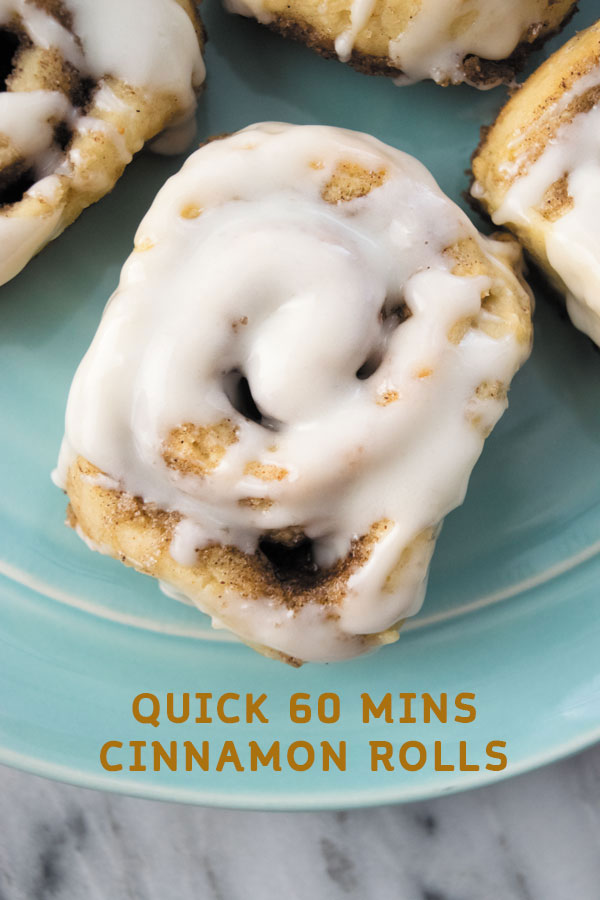 Cinnamon rolls & weekend have always gone hand in hand. Even though coffee & cinnamon rolls as a quick breakfast on the way to work has been every American's favorite choice of breakfast for long, I prefer to save them for the weekend.  Because well breakfast in bed with continuous supply of hot coffee, soft melt in mouth cinnamon rolls immersed in that luscious cream cheese frosting and your favorite show on TV is how my weekend looks once in a while and I won't trade it for anything in the world!
In my opinion, weekend are seriously not the best days to venture out for brunch because the WAIT!! Last time we waited almost 2 hours before we were able to get a table and seriously for me that's the worst nightmare on a weekend – waiting for a table as every good brunch place is packed!
So I found a solution and these Quick 60 Mins Cinnamon Rolls are exactly what I have been making lately.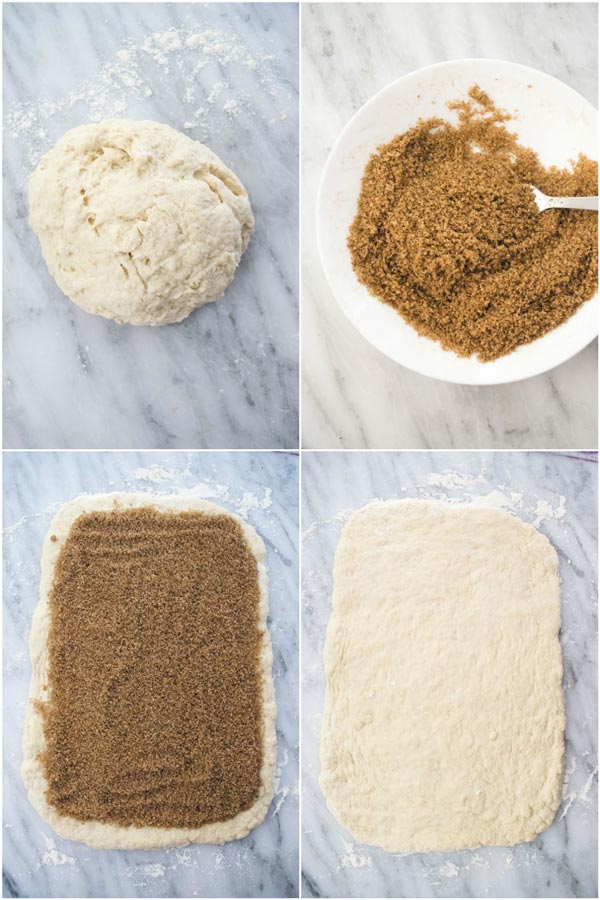 Making cinnamon rolls at home with this super fast 60 mins recipe is so much fun and you know your weekend brunch will be amazing! So once you make the dough, it is rolled and generously covered with cinnamon sugar mixture.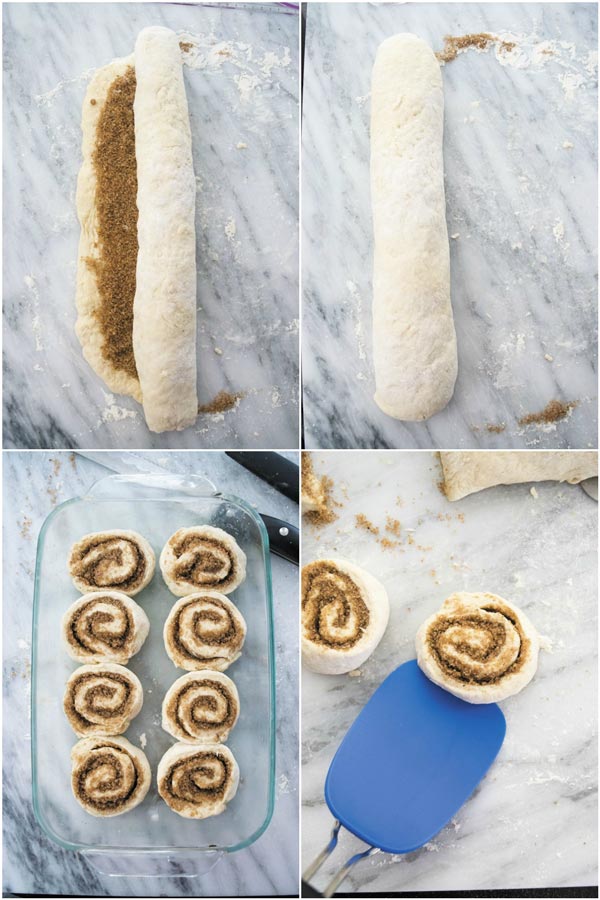 Then it is rolled into a tight roll and then cut into an inch rolls. All the rolls are then transferred to a baking dish.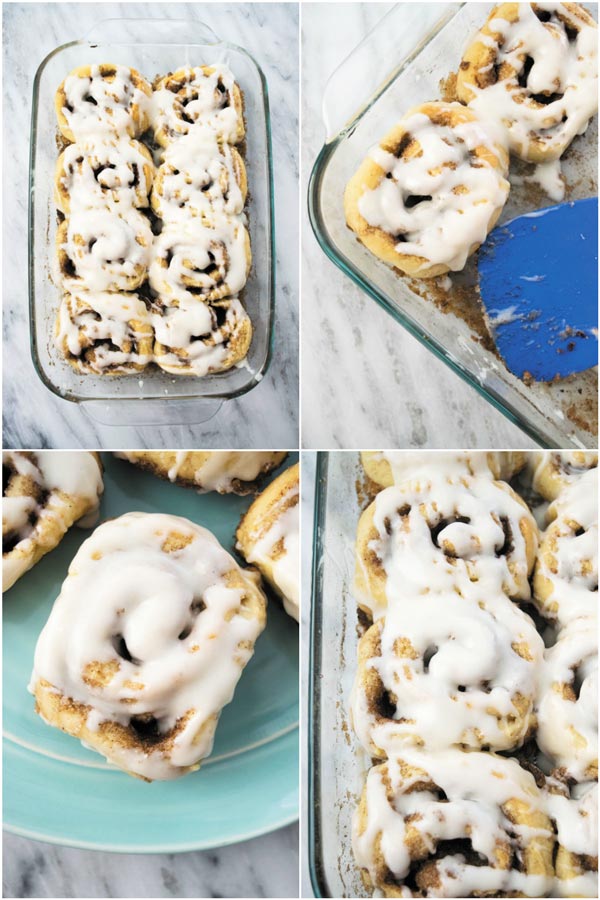 After baking they are immediately covered with this creamy cream cheese frosting which while taste testing, I ended up eating few spoons.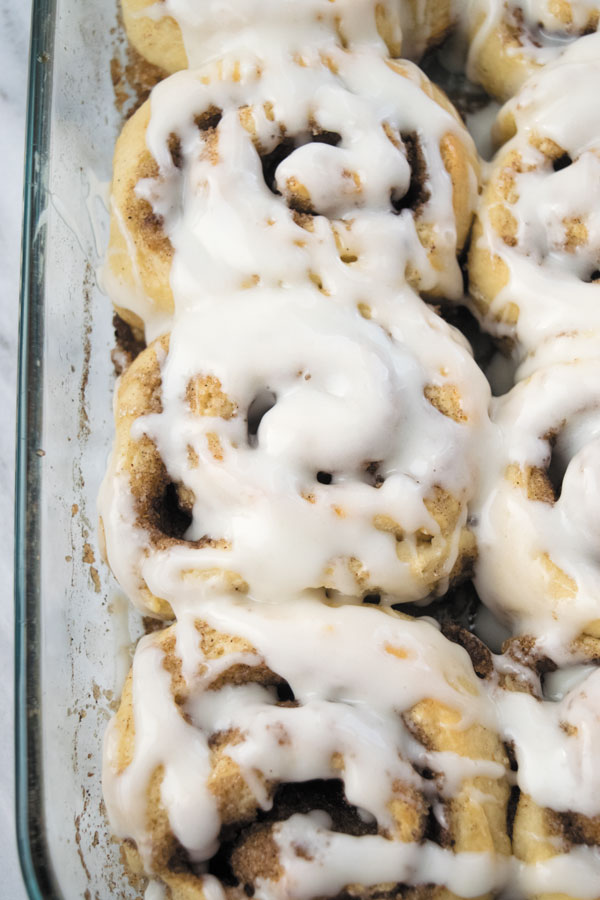 If  you enjoyed this recipe, don't forget to FOLLOW me on  INSTAGRAM ||FACEBOOK||PINTEREST ||TWITTER ||GOOGLE+ || BLOGLOVIN || YouTube
Quick 60 Mins Cinnamon Rolls
Serves:
8-9 cinnamon rolls
Ingredients
1 tbsp unsalted butter, melted for greasing the pan
Cinnamon Sugar Filling:
¾ cup packed dark brown sugar
¼ cup granulated sugar
2 tsp ground cinnamon powder
¼ tsp ground cloves
¼ tsp salt
1 tbsp unsalted butter, melted
Dough:
2.5 cups all purpose flour plus more for dusting the work surface
2 tbsp granulated sugar
1¼ tsp baking powder
½ tsp baking soda
½ tsp salt
1¼ cups buttermilk
6 tbsp unsalted butter, melted and cooled
Icing:
4 tbsp softened cream cheese
4 tbsp buttermilk
2 cups confectioner's sugar
Instructions
Pre heat oven to 425F and adjust oven rack to upper middle position.
Cinnamon Sugar Filling:
Combine sugars, spices and salt in a small bowl. Add melted butter and stir it using a fork until it resembles a wet sand.
Dough:
In a bowl, mix flour, sugar, baking powder, baking soda and salt. In another bowl, mix buttermilk and 2 tbsp melted butter. Add this liquid mixture to dry mixture and mix. The dough will be shaggy. Transfer this dough to a floured surface and knead until smooth.
Pat the dough using your hands into a 12 inch by 9 inch rectangle. Brush the dough with 2 tbsp melted butter. Sprinkle evenly with the mixture leaving an ½-inch border.
Using your hands pat the filling firmly into the dough. Using a metal scraper, loosen the dough from the work surface and start rolling it tightly starting from the longer side and rolling it into a tight log.
Roll the long seam side down and cut it into 8-9 even pieces. You can discard a small portion from both ends if you want to as the ends are usually smaller and with almost no filling.
Using your hands seal the ends of each piece.
Grease your baking pan with 1 tbsp melted butter and place the rolls into it.Brush the rolls with the remaining 2 tbsp melted butter.
Bake until the edges are golden brown about 23-25 minutes.
While the rolls are baking, get your icing ready.
Icing:
Whisk cream cheese and buttermilk until smooth. Add sugar a little at a time and whisk and then add more and whisk. Once all the sugar is added, make sure that the icing is smooth. Drizzle icing generously all over the cinnamon rolls.
 Some more BREAKFAST recipes ->>