Creamy silky Mushroom Soup made using simple button mushrooms and few other pantry ingredients! Say bye-bye to canned soup!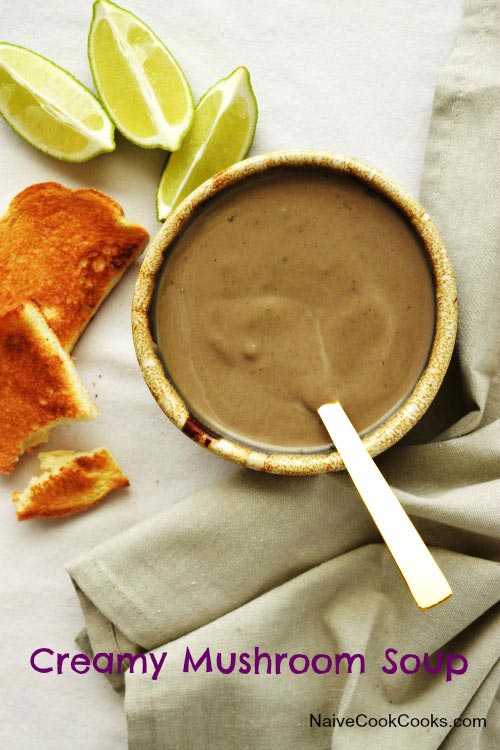 This soup!
I am all about mushrooms. Actually we both love mushrooms a lot so I am always trying to learn new ways to cook them. Today's recipe is a really simple recipe but something that's often neglected. Usually classic creamy mushroom soups are always supposed to be unhealthy. Too much butter, too much cream and not really strong mushroom flavor. Then there are recipes which call for all sorts of fancy expensive mushroom varieties which are not always accessible to everyone and not always wallet friendly!
But don't fret! This recipe was adapted from my most favorite cookbooks of all times " Light & Healthy" by Americas Test Kitchen. I did few changes of my own as per what I had on hand and what tasted best to me and I can assure you that if you are looking for a real deal solid CREAMY MUSHROOM SOUP RECIPE, then you must give this a try!
So as you might or might not know, yesterday I asked you guys on my facebook page if you want to see creamy mushroom soup recipe or bread gulab jamun recipe? And there were most votes for this soup but there were also good number of votes of people who wanted to see both the recipes! So since I can't say no to you guys so today we are having creamy mushroom soup and soon this week, you will be getting bread gulab jamun recipe! Do you love eating gulab jamuns? If you love eating Indian food in restaurants or at home, I bet you must have heard about this sweet which is all sorts of delicious! More on this coming soon 🙂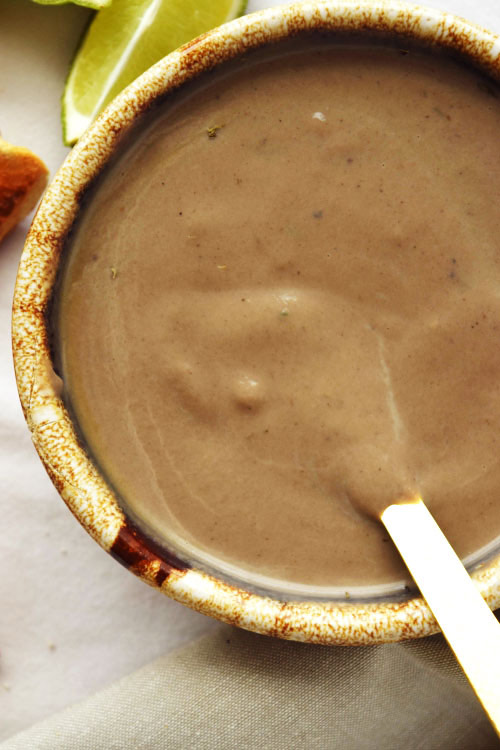 So back to today's recipe.Its healthy with only 1 tbsp low fat half & half per person and big on flavors!Win-win! And it stores like a charm. I like to make in advance and keep in fridge to eat during the week when rushed on time! Yes it might sound surprising but there are days when us food bloggers have no time or intention to cook! 😉
On another note, who else is going to the Blogherfood conference this year? It's going to be my first time & I am all excited 🙂 Would love to meet those of you who are going!
Till then slurrp!
Follow along for a lot more delicious treats and life happenings on INSTAGRAM || FACEBOOK ||PINTEREST ||TWITTER ||GOOGLE+
P.S Recipe adapted from "Light & Healthy" Cookbook by Americas Test Kitchen.
Creamy Mushroom Soup
Ingredients
8 ounces white button mushrooms, chopped roughly
1 tsp unsalted butter
1 tsp olive oil
½ cup chopped red onion
Pinch of salt
¼ tsp black pepper
3 garlic cloves, chopped finely
⅛ tsp dried thyme powder
1 cup vegetable broth or you need to add more to adjust consistency to your liking
2 tbsp sherry or brandy or Madeira (I used Sherry which is a cooking wine and it really imparts a lot of flavor! But if you don't have any one of these on hand, just skip.)
2 tbsp low fat half & half ( you can substitute low fat cream or low fat heavy cream in place if that's what you have on hand)
½ tsp fresh lime juice
Instructions
In a deep heavy bottom pot, add butter & oil. Once butter is melted, add mushrooms, onions, salt & black pepper. Stir it around and cover and let it cook on med-low flame for good 8-10 mins. Now uncover and increase the heat to med-high and cook until mushrooms start to brown and all the liquid is evaporated. Now take out 2 tbsp of this mixture on a cutting board and chop and keep it aside. Now to the pot add garlic and thyme and cook for another minute. Add broth, sherry and bring it to a boil and simmer for 5-7 minutes. Now using a hand blender or high speed blender blend until smooth. Transfer the soup back to the pot and to it add the reserved chopped mushroom mix. Stir in the half & half and lime juice. Taste and adjust salt or thyme as per your taste.
If it feels too thick, thin it out using more vegetable broth or water. Bring it to a boil and make sure to taste!
Serve with lots of crusty bread or crispy baked chicken sanwich for protein and to turn it into a more filling meal!
Some More Dinner Recipe suggestions ->>